I FEEL like I have stepped back in time when I wrote this header – Kate Moss for TopShop! Yes, yes it is true. Miss Moss is right back where she belongs designing beside her billionaire BFF Sir Philip Green who is also Topshop owner. Their high profile friendship is always pictured front row at fashion shows or partying hard on his private yacht alongside his designer daughter Chloe Green.
Kate Moss first collaborated with Topshop in 2007 and launched an amazing high street collection of Kate inspired pieces that she actually wore several times. This to me is what make a celebrity collection real; if the celebrity channels their own style and wears the collection! This was an exciting celeb and high street fusion of fashion revealed Kates creative guise for crafting fashion that is wearable, suave and resembles her, what a perfect mix! They ended their well received and hugely selling fashion exchange in 2010 but they pair remained close and tight lipped as to why the partnership did not continue. Fast forward 4 years and the best selling duo are rekindled and have just released their 2014 collection look book showcasing what the collection is all about!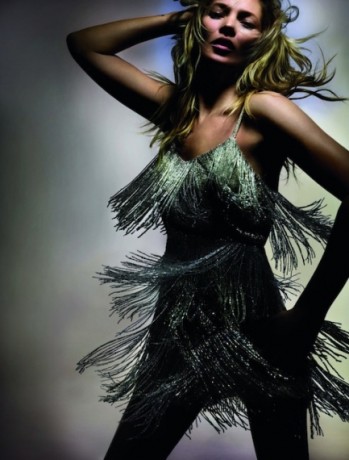 Kate has really stayed true to her own style much to my delight; her collection is like a walking Kate Moss wardrobe, mimicking what she wears and wears so well to her amazing parties, birthday bashes and festivals. The collection conquers up a mixture of stylish jumpsuits that exude grace but keep a little rocky edge, ladylike sequined dresses for a bit more demure glamour and her full length classic Kate style, silky but stunning silver dress. No Kate Moss clothing collection would be complete without a boho feel to it and Topshop have ensured just that; floral print trouser and matching jackets, floaty playsuits, fringed leather jackets and plenty of fringe elsewhere shows us her true roots.
The collection even includes some fashion throwbacks to earlier collections, including a lemon and green one shoulder chiffon dress that featured before and has been revived for this one. Kates range is just perfect for the high street to show us some high fashion but wearable looks, this range is bang on trend and it is inspired by the catwalk yet most of the coveted pieces are wearable by regular ladies.
Kate is modelling all of this eclectic mixture a stunning, throwback style, boho and slinky collection herself – well of course she is! The Kate Moss X Topshop range is out on April 30th and is available to buy from Topshop; www.topshop.co.uk, Net A Porter; www.Net-a-Porter.com as well as in BT2 stores and in Brown Thomas in Limerick; www.brownthomas.ie This range will definitely sell out; that is inevitable, so if you fancy a piece of it and staying in style, then get willing to be a savvy, quick shopper or to buy over the odds on eBay.
Siobhan Boyle is the Director of Sculpt Studio A-1 Academy Court, Oliver Plunkett Road, Letterkenny. www.sculptcosmetics.com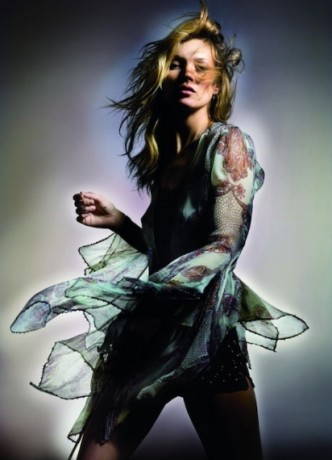 Posted: 11:16 am April 15, 2014