ZERO-tolerance to overcrowding in Letterkenny University Hospital has been called for in the wake of photographs showing patients sitting on the floor.
The images emerged this week revealing the level of overcrowding at the hospital as patients endure extreme waiting times.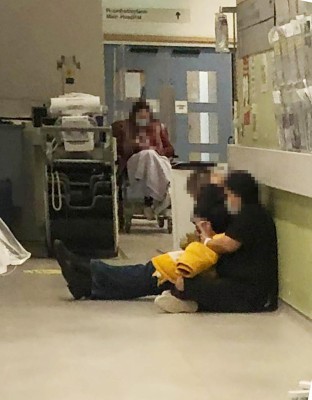 The number of people attending LUH's emergency department in January and February increased by 32 per cent compared with the same time in 2021.
On Tuesday of this week, 145 people attended the emergency department, while yesterday (Wednesday) morning at 8am there were 19 patients on trolleys who were waiting to be admitted to a bed on a ward.
A spokesperson for Saolta University Health Care Group told the Donegal News "every effort" is being made to discharge patients who are ready to go home so that beds become available for patients who need to be admitted, at the earliest opportunity.
"When the number of patients attending the ED is very high and exceeds the capacity of the department, regrettably there isn't sufficient space to enable all patients waiting to have a bed to lie down. Patients also wait on chairs when there are constraints on space.
"The hospital acknowledges that it is very difficult for patients who have to wait for long periods of time to be seen or to be admitted to a bed on a ward and apologises for the inconvenience and distress these delays cause."
Deputy Pádraig MacLochlainn branded the photographs "appalling". He said it was important the reality of the dire situation is in the public domain.
He has called on the government to adopt a zero-tolerance approach to hospital overcrowding following the publication of the Irish Nurses and Midwives Organisation (INMO) Trolley Watch analysis for March, when 781 patients were without a bed in LUH. This was the highest figure for the month of March to have ever been recorded at the hospital.
"This is not a new issue – patients have been suffering the torturous consequences of overcrowding for years.
"The root causes of emergency department dysfunction are poor patient flow, low hospital capacity, delayed discharges, poor out-of-hours GP coverage and a lack of alternatives in the community."
Deputy MacLochlainn said 28 new beds are to be opened in LUH imminently, with doctors and nurses being actively recruited.
He said that, without question, there was a need for more beds and more capacity in diagnostics and surgical theatres.
But he said there must also be a join up in community and hospital healthcare.
"Too often, hospitals are left trying to discharge a patient, but there is no recovery bed available for them. The long festering problems in primary care and general practice, which are a direct result of not training enough doctors and allied health professionals, need to be dealt with.
"Patients at Letterkenny Hospital deserve better and the government must do everything possible to address this crisis urgently."
Receive quality journalism wherever you are, on any device. Keep up to date from the comfort of your own home with a digital subscription.
Any time | Any place | Anywhere
Posted: 7:59 pm April 7, 2022