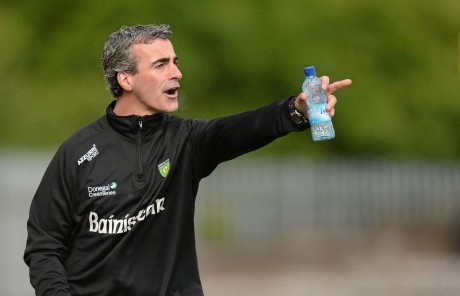 THIS is the time of year Jim McGuinness calls the 'pre-pre-season' – and Jim McGuinness has the index finger hovering over that 'button' he talks about pressing with squad once again.
Two weeks ago, McGuinness met a group of 40 players in Letterkenny's Station House Hotel to lay down a marker for the start of the preparations for the 2014 campaign.
This weekend, McGuinness, his new backroom team and panel will get together again. By the time the squad is permitted to begin collective training, on December 1, McGuinness wants his players to be able to get their teeth into the hard-and-fast rigours of training.
McGuinness has always insisted that this was his busy time of year.
Between now and December 1, the Donegal manager, who recently committed to completing the fourth year of his four-year term in the position, will get all of his players to undergo cardiac screening, receive flu injections and have fitness tests. Last Saturday, McGuinness met with his medical team to get the ball rolling on these plans. The players will also be given personal programmes, tailored to the individual player's needs.
"It's so that they're getting a pre-pre-season, which means they aren't coming in and getting caught cold," McGuinness explains.
"Getting all those important things done in the off-season helps to free up weekends later in the year.
"It gives us an opportunity to have a proper pre-season. Last year we didn't have that. We were away on holidays until the 8th or 9th of January and it was a bit disjointed. There was a lot going on. We have only six or seven of last year's panel involved in the Club Championship so there are a lot of them getting a good rest. That will, hopefully, stand to them when we start moving again."
McGuinness and Donegal have been in the news over the last month. First, it was the will-he-wont-he speculation surrounding the manager's own future after a public appearance on BBC and a comment that 'conditions would need to be right' before he would re-affirm his commitment to the job for 2014.
After meeting with the clubs of the county, McGuinness got agreement in relation to the scheduling of the club championship and the All-County League.
The Championship will not commence now until Donegal interest in the All-Ireland has ceased and all League games involving county players will be played on the one day, either a Saturday or a Sunday, to enable McGuinness work with the panel on the other.
The manager met with the panel and he emerged 'happy that they were hungry and wanted to go again'.
The subsequent weeks saw Donegal hit the national headlines again. There came the shock announcement that the assistant manager Rory Gallagher, along with the video analyst Maxi Curran and kitman Francie Friel were no long to be a part of the backroom team. It came just three days after McGuinness's own confirmation that he was staying in the job.
Just eight days after it emerged in a cloud that the trio were gone, it was confirmed that three of McGuinness's former team-mates were being recruited. Damian Diver, Paul McGonigle and John Duffy are now on board.
While their roles are, as yet, undefined, McGuinness says he will 'not really' have a so-called 'number 2.
"It is a management team and we will all make decisions together," he says.
"It will be very much based on who's going well and your opinion on that.
"It is just coming in to do a good job for Donegal, more than anything. We have a defender, a midfielder and a forward, so they will be looking at those areas themselves, naturally. It is to be there, to be involved and to put the best foot forward for the county.
"I have had some very good meetings with them in the last couple of weeks and they're all very excited about getting up and running."
"I have a vision in my head of what I want the season to look like and what I want the gameplan to look like. That is a good starting point and it's a matter of building from there, taking feedback from everybody in the management team and feeding that back in."
McGuinness has always made known his desire to have positive characters between the confines of his dressing room's walls. He played with all three for a significant period. Diver was set to join his set-up in late 2010, but had to pull out. While McGonigle and Duffy were seen as surprise inclusions,
McGuinness is well acquainted with them all, having gone to the well in the green and gold alongside them.
"They were players who gave a lot to Donegal and got very little out of it, so hopefully they will have the hunger now to get over the line in a management capacity," the Glenties native says.
"I think they do. That was important: That they want to be there, that they want to be successful for themselves, for the team and for the county. Those are all good motivational things to be driving you. I think they will interact well with the players. They get on well with people and they're on the 'young' side of things!
"It's important that they can connect with players."
When the panel sat down in the Station House recently, there were familiar and not-so-familiar faces in the room.
Among those back on board are Ciaran Bonner and Leon Thompson, who have not been involved under McGuinness, their last involvement being in 2009, as well as Christy Toye, a central figure in the 2012 All-Ireland winning squad, fringe members of that squad Thomas McKinley and Antoin McFadden, and also Conor Classon, who has been in the set-up before. There were new faces in the form of Darach O'Connor, Hugh McFadden and Stephen McLaughlin.
McGuinness explains: "It's on form. We've been looking at freshening up the panel. We have increased the panel in the short-term with a view to having a look at everyone and open the thing up.
"There could be others to come out of the semi-finals and final. We are keeping an open mind. We want to give as many players as possible a go. When we get up and running we will have a couple of trial games and there'll be a chance for other players to come in.
"We will get them in, get them training and get them playing in A versus B games to see what they're like and see how they're moving."
When McGuinness first gathered a Donegal senior panel together in Downings three years ago, he was in a room of broken dreams. Hammered by Armagh that summer in a qualifier, the signposts on road ahead were turned. At the crossroads, Donegal took the right turn under McGuinness.
While there are similarities now with then, following the All-Ireland quarter-final annihilation by Mayo in August, with two Ulster titles and an All-Ireland crown won, McGuinness believes his squad is in a much better place now.
"You're going into a Championship based on the fact that you got a right going over in your last Championship match and that's the way it was in 2011," he says.
"The difference is we know that we're capable of achieving things because we have done that. In 2011 we didn't know if we were capable and it took 2011 to ignite that in us and it took 2012 to prove it. We know now that we can achieve at a national level if we are on top of our game. That confidence should help us with that."
He sees 2014 as being a mirror of 2011, with the League being used in an attempt to gain traction for the summer months.
He says: "It is all relative to where you are at a given time. We didn't put massive emphasis on the League in 2012 either. It was a very long season in 2012 and it was about trying to keep them fresh. Now, our lads have been off for a number of months already and will have a couple more by the time we are up and running with them. They will be fresh and in a good place to go at it this year.
"It's like a fresh start and it's nearly time to press the button again."
Receive quality journalism wherever you are, on any device. Keep up to date from the comfort of your own home with a digital subscription.
Any time | Any place | Anywhere
Posted: 10:00 am October 11, 2013