Spring is officially here – and the change of season is one of the best and most popular times of year for home improvements. Home upgrading is a trend which has seen somewhat of a surge in popularity in recent years – and for good reason. A refurbishment can completely transform a home. A nationwide survey by the Irish League of Credit Unions (ILCU) found that a significant two thirds of adults had carried out home improvements between 2014 and 2017.
For many, it is also the only affordable option if they find they have outgrown their home and need more space for the family. In the same survey, one quarter estimated that they had spent between €1,000 and €3,000 upgrading their home. 10% spent between €3,000 and €5,000.
Many households planning on renovating their home understandably would not have this spare cash to hand. It can be tempting for them to fund the planned renovations through the credit card. However, with the high levels of interest charged, even if you clear the minimum balance, this can end up being a very pricey decision. For the cost-conscious home improver – a credit union loan is the best option, and are often approved very quickly. Indeed, the ILCU survey found that of those needing to borrow to fund their renovations, six in ten said they would use their local credit union.
Ciaran Haran, chairperson of Letterkenny Credit Union explains why a credit union home improvement loan is a solid choice for those wanting to renovate their home without incurring unnecessary debt. "We offer the loan at a great value APR rate of 8.2%**. Which means that if you borrow €10,000, you will end up paying back just €202.54 over 60 months. So it's a very cost effective option. Not only that, but our loans are typically approved within 2 days, so you can get started on those renovation plans right away. We are also happy to offer our loans to brand new members – so there is no requirement for you to have saved with us for a period of time before you can avail of the loan."
Other benefits to the home improvement loan include the willingness of the credit union to work with each individual borrower to structure repayments in a way that will suit their individual circumstances. There are no hidden fees or administration charges. Borrowers are also free to repay the loan early, should they wish, without any penalties.
"So whether your plans include building on an extension, overhauling the kitchen, laying new carpets or floorboards, or just giving your home a new lick of paint, talk to us here at Letterkenny Credit Union. You'll find we are happy to provide flexible loans of any size to suit your grand design plans!" Ciaran said.
 ** For a €10,000, 5 year variable interest rate loan with 60 monthly repayments of €202.54, an interest Rate of 7.95%, a representative APR of 8.25%, the total amount payable by the member is €12155.26. Information correct as at 05/03/2019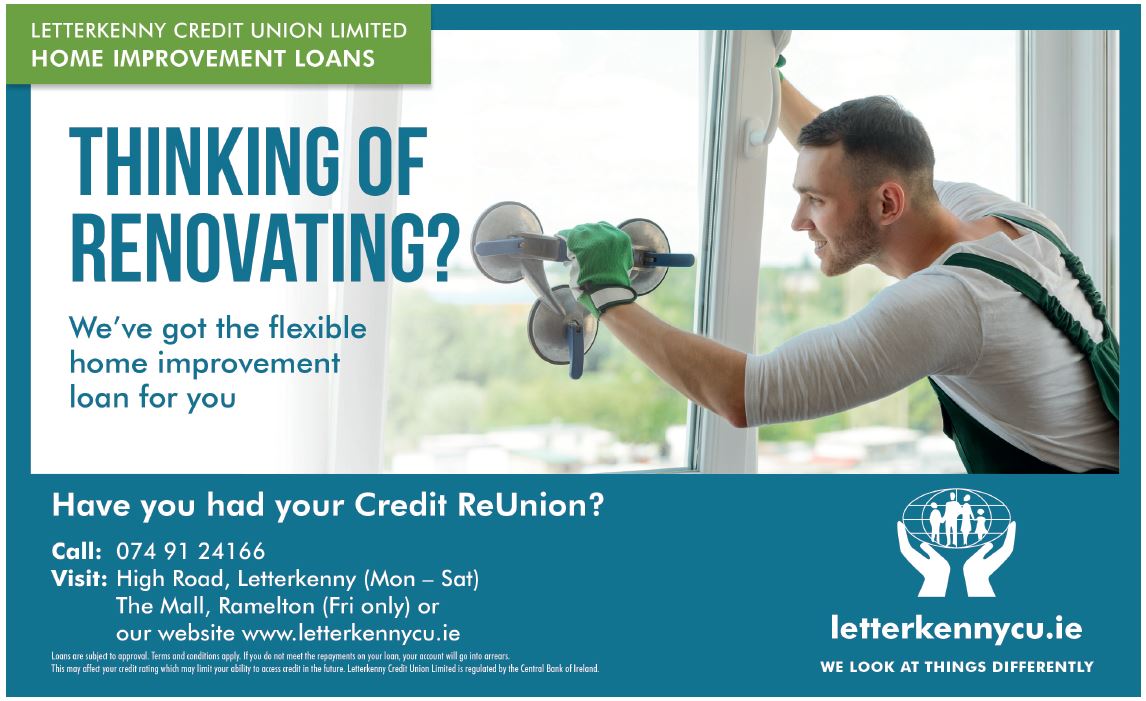 Posted: 4:17 pm April 3, 2019