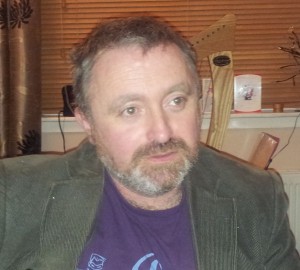 BY SEÁN P. FEENY
A DONEGAL native has caught the attention of some of the biggest Irish names in song-writing and it has only taken him two songs.
Last Friday night, December 14, Mick Blake (45), originally from Letterkenny, posted his latest original song to the website YouTube.
The following morning he a message from none other than Paul Brady in his e-mail account telling him how much he enjoyed his latest song, Catch Cries.
The story behind the former Scoil Colmcille and St Eunan's College student's success began earlier this year when Mick decided to start writing.
A teacher at Leitrim Village National School by day, Mick studied music at UCD, which he said actually put him off music for a while.
Having learned his early music skills from well-known Letterkenny musicians such as Frank Doherty, the son of John Blake, and Kathleen (nee McGinley), Glencar Park decided to get back into writing earlier this year.
"It was just something to do really, I wasn't sure if it was going to be a short story or even a play, there were just a few things that had struck in the current climate we were living in and then I was always interested in history and it all came together in the first song."
Posted: 1:30 pm December 20, 2012