By Joseph Brennan
It looks like Leo Varadkar, TD, is destined to take on the mantle of Fine Gael leader and take control of the train of State as Taoiseach. I am reminded of a visit we hosted for him back in 2010 at Fintown Railway.
I was looking forward to meeting an up and coming 'upstart' who the satirical columnists loved for his streak of impertinent comments and apparent fondness for engaging mouth before brain! Maybe it was because I too could easily be tagged with a 'the Lip' nickname!
But as the photos from 2010 show we gave Leo a heads up at the controls of Railcar No 18 and hopefully that day will be remembered as he departs with the train of State. We gave him that first lesson in train driving. However, as I reflect on an article written at the time it sure does appear that political promises did not drive Railcar No 18 onwards to greater glory.
Later on that night at the McGill Summer School the then Taoiseach-in-waiting, Mr Enda Kenny, listened to other speakers muse on how the Celtic Tiger left very little spoor in Donegal.
Waxing warmly
He then waxed warmly and lyrically in his opening comments on the magnificence of our Donegal scenery. He spoke of coming in through Fintown and of the glory of the western setting sun over the Bluestack Mountains and got rapturous applause for his clearly elucidated promise that in any future government of his that: "Donegal's tourism business will prosper under me".
Has it? I don't think so. Yes, we have the many, many accolades from the likes of National Geographic, Star Wars, Royal visits, cruise ships and Toyota adverts but that didn't happen because of Enda Kenny or government investment.
We need more investment in tourist facilities such as the long talked of visitor centre and toilets for Malin Head. Or indeed the Fintown Railway which is open twenty two years this summer. Still chugging along on the backs of a couple of community activists running out of steam!
However the crying shame is that it still operates out of a portocabin more appropriate to a building site. This was the late 'Brian Friel's railway' on which, as a boy, he travelled back to Glenties every summer to his aunts and his mother's home place. There, his muse grew and his vast repertoire of works was moulded by his memories of 'Ballybeg'.
Poignant moment
It was a poignant moment for me, in the graveyard after his burial, when his wife Anne earnestly held my hand and spoke of how wonderful the lake had looked that beautiful October afternoon and wondered how we had never secured the funding to bring the line all the way to Glenties. I had no answer. What could I say? It was, as so often with Brian; I was stuck for words!
Promises, promises
It was a question that Enda seemed to rhetorically answer but as oft with politicians it's a case of promises, promises. So I do hope Leo, and Minister McHugh as a stalwart, will remember to ramp up investment in Donegal tourism.
The title of the 2010 article is rather relevant; 'Tourism, Trains and Turbines'. The point then and now remains, trains and tourism are a world renowned good fit, turbines and tourism, definitely not.
To that end, had I a Fine Gael member's vote, Leo would have it for his rival Mr Simon Coveney tried to ram rod through a Ministerial Directive against Donegal County Council last summer that would have seen many more wind turbines built it Donegal. It was quite shameful given that the High Court had upheld a challenge by Cllr John Campbell against a similar Direction issued by Alan Kelly, Mr Coveney's predecessor.
I live in hope then. For all too long Donegal's true tourism potential has been ignored. There has been a distinct lack of vision or an ability to join all the dots on the tourism front. Now basking in the glow of so many wannabe-in-Donegal celebrity lists one would think that has to change. Perhaps Mr Varadkar took the spare keys to Railcar No 18 with him that summer's day in 2010 as a good luck charm?
All is forgiven Leo, no more lip from me – so long as the cheque is in the post!
Joseph Brennan is a founding member and former chairman of Comhlacht Traenach na Gaeltachta Lair
Receive quality journalism wherever you are, on any device. Keep up to date from the comfort of your own home with a digital subscription.
Any time | Any place | Anywhere
Posted: 5:00 pm May 26, 2017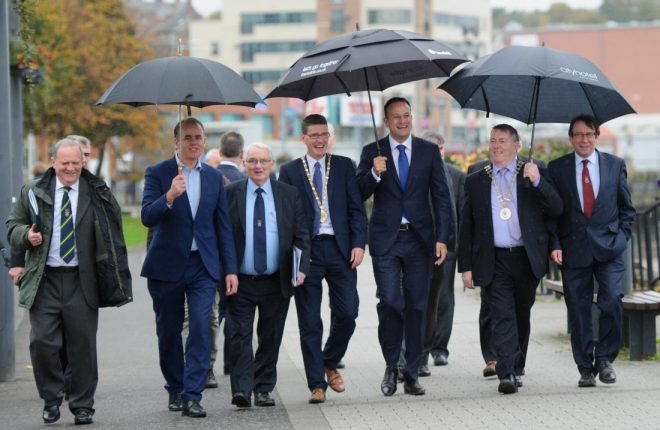 On his visit on Saturday last to the North West region Taoiseach Leo Varadkar T.D. confirmed his commitment...