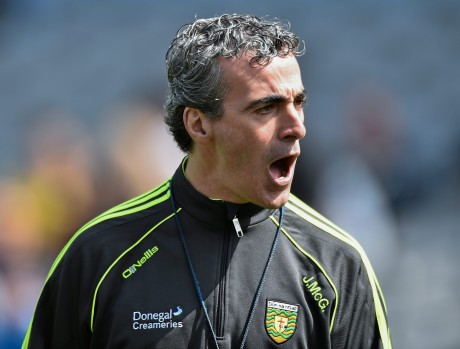 BY CHRIS MCNULTY
JIM McGuinness has expressed his disappointment that the ongoing issue with regard to club fixtures in Donegal has become a 'national media story'.
The Donegal manager, speaking after the Division 2 final defeat by Monaghan, said that he feels it unfair for Donegal to be highlighted when their situation is 'the norm'.
Donegal first found themselves in a national glare when clubs voted to postpone the beginning of the 2014 Donegal senior and intermediate club championships until after the county team made their exit from the All-Ireland race.
Last week, the county was again in the spotlight when a round of club fixtures scheduled for Good Friday were called off.
A planned double round on the Easter weekend became a single round after clubs – with the exception of St Eunan's and Gaoth Dobhair, who played their game on the Friday – rejected the option of playing 'starred' games.
"The thing in terms of the fixtures is: What's the norm? What is the norm for the four teams who are here today. That question hasn't been asked during the week. What is the norm for club championship?" McGuinness asked.
"Derry didn't play any county players last weekend; Monaghan had the same situation as us where they had a double round and called one of them off; and Dublin didn't make any fixtures.
"How we end up a national media story in all of that is debatable. There was a big issue about the Championship. Every county in Ulster calls the Championship off until the county team is out.
"We are the only ones who said we were going to do it. We went against the norm last year by putting the club championship on."
Last week's games were altered from an originally-planned Saturday-Monday schedule to Friday-Sunday, before the majority of the Friday games were shelved.
With McGuinness expected to address the May meeting of the Donegal county committee, it is likely that his concerns will be made known.
He added: "I don't think there is balance in the argument. It's very hard to get the head around that. It's hard to see how we're a national story that we've called the Championship off until Donegal is out when every single team has done the exact same thing. I don't understand where it's all coming from, but I know that it's coming from certain quarters."
Receive quality journalism wherever you are, on any device. Keep up to date from the comfort of your own home with a digital subscription.
Any time | Any place | Anywhere
Posted: 2:50 pm April 28, 2014