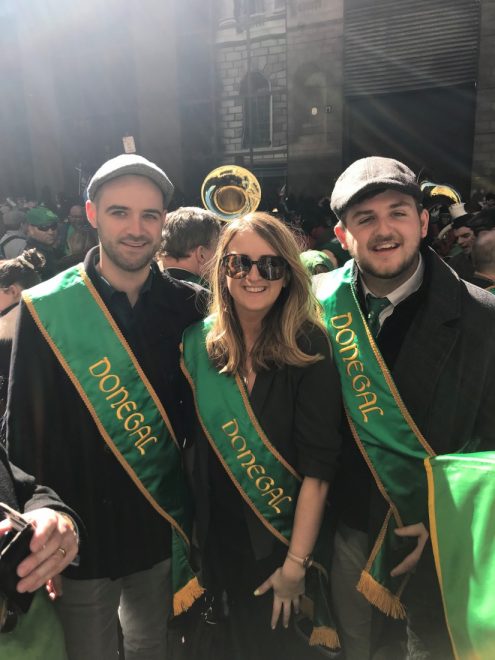 BY Tuesday, there had been more than 200,000 confirmed cases of Covid-19 in New York State and over 10,000 people had died.
Across the city's public hospitals, there were 835 people in intensive care units, down from 857 the day before. The percentage of patients tested for coronavirus who came back positive declined slightly, from 59.3 per cent to 58.1 per cent.
However, New York is still far from driving daily hospitalisations below 200, which officials say would be a milestone indicating the spread of the disease is slowing.
For six years now Gemma McCahill has been living in New York City, in the borough of Manhattan, where she works as an auditor with Deloitte & Touche.
Working the crazy New York hours and embracing all the hustle and bustle that city had to offer, the young Donegal woman was living the dream until five weeks ago when she was told to pack up everything needed to work from home. And so began her self-isolation.
Over the following days in New York, schools closed while the annual St Patrick's Day Parade was postponed before the New York Pause, which required all non-essential workers to stay at home, was put in operation.
"For me, my day to day work has mostly continued as normal. My schedule however has two additional recurring daily meetings added to it. One involves watching the New York State Governor Andrew Cuomo's daily morning briefing and the second is the afternoon White House press briefing, although that often times ends up being a very long meeting.
"In between these briefings, one can also listen to Governor Murphy from New Jersey and New York Mayor Bill de Blasio so it is fair to say that there is a plentiful supply of information and indeed questionably too much information each and every day," she said.
In New York, Gemma can still go outside and walk around provided that she maintains social distancing guidelines of at least six feet from others with the fine for breaking this rule marked at $1,000. Walking around New York however is a very different experience to that of six weeks ago when you would have been fighting the crowds in Grand Central to catch the sub-way or metro north and passing Starbucks stores with lines going out the door.
"Subways continue to operate but on a much more restricted schedule and while there is still an odd yellow cab spinning around, some days you could walk for 30 minutes and count on one hand how many have passed you. There are still bright lights but there aren't as many as usual as the workforce is no longer inside the skyscraper office buildings to turn the lights on," she says.
"Times Square is hauntingly quiet. Minnie and Mickey Mouse, Superman, the Power Rangers and all those fictional characters are also in isolation and no longer there asking for pictures. You can walk by the red steps and there is no one there to ask you to take a picture and there is no line at the TKTS booth for tickets as Broadway closed on March 12th," she added.
Each night at 7pm, music blasts, pots and pans are banged and loud applause echoes the eerie streets of Manhattan to thank the front line heroes. The evening news often shows emotional clips of the fire department sounding their sirens outside hospitals as they applaud the nurses and doctors working tirelessly inside.
Are you scared or worried?
"The honest answer is, no, I am not scared. I am not a front-line worker and my only contribution can be to follow social distancing guidelines. I do sense a certain level of anxiety amongst my Irish friends as to when we will get back to work.
"History tells us that Irish people came here to work and built this city however, the reality is that isn't just history, that is still very much the present as that same work ethic lives on amongst Irish emigrants here today," she said.
"Despite all the craziness right now, I do think it brings a humble reminder of how valuable the gift of human kindness is. Calls and texts have been received from friends and colleagues who have retreated to family homes across the Tri-State and indeed from family and friends in our Irish network here and around the world. Who would ever have said a Saturday night quiz over zoom with friends new and old would be the new weekend norm but such is the case and with it brings a wonderful reminder of how joyous it is to simply laugh out loud.
"When will we see Gaelic Park again or have our next Ardara Night in Haswell Green's? I am not quite sure but, in the meantime, all the Donegal Folk here look forward to seeing more beautiful pictures from those in lockdown in Donegal and because we have a fighting Irish spirit and, on this occasion, we are New York tough, we know we will see the Hills of Donegal again and we cannot wait," she said.
Receive quality journalism wherever you are, on any device. Keep up to date from the comfort of your own home with a digital subscription.
Any time | Any place | Anywhere
Posted: 4:55 pm April 20, 2020