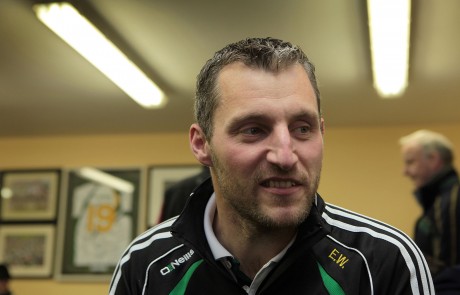 BY CHRIS MCNULTY
THE winter of 2010 was a long and painful one around the firesides of Glenswilly.
The senior footballers of the parish made a stomach-churning exit from the championship. Naomh Conaill's Thompson brothers, Anthony and Leon, netted last-gasp goals in an O'Donnell Park semi-final that ended Glenswilly's hopes.
It's a day that is checked by Glenswilly as they talk now of having developed a more ruthless edge for their sword since letting their chance slip that evening in Letterkenny. Naomh Conaill won Dr Maguire that year – and went on to contest the Ulster final, losing the final against Crossmaglen in Cavan.
It was not just the defeat, but rather the manner of it that had Glenswilly supporters peeking through their fingers by the end.
Around that time, Eamon Ward was kicking around with Clontibret and completing his vetinary studies in UCD. Ward's Clontibret were beaten by Naomh Conaill in the Ulster quarter-final of 2010, though he didn't feature. A rugged full-back, he was perhaps the missing link in Glenswilly's chain.
He got a job in the Donegal Animal Hospital and was put into contact with John McGinley, a farmer in Glenswilly who also happened to be the manager of the senior team of the time, by Eileen Roarty, the wife of his boss at the Animal Hospital, Gerard.
A few months later, Ward was playing a pivotal role as Glenswilly defeated St Michael's in the Donegal senior final.
"I was lucky to come into the club when they were on the verge of winning their first championship and to be there for that first championship success in 2011," Ward says.
"That was very special. It was a great feeling to be in the middle of the supporters from the build up and all the way through. It's great to be back among that again now in this run.
"I always got a good welcome in the homes around Glenswilly and the people have been very good to me here. I met a lot of them through the vetinary and farming side of things. I'm very grateful to have landed here.
"I've been here since 2011 working so I more or less joined Glenswilly as soon as I landed in Donegal.
"I had to leave Clontibret. The job is difficult in that you sort of have to be based around and it wouldn't suit to travel for training and matches. There are a lot of unsociable hours, but boss has been good to me in giving me time off."
The night Dr Maguire was taken to Glenswilly for the first time, Ward endeared himself to the natives with a rousing rendition of 'The Hills of Glenswilly' from the stage. Last Friday night at the club's Up For The Match event in the clubhouse, similar tones filled the air.
"I'd call myself a Glenswilly man now. I certainly would," he says.
Ward has been a pivotal figure in Glenswilly's rise.
The 32-year old has come under stern scrutiny from a number of top forwards – but rarely has there been an experience as red hot as the Ulster semi-final win over Roslea a fortnight ago.
Ward and James Pat McDaid were tasked with keeping a lid on the totemic Quigley brothers, Seamus and Sean.
"The high balls in from Roslea were relentless," he says.
"We had our numbers back and that made things a lot easier for myself and James Pat to break balls and get things tidied up.
"The Quigleys are two fine footballers. They were very impressive during their own club championship and into Ulster. They're fine fielders of the ball and are very accurate with their shooting. We kept them well enough under control and it was great to keep them to just two points from play.
"We'd have been disappointed to concede two goals against Roslea. They came about from mistakes and we'll be wanting to rectify that for the final.
"That's a good way to be going in. We feel that we didn't perform to the level we can play at. We'll need to step it up for Ballinderry."
Glenswilly are a team that knows how to win now.
Rather than retreat to the shell when Roslea scored the two goals that threatened to turn the tide against Glenswilly, the Donegal champions wrestled control of the contest again.
Joe Gibbons set them back on their way again and with Gary McFadden and Colin Kelly landed massive scores, it was Glenswilly's day.
Ward says: "It was a vital score by Joe Gibbons to steady the ship. Our backs were to the wall when we conceded the second goal, but it was a good sign of the character in the team that we came back into it like that to tag on three points after the goal."
Ward has played in an Ulster semi-final with Clontibret, but has never featured at this stage of the competition before.
He's relishing the prospect of doing battle with Ballinderry and says there could be a few extra Glenswilly supporters on Sunday from his neck of the woods in Monaghan.
He says: "I wouldn't say they'd be envious and they'll be fully behind supporting us and a few of them are hoping to get up for the match. Omagh isn't too far away from Monaghan so hopefully there'll be a wee crowd of them for it.
"I've never played against Ballinderry, but you have to be respectful of the strong club we'll be playing. They've been the kingpins in Derry for the last three years and it's a really tough Championship in there. They have experience and they'll be a formiddable opponent for us.
"We're going there to win. There is real feel-good factor among the children and the older stalwarts of the club are really looking forward to the big day out."
He's one of their own now. His chords are like those of a veteran folk singer and if they're tuning up on Sunday night for a blast of 'The Hills of Glenswilly' it'll be a sure sign that the day went according to plan.
Receive quality journalism wherever you are, on any device. Keep up to date from the comfort of your own home with a digital subscription.
Any time | Any place | Anywhere
Posted: 1:00 pm November 29, 2013