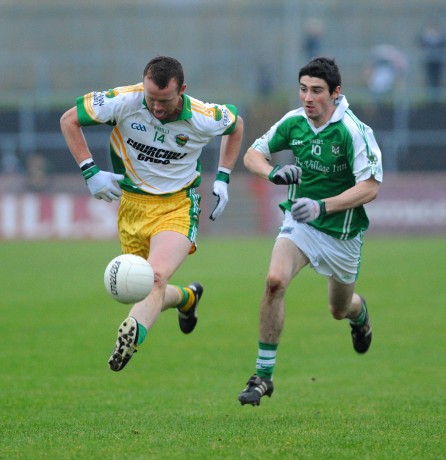 BY CHRIS MCNULTY
GARY McFadden thought the heights couldn't get any dizzier than two years ago when he became the first men to take Dr Maguire into Pairc Naomh Columba.
As the bonfires blazed on the roadsides that Sunday evening, there was a feeling that Glenswilly had finally reached the top.
They made their appearance in Ulster, defeated Cavan Gaels, but then lost out against Latton. As they filed away from Ballybofey that day, they might have been forgiven for patting themselves on the back on a season well done.
The defeat left them with a strange, sort-of-sickly feeling within.
It was then they realised it hadn't been enough. The day of the moral victory had gone.
"A couple of years ago we were happy enough to be winning the Donegal championship and to that for a second time was unbelievable," says McFadden now as he heads for an Ulster final with his club.
"This is just the icing on the cake. It's big stuff but we know the challenge ahead of us.
"The last time when we were in Ulster, it was nearly a bonus to win that first game. We didn't even expect it ourselves and we lost the second match by a point on a day when we didn't turn up.
"The win in Cavan in 2011 was a bonus but we learned from that season. But against Latton, not one of us played well. Michael Murphy was only back a couple of days from the International Rules and we felt looking back we could've got something from that.
"We knuckled down this year and didn't overdo the celebrations as we wanted to give it a good rattle."
Party, they did, but only to a point this time.
"We wanted to give Ulster a good rattle," McFadden noted.
"The excitement isn't too crazy. A lot of people around the parish are still on a high from the county final, so we're sort of used to it at this stage. Charlie McClafferty is doing some business!"
They couldn't gaze too far down Ulster's path having been paired with St Gall's, but when that first hurdle was cleared Glenswilly began to dream.
"Playing St Gall's, we would've been considered outsiders but inside of our own camp we knew we could give it a good rattle," McFadden said.
"It was a good honour to beat them but there was no real shock with us when we did.
"We took a bit of confidence from that and it stood to us against Rosela. We built up a good lead and were up by eight points at one stage. We let it slip a bit – that's something we have done a few times this year – but got a couple of points at the end. But it was close enough at the end.
"We knew what Roslea were going to throw at us and we worked on that a bit. Thankfully, it worked out. It could have been a lot different."
McFadden has been a member of Jim McGuinness' Donegal panel since being called in on the back of an enlightening club campaign in 2011. Appearances have been limited, but again he's done himself little harm with top-notch displays for his club. The dynamic McFadden believes the experience of these do-or-die contests on the battlefields of Ulster will stand him in good stead.
He said: "The Ulster club championship is a big step-up and you're probably playing against a better calibre of players. You've less time on the ball, it's hard hitting and the fields are heavier. It's a different sort of game. It's tight going."
Ballinderry are likely to be well briefed on McFadden, who was drafted in for a short time to the Donegal panel by Brian McIver, who led Ballinderry to All-Ireland success in 2002.
McFadden said: "Ballinderry have so many players that played for Derry, an All-Ireland in 2002 and they've tradition. It's a huge ask.
"Brian McIver would've known a good bit about us from his time with Donegal but it's all on the day. It'll be a tight game but hopefully we can get that bit of luck."
Receive quality journalism wherever you are, on any device. Keep up to date from the comfort of your own home with a digital subscription.
Any time | Any place | Anywhere
Posted: 12:00 pm November 29, 2013