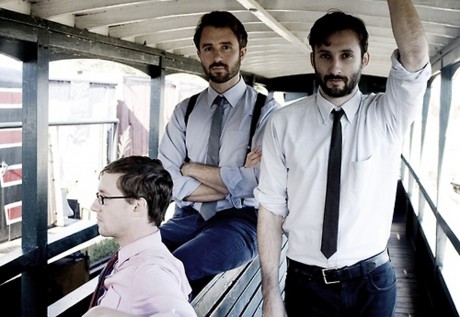 A POPULAR American roots band will pay a visit to South West Donegal as part of its annual Irish tour next week. Tumbling Bones will be performing a free concert at the Beehive Bar, Main Street, Ardara on Friday, May 31.
From Maine on the coast of northeast, the trio play a mix of down-home, old-fashioned American folk music that belies the youth of its three band members. But their folk is no museum piece; it is living, breathing music infused with a little of the contemporary rock 'n' roll the fellas were reared on and reworked into their original arrangements and compositions.
Tumbling Bones have a passion for the heritage of American music and a penchant for honest, no frills-attached acoustic music.Ireland is becoming a second home for Tumbling Bones due to the hospitality and appreciation the Irish have for American traditional and roots music.
 
This summer the band is making a trip from their home state of Maine to tour Ireland for the second time from May 17 to June 16 including a concert in Ardara. Founding members Pete and Jake will be joined by their newest band member, songwriter Kyle on guitar and vocals. The band last toured here in summer 2012 following the release of their second album Schemes. 
That tour was a smashing success packing in 19 dates over 22 days including a live instudio appearance on The Tony Fenton Show on Today FM.Taking influence from a broad range of styles including old country and bluegrass, jug band blues as well as classic song smiths like the Beatles, Tumbling Bones original songs reflect a mix of traditional influences as well as contemporary.
 
Pete said: "Really the only rule we have for picking material is that it sparks us. As a result, our material's pretty diverse: one song might be an old gospel song or mountain ballad, the next is a rockabilly number, and then the next might be a Motown song. But whatever we play we ground it in a back-to-the-basics folk aesthetic and adapt it for acoustic stringed instruments."
Founders Pete and Jake met a decade ago when they were placed together at random as roommates at Vassar College. Sharing a love for bluegrass, blues, and trad these road warriors have toured all over the United States from busking on street corners to several nationwide tours through to an acclaimed performance on the National Public Radio (NPR) program A Prairie Home Companion.
The formation of Tumbling Bones in Maine was the result of an impromptu all-night recording session with Pete and Jake, and fiddler Sam McDougle in the winter of 2011. The ensuing debut album Risk Not Your Soul reached the top ten on the Roots Music Report's folk radio chart – a phenomenal achievement for a newly formed group.
 
Just recently Tumbling Bones were invited to audition for the prestigious American Musicians Abroad program, a U.S. State Department-funded program that sends 10 American bands overseas every year to perform and lead music workshops for school-age children.
Posted: 11:04 am May 23, 2013