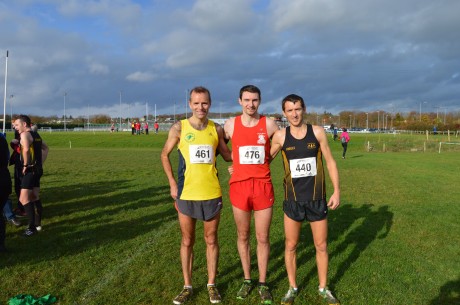 The top three finishers in the Donegal Senior Cross Country Championships in Stranorlar last Sunday: L to R Pauric McKinney (Inishowen AC) second, the winner Conor Bradley (City of Derry) and Ciaran Doherty (Letterkenny AC) third.
By Harry Walsh
A number of 'unsavoury' incidents during the men's senior race at last weekend's Donegal Senior Cross Country Championships are set to be discussed at next Monday's meeting of the Donegal Athletics Board.
It follows claims athletes were pushed and blows traded during the firecely contested race. The Chairman of the Donegal Athletics Board, Mr Brendan O'Donnell has confirmed they were investigating a 'number of unsavoury incidents which should never be part of an athletics meeting,".
"The events of last Sunday will be brought up at the next meeting of the Donegal Athletics Board. There were a number of unsavoury incidents which should never be part of an athletics meeting," Mr O'Donnell told the Donegal News.
"It's a real pity that this cloud has been cast over the day because the race itself was fascinating from start to finish," he added.
Mr Brendan McDaid, Letterkenny AC, said that Finn Valley won the race "fair and square", adding that the club would be making no further comment ahead of next Monday's meeting.
The battle for the team honours last Sunday in Stranorlar was between old rivals Finn Valley and Letterkenny – a race the Finn Valley men won to retain the title they won from LAC twelve months earlier.
Words like 'battle' and fierce' are often used to describe cross country races but it's not too often that the athletes take on their literal meaning.
"It's not unusual to see a bit of argy bargy at the start of a cross country race but the events of last Sunday went well beyond that. I saw lads pulling and pushing at one another during the early stages of the first lap amid claims that punches were thrown although I didn't witness that myself," one respected athletics official told the Donegal News.
The two clubs in the middle of the row (Finn Valley and Letterkenny AC) subsequently took to social media after the race – posting images which appeared to show their athletes being pushed and pulled by members of the opposing team – to highlight their case.
Mr Neil Martin, Finn Valley, said that he was "disappointed" that the focus was being taken away from what had been a great race.
"Letterkenny walked away with it (title) two years ago and Valley did the same last year but this year it was a real competitive race from start to finish – a race that Letterkenny appeared to have won until young Ruairi (Finnegan) dropped out with about a mile to go," he said.
The mens race was run over 10km and the start studded field included the likes of four times World Cross Country athlete Pauric McKinney, and European and World athletes such as Finnegan, Ciaran Doherty, Darren McBrearty and Danny Mooney.
Midway through the race, Letterkenny athlete Finnegan took the lead followed by Inishowen's McKinney and City of Derry's Conor Bradley in third.
Indeed, Finnegan looked to be in control of the race until he was forced to retire with two laps to go. This left a battle between McKinney who completed a 2.33 marathon only six days previously, Bradley, and Letterkenny's Doherty who ran a smart race to come through the field as the race progressed. Going into the last lap, McKinney had about 50 meters on Bradley, but with about 600m to go, Bradley surged past McKinney and came home to an impressive victory, with McKinney finishing second and Doherty third.
While the individual race was exciting, the real battle was for the team honours between old rivals Finn Valley and Letterkenny with Inishowen also showing strongly. With Finnegan leading the field, Letterkenny were ten points clear and looked to be about to reclaim the team title from last year's winners Finn Valley. However, with Finnegan retiring, this placed a strong Finn Valley team in pole position.
With some tremendous individual battles throughout the field and every position fought for, it was Mark Connolly's men who took the team title, with the Letterkenny men settling for second and Inishowen third.
Receive quality journalism wherever you are, on any device. Keep up to date from the comfort of your own home with a digital subscription.
Any time | Any place | Anywhere
Posted: 3:19 pm November 7, 2014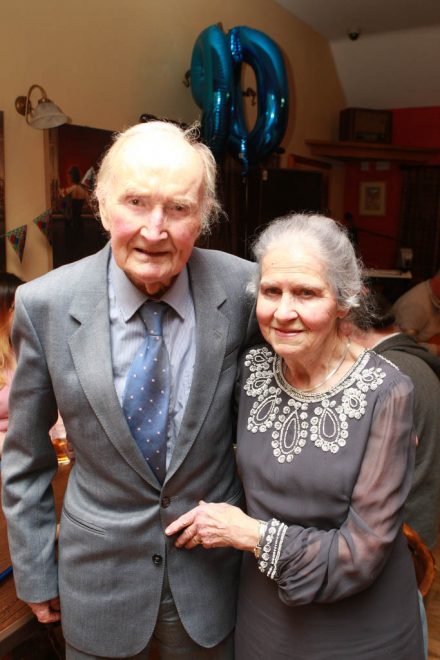 Having emigrated to the United States as an infant, he returned to Donegal, and Drumany, on the death of...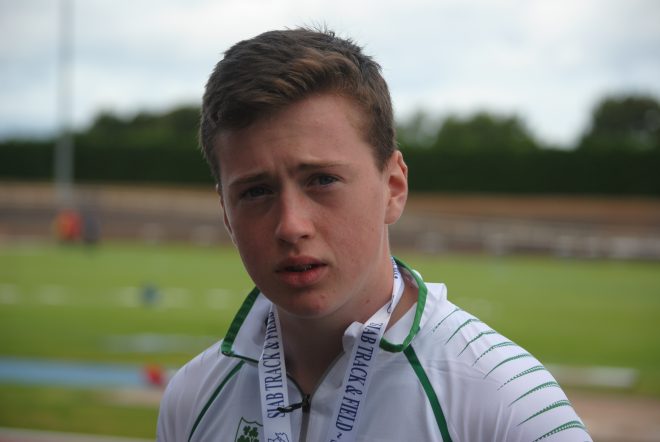 Brendan O'Donnell competes for Ireland in the Hammer Throw at the inaugural European Youth Athletics Championships