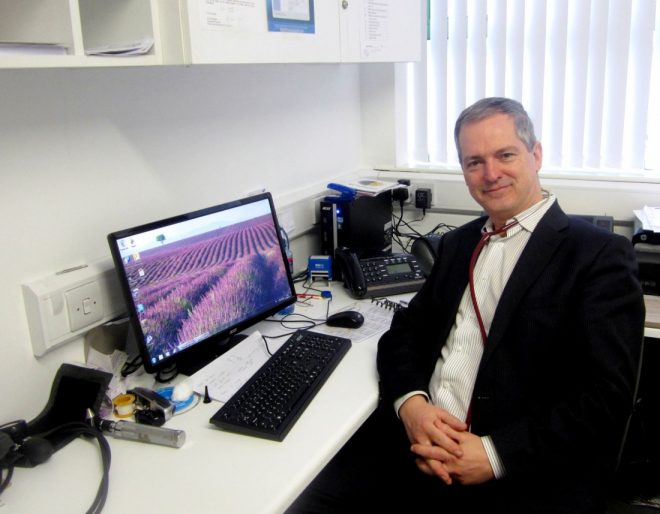 THESE are challenging times for health professionals as they battle to contain the coronavirus pandemic which is affecting communities across the world.
Experts warn that we can expect hundreds of patients with Covid-19, the disease caused by the novel coronavirus, in Donegal over the coming weeks.
Dr Paul Grant is a senior partner at the Maginn Medical Centre in Buncrana. He says the key to weathering the coronavirus will be to utilise social distancing and other techniques to 'flatten the curve' and keep the health care system from becoming too overwhelmed at any one moment.
"In an ideal world we would like real time testing – where we can do the test on the desk with the patient in front of you – but that's not being done in Ireland or the UK at present.
"The next best thing is to get more test centres allowing for a quicker turnaround of tests," Dr Grant said.
Earlier this week, the National Public Health Emergency Team said that more than one on four (26%) confirmed cases are associated with healthcare workers. That figure is duplicated at the Maginn Medical Centre where two of its seven doctors are in self-isolation. Also off work are a medical secretary and nurse.
"The problem with us now is that if another doctor has to self-isolate it could decimate our numbers very quickly. We're just over a week into it and we're two doctors down. They don't have the virus but they have been in contact with cases so they have to self-isolate. They're out for two weeks which presents its own problems," Dr Grant said.
"The next week or two will tell the story in terms of results coming in from testing. Last week alone I sent eighty for testing. That means there might be four or five hundred sent from this practice last week alone. At the moment it's taking six days for an appointment and then another two days for results to come back. That's more than a week from when we put someone forward for testing until we get the results back.
"Undoubtedly, hundreds are going to be affected in Donegal. The figures will balloon in the next ten days to two weeks. There's two reasons for that – there's now more testing and the virus is spreading in communities.
"It's all about trying to shine the spotlight on the virus, finding out where it is and putting a ring of steel around it. We can't stop it we can only isolate it and that means asking everyone to stay at home," he explained.
Coronavirus is a highly contagious and easily spread virus new cases likely to rise dramatically in next few weeks putting huge demands on primary care and the hospital system.
– Anyone with cough/fever and is short of breath, should contact GP by phone for advice and testing
– Anyone who was in contact with confirmed case should self isolate and contact GP by phone
– Anyone who has travelled from an infected area, should isolate and contact GP by phone.
– 80% of those infected will have mild to moderate illness.
– 10-15% will have more serious illness
– 5% will have critical illness and unfortunately 2-3% will die from this infection
"Currently our only defence is to avoid social contact to avoid spreading the virus and gathering for social evenings or events has to be stopped," he said.
"Careful cough etiquette and frequent hand washing will help prevent spread," he added.
In the event of contracting the virus, Dr Grant says please don't panic.
This is likely to be a mild to moderate illness. Contact your GP by phone for advice and keep away from others. Generally, bed rest and paracetamol will be all that is required. This illness will usually last 7-14 days, and complete recovery is to be expected.
"The disease itself is a big problem, but the fear, uncertainty and isolation are equally as big a problem. Great community spirit is being displayed all over Donegal and Ireland. This needs to continue and be targeted on the elderly and the vulnerable. This "new normal" is likely to be with us for several months. But working together and being responsible in our behaviour, will hopefully bring this pandemic to an end in the not too distant future. Be careful, look after yourself and your loved ones.
"Don't be afraid of the test, it's very simple and painless. Good health and happiness," Dr Grant said.
Receive quality journalism wherever you are, on any device. Keep up to date from the comfort of your own home with a digital subscription.
Any time | Any place | Anywhere
Posted: 7:08 pm March 26, 2020