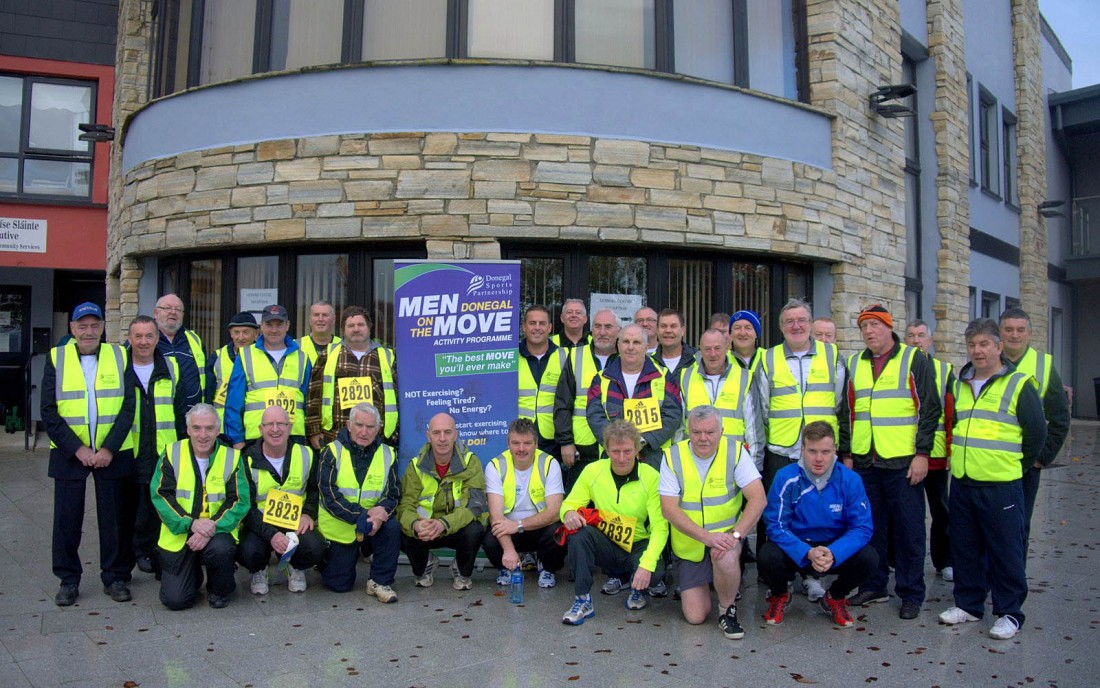 Men on the Move, which is being piloted by Donegal Sports Partnership, and supported by DLDC & the HSE, is an 8 week Physical Activity programme exclusively for Men over the age of 35.
The programme was delivered in Letterkenny, Falcarragh, St Johnston & Killybegs, with a total of 72 men recruited. The main aims of the programme are to increase the activity levels of men, increase awareness and understanding of the benefits of physical activity, and introduce a programme of education on topics such as Diet & Mental Health. Under the guidance of a dedicated coordinator in each area, the men were introduced to a range of activities including boxercise, spinning, circuits, walking and jogging, over 16 sessions.
Celebration event
On Saturday last, men from all areas attended a celebration event, hosted by Donegal Sports Partnership, at the Finn Valley Centre in Stranorlar. The event consisted of a 5k challenge, which for the majority, was a first time experience. Some of the guys opted for a game of astro-turf football, followed by a light pool session.
The project, which is funded by Donegal Local Development Company Ltd under Goal 2 of the Local and Community Development Programme 2013, has been a great success. Over 90% of men recruited were not currently meeting the recommended levels of Physical Activity, prior to joining the programme. The event was organised as a celebration of the men's achievements, and also as an opportunity for them to come together and share stories and their experience of the programme.
Inviting new members
Given the success of the programme, Donegal Sports Partnership, along with the support of the community centres of St Johnston & Carrigan's Family Resource Centre, the Niall Mor Centre, Killybegs & Pobal Le Cheile, Falcarragh have endeavoured to keep the programme going for an extended period of 6 weeks.
Therefore, we are inviting new members to join a group in your area- Whether you want to lose weight, get more active or just join up with a group for a bit of fun, this is the programme for YOU! Tailored to your needs, we provide the motivation and support to help you achieve your individual goals.
All fitness levels/abilities are welcome. Remember – Whether you exercise or not isn't important – Men on the Move will help you get started!
MEN ON THE MOVE – "The Best MOVE You'll Ever Make"!!
To join a 'Men on the Move' group in your area, or for more information – Contact Karen on 087-7376537 / 074-9116078 or email HYPERLINK "mailto:Karen@activedonegal.com" Karen@activedonegal.com
Optimal fitness gym, Mountain Top, Letterkenny
Tuesdays & Thursdays
Both evenings – 6.15pm
St Johnston & Carrigans Family Resource Centre
Mondays & Thursdays
Monday – 6.30pm
Thursday – 7pm
Niall Mor Centre, Killybegs
Tuesdays & Thursdays
Tuesdays – 6.30pm
Thursday – 7pm
The YARD Centre, Falcarragh
Tuesdays & Thursdays
Tuesdays – 6.30pm
Thursday – 6.30pm
Receive quality journalism wherever you are, on any device. Keep up to date from the comfort of your own home with a digital subscription.
Any time | Any place | Anywhere
Posted: 3:16 pm November 14, 2013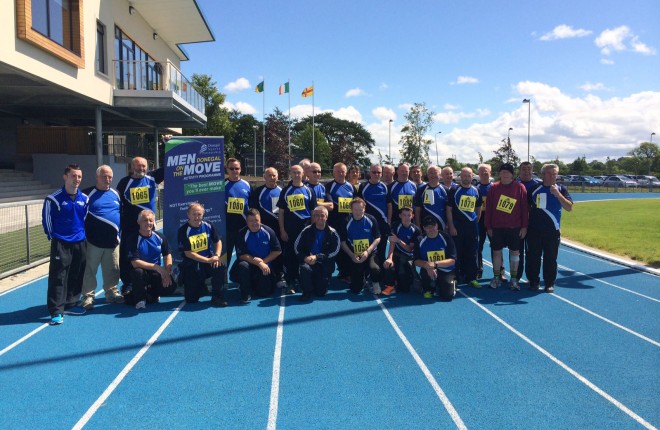 WORRIED about that extra weight? Thinking about getting more active? Want to improve your overall health and well-being?