FOUR Donegal lads have teamed up with local company Donegal Oil Company to form Team Donegal Oil. Gavin Harris, Arthur McMahon, Michael McGarvey and Sean McFadden will take to their bikes and take part in the Race Around Ireland.
They will join cyclists from all over the world on Sunday 30th of August 2015, at Trim Castle, County Meath for the 7th Race Around Ireland and The Irish Ultra Challenge. This event is 2100km long and is ranked the highest event in the UMCA World Cup calendar and these boys from county Donegal are certainly gearing up for the challenge. Training hard with their own sports and taking part in many adventure races & events over the last number of years makes them no strangers to this type of non-stop cycling challenge.
The four boys will take part in the relay cycle, which will be non stop 24 hours a day! They have 5 days to finish the cycle relay and hope to have it completed in less than 4 days, 1 days ahead of the allotted time. The Race around Ireland is listed as one of the world's toughest endurance events but also allows amateur riders to compete with elite riders from all over the world!
These Donegal lads are no strangers to cycling and sport, especially Sean McFadden from Letterkenny who has achieved hugely successful triathlon, cycling, adventure racing and running wins. Sean was winner of The Race 2015 and runner up of The Race 2014, he finished top 3 in Ras Mumhan, An Post Ras 2 years in row and Lough Keep Triathlon Winner 2014. Arthur McMahon played rugby till he was 36 and after taking part in the Donegal Coastal Cancer Challenge in 2013, to raise money for the Donegal Hospice after his mum sadly passed away from cancer, he has been taking part in many adventure challenges ever since and admits himself he is "hooked".
Michael McGarvey, originally from Falcarragh, living in Letterkenny is another avid rugby player with Letterkenny Rugby Club, he is training hard for this event and regularly takes part in local charity events, just last week he participated in the WAAR, Wild Atlantic Adventure Race. And last but not least, Gavin Harris from Convoy, the teams Ironman has been taking part in cycling races since 2007 and is delighted to be part of "Team Donegal Oil".
Not only is this a challenge for themselves personally as Team Donegal Oil but they are delighted that they can also raise money for Donegal's Austism Family Support Group. The Autism Family Support Group was set up 9 years ago to support parents, families and individuals on the autism spectrum.
All the members of the group all work on a voluntary basis and their aims are to support families and to offer children the opportunity to take part in a number of different activities without being judged. They are actively raising autism awareness within their children's community. "We are delighted that we can support The Autism Family Support Group" a very hard working worthwhile charity who do great work under the radar and they deserve support" say's Arthur McMahon.
On the build up to "The Race Around Ireland" they have organised a charity cycling weekend, so if you would like to join them on Saturday the 30th and Sunday the 31st of May Team Donegal Oil, the Donegal-based Autism Family Support Group and The Mark Anderson Budapest Fund will be running a charity cycling weekend.
On Saturday there will be The Kirkstown Hillclimb, a perfect training run for anybody doing the Donegal 3-Day Race but which will suit all abilities. Sign on at 9am in the Aura Leisure Centre Car Park in Letterkenny and first competitor away is 10am. Please contact Gavin Harris, Sean McFadden or Arthur McMahon for a time to suit. They will accept donations to the charities at sign on.
On Sunday the 31st of May they will be having a 45km Charity Sportive at an easy controlled pace. Sign on at Donegal Oil Company, Port Road, Letterkenny at 9am for a 10am set off. The run is for charity and will suit all levels. There will be a coffee stop at the newly branded Harris' Applegreen Service Station in Convoy. Again they will collect donations at sign on for the Autism Family Support Group and The Mark Anderson Budapest Fund.
You can follow Team Donegal Oil online on their Facebook page 'Team Dpnegal Oil' and thank you to everyone help them raise some money for their charity however small or large and who knows for these Donegal lads, perhaps the next challenge will be to Race around America?
You can donate to the charity here.
Posted: 9:44 am May 25, 2015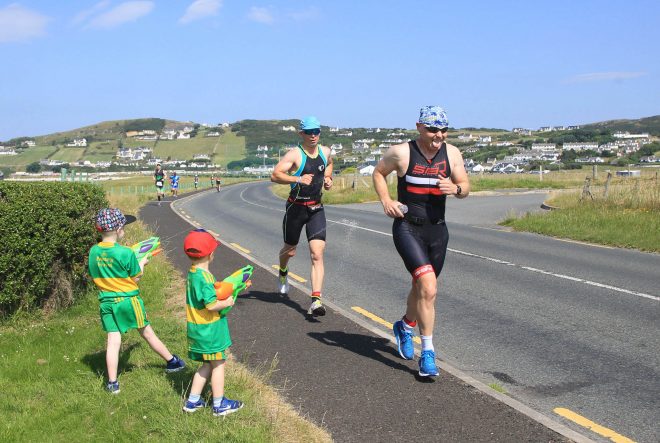 The event, hosted by the Letterkenny 24/7 Triathlon Club, had been in the planning for quite a while.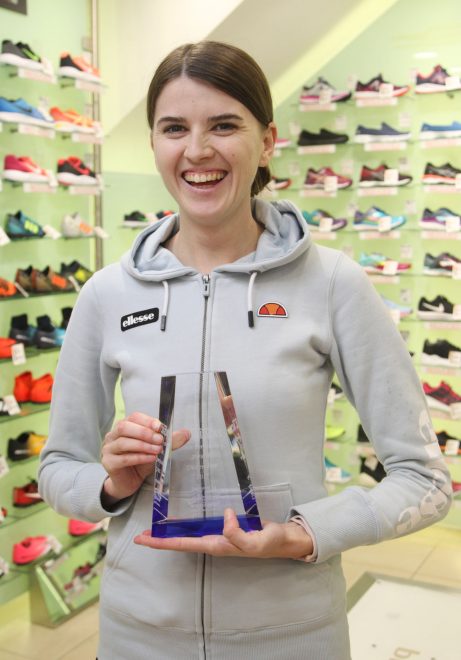 Talented Letterkenny athlete Nakita Burke National Cross-Country Championships in Waterford last December.