A TALENTED St Johnston woman who suffers with crippling anxiety is hoping her music and courage will help other people who may be struggling with their mental health.
Toni Ross (26) a talented singer and guitarist, currently works as a receptionist in the St Johnston Carrigans Family Resource Centre.
With some encouragement from her cousin Shannon, she has just finishing recording her first three songs with the hope of recording her full album 'Insomnia'.
The songs – Antidepressants and Alcohol, Insomnia, and The Drinking Song cover many mental health issues, including anxiety and alcohol abuse.
Speaking to the Donegal News, Toni said, "It was never my intention to write mainly about mental health issues but as a person that suffers with crippling anxiety and has lived with depressive episodes, I think it is so important to draw awareness.
"If even one person listens to one of my songs and feels a little less alone then what more could I ask for.
"We all have our struggles and sometimes all you need is to know you're not alone in your struggles, and that talking or in this case turning your struggles in to music can be a big help and feel like a weight has been lifted.
"I have always wanted to release my own music but never thought I would ever get passed the anxiety of writing and releasing my own songs.
"If I wasn't surrounded by so many amazing people that push me to put myself out there, like my amazing boyfriend Dale who pushes me every day to follow my dreams, my family and friends, who knows if I ever would have pushed myself to do this," said Toni.
The album first came about back in 2021, Toni uploaded a picture to Facebook and her cousin Shannon, who is a brilliant artist turned that picture into an album cover.
On the back of the cover Shannon wrote nine random song names that she made up on the spot and Toni has since tried to write the songs to match the names – the first being the song Antidepressants and Alcohol.
"After writing the first song, anyone that heard it seemed to really like it so this gave me a bit of a push.
"So far I have three songs written, but still a long way to go to finish the album, and now I feel more determined than ever to keep at it," said Toni.
Music has been part of Toni's life from a young age and she got her first guitar for Christmas when she was 12 years old and taught herself to play.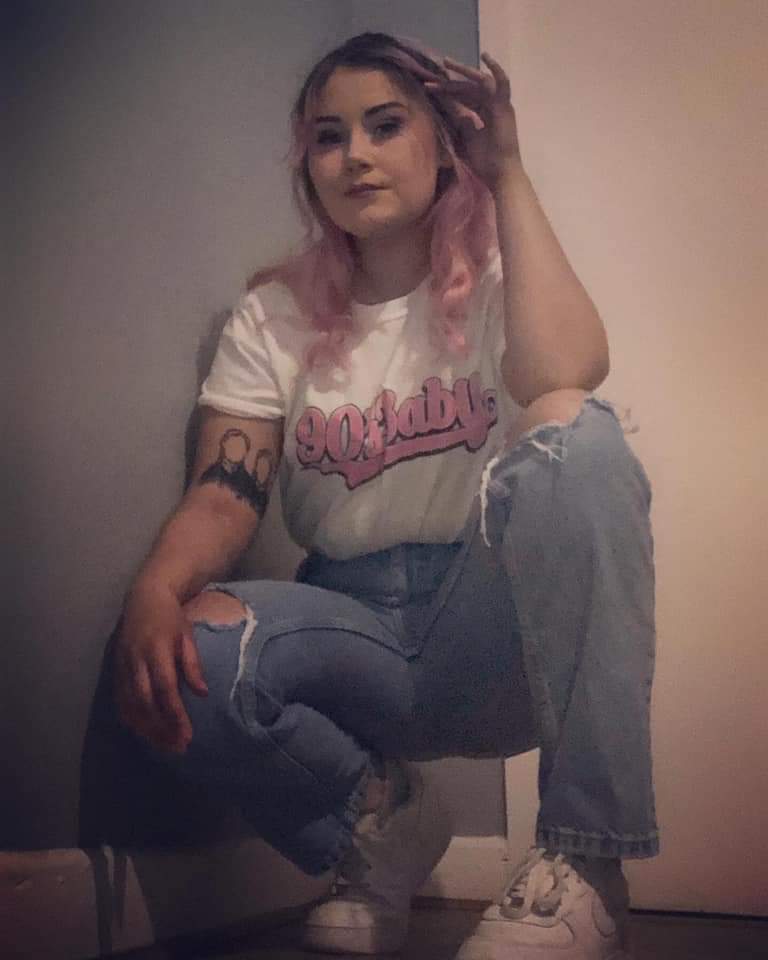 She praises her late uncle Anthony and her brother Craig for their support in helping her create music.
"My uncle Anthony who passed away four years ago was one of my biggest inspirations and best friends.
"We would often teach each other different songs and bonded so much through our love for guitar.
"One time I actually did a show on stage for a talent contest using my uncle's guitar and took my first case of stage fright, but thanks to my older brother he stood up, sang along and got the rest of the crowd going and I quickly got over it and continued.
"My brother promised me that night he would buy me a guitar, and true enough after his first overseas tour with the army he came back and bought me the guitar I use to this day which I will always be grateful for," said Toni.
Toni recorded her music with Eamonn O'Connor and thoroughly enjoyed the process.
"I was in complete awe of all of the equipment he had and at first was very nervous but the nerves quickly left when Eamonn kept talking his words of wisdom.
"He was fantastic throughout the process and even taught me how to mix and master my songs, and before I knew it I was able to mix and master one the ones I released myself!
"Throughout this process, Eamonn has become both a mentor and a friend," said Toni.
Since releasing the music last weekend, Toni has been blown away by people's kind words and support.
"I honestly could not have predicted the response and feedback I would have got for my songs.
"I feel like the luckiest girl in the world.
"I think we all spend so much time in our own heads putting ourselves down and worrying what everyone else thinks when in reality it won't always be as negative of a response as we imagine, and we all just need to learn to give ourselves more credit.
"The saying I've been going by since starting this process is I'd rather try and fail than never try and wonder what if," said Toni.
Receive quality journalism wherever you are, on any device. Keep up to date from the comfort of your own home with a digital subscription.
Any time | Any place | Anywhere
Posted: 3:20 pm July 14, 2023