The Biotix range is on offer from the Natural Way Health Food Store, Letterkenny Shopping Centre
Digestive Health is the cornerstone to Optimal Health. We are formed by our nutrition and the food that we digest and absorb. As life is often busy and we find ourselves 'time poor' and frazzled, we rush our meals, we are stressed, make unhealthy food choices which all effect our digestion and compromise our nutrition. We forget that good digestion equals good health and health is governed by the gut.
HOW DOES IT ALL WORK?
The digestive tract is filled with millions of active micro flora or bacteria and forms the body's immune defence against illness! Having enough beneficial bacteria in the gut creates a 'crowding out' effect, which helps to prevent other not so beneficial bacteria from colonising. The bacteria produce digestive enzymes that complement our own natural production which aids with the digestion and the assimilation of nutrients, beneficial bacteria also aid with the metabolism of nutrients making them more bio available to the body. Bacteria produce many nutrients and beneficial substances that play an important role in the body such as vitamin K, some of the B vitamins and a sub-stance called short chain fatty acids. Beneficial bacteria doesn't just line the gut however, and is actually found on every surface in and on our body. This is how beneficial bacteria supports all systems throughout the body and therefore it is important to keep it healthy.
BOOST YOUR GOOD BACTERIA
The gut acts as the portal to the body, processing an enormous variety of food and absorbing a wide range of nutrients, as well as being exposed to a myriad of infectious agents and toxic substances. Looking after our gut health, by taking a probiotic supplement such as our Enzyme Biotix can therefore help to prevent against any bloating and ease digestive discomfort.
HOW CAN WE KEEP OUR GUT BACTERIA HEALTHY?
An easy way to help to safe-guard our gut bacteria is by taking a daily probiotic! The bacteria contained in each capsule change the environment of the gut, so that it favours other beneficial bacteria strains and promotes good digestion and health.
QUEST VITAMINS HAS A RANGE OF PROBIOTICS TO SUIT SPECIFIC HEALTH NEEDS.
A good place to start, is Tum Biotix in support of digestive health and the management of IBS symptoms. For children, Kids Biotix, a chewable, tasty tablet for digestion and immunity. Lactase Biotix, to support lactose intolerance, Cholesterol Biotix, to help reduce high Cholesterol, and Cran Biotix is highly recommended to manage UTI infections. For a high dose digestive, gut and immune health support, Mega8 Biotix delivers a high potency 30 Billion organisms per capsule, multi 8 strain formula for broad spectrum probiotic activity, this product is also ideal for anyone who has been or currently on a course of antibiotics.
Enzyme Biotix, is for the effective breakdown of food and immunity and don't forget the premium probiotic and micro nutrient immune supplement, Immune Biotix, for extra protection against flu and viruses and also boost the immune system. All capsules have the unique DR or 'Delayed Release', protective, delivery mechanism, that protects sensitive bacteria from stomach acid ensuring the survival of bacteria to reach the precise area of the intestine.
The Quest Biotix Range are packed in convenient blister packs, travel well and an added feature is they do not need to be refrigerated. For all your Probiotic requirements, visit The Natural Way, Letterkenny Shopping Centre where the full Quest Biotix range is available in store offering 20% off throughout April.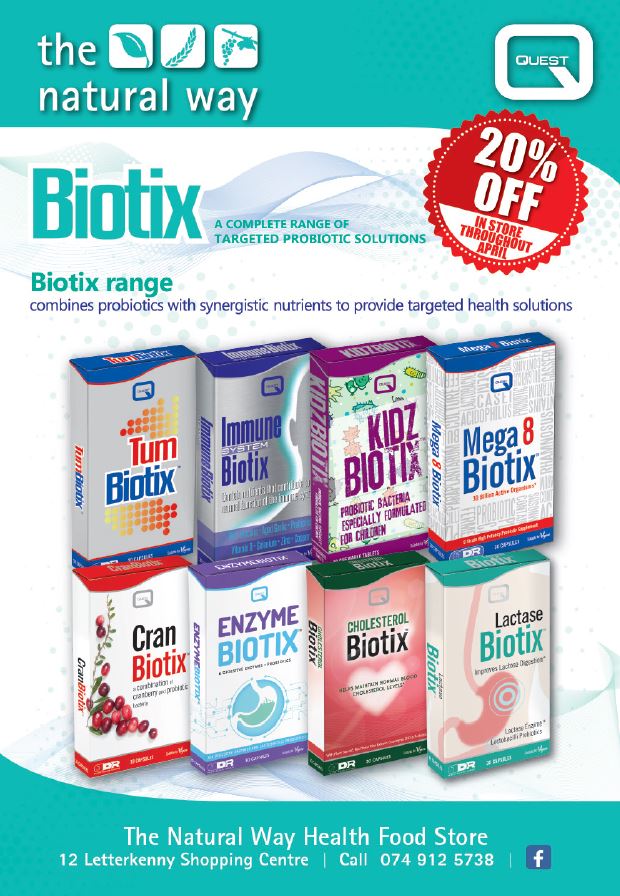 SPONSORED CONTENT BY: THE NATURAL WAY HEALTH FOOD STORE
Posted: 3:00 pm April 13, 2018