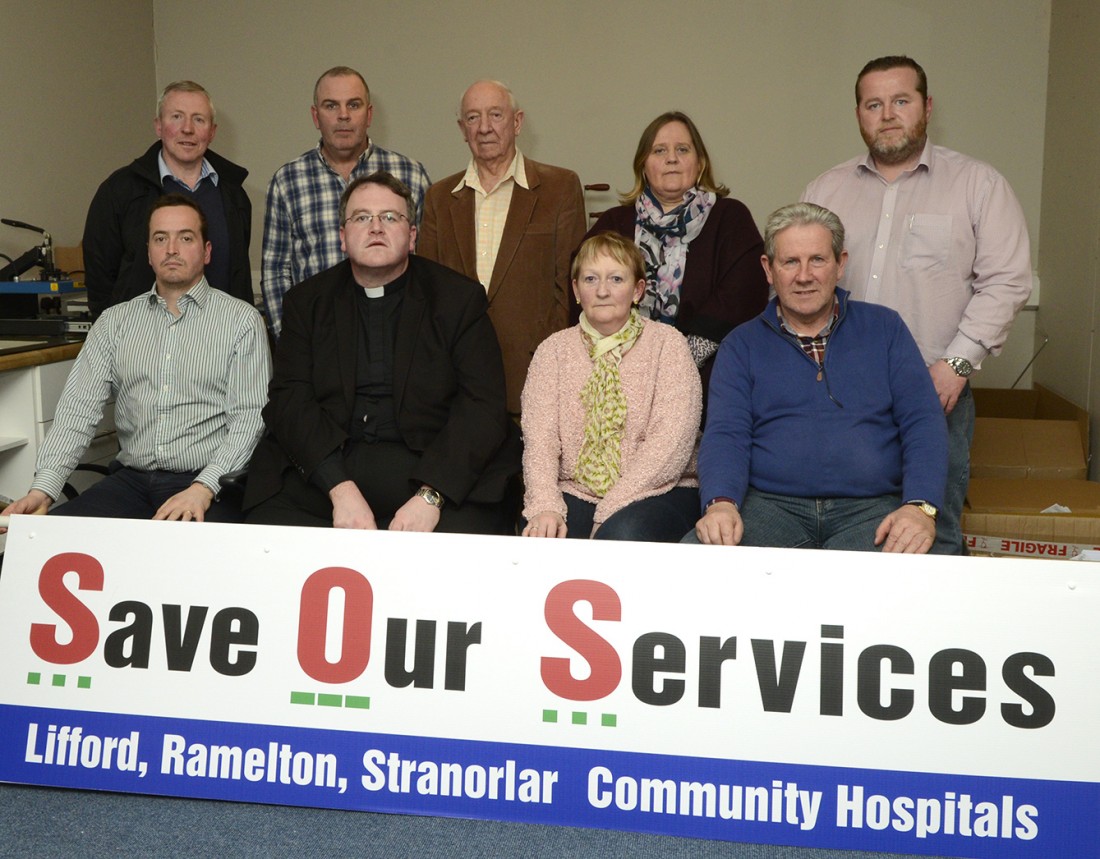 CAMPAIGNERS attempting to secure the futures of Lifford, Ramelton and Stranorlar Community Hospital held a meeting with newly elected Dail deputies and the Save Our Services (SOS) committee last Saturday 19th March. 
The meeting scheduled over the uncertainty of the three hospitals complete lack of funding was a major discussion topic.  Agenda items included securing the full and unequivocal backing of the Donegal deputies for cross party support, signed support to the principles of seeking consultation to develop a funding plan, commitment to election promises and to secure a meeting with the Senior HSE Officials and Ministerial delegation when a new minister of health is appointed.  
"We called for this meeting to discuss the wide ranging implications for the hospitals into the future.  There has been much talk of a plan for the hospitals, yet we know elected representatives have no information on this, yet HIQA has referenced 'a plan' in there various reports.  This means we are in the very strange position of operating in a vacuum where there is no clear picture of how these decisions are being made, and if these decision are made unilaterally.  We asked for all information to be made available to us so that we can see how this downgrading decisions was reached"
We were very happy with the outcome of the meeting where the three attending deputies, Thomas Pringle TD, Pearse Doherty TD and Pat the Cope TD are going to work proactively for us and are full square behind our continuing campaign.  Charlie McConalogue TD was unable to meet us but has confirmed his intentions and we will be meeting the deputy soon.  "Joe McHugh TD has indicated that he is willing to meet with us but we have no confirmed date for this nor any indication that he is going to back our campaign, which is somewhat disappointing but we remain positive that Deputy McHugh will at some time agree with us on this situation."
The TDs who attended gave their perspective on the situation and an open and frank discussion on how best to advance the campaign was refreshing in that the unity was encouraging.  Agreement on the way forward and the next steps are being initiated as we speak and we hope to be in a position in the coming months to report additional progress.
"The figures mentioned in the HIQA report suggest that the need for the 3 hospitals is even more pertinent when consideration for a new Community Nursing Unit in Letterkenny would not be in a position to cope with the demand.  We are liaising with various professionals and many others to look at this in a forensic manner as we to-date cannot see how the downgrading makes any financial, medical or overall care better, frankly it doesn't"  
They conclcuded: "The SOS committee are continually meeting and planning to ensure that what we set out to do will be achieved and that is to save and if possible expand these services in our communities.  The process involved may take many months but we are in this for the long haul."
Receive quality journalism wherever you are, on any device. Keep up to date from the comfort of your own home with a digital subscription.
Any time | Any place | Anywhere
Posted: 10:32 am March 23, 2016