BY SEÁN P. FEENY
THE YOUNG members of a Donegal traditional music school will host musicians from the Scottish Highlands as part of a new exchange programme.
Members of the Letterkenny-based music school Ceol na Coille are delighted to be hosting the Cairngorms Ceilidh Trial group at the end of July.
An exchange programme has been set up between Ceol na Coille, The Inishowen Traditional Music Project and the Cairngorms Ceilidh Trial through the Feis Spé organisation based in the Cairngorms National Park region of the Scottish Highlands.
The visiting group will stay with host family's in the area and will perform a number of joint performances both formal and informal during their stay.
There will be a concert in the Regional Cultural Centre, Letterkenny on Wednesday, July 31 and also in McGrory's, Culdaff on August 1 that will show case the young musicians from all three participating groups.
Younger members of Ceol na Coille will also perform at the concert and a group from Donegal will travel to the Caingorms in early 2014 on the return leg of the exchange.
Head of the music school, well-known Donegal musician Paul Harrigan said it was a fantastic opportunity for young traditional musicians.
"This exchange in particular offers a unique opportunity for young Donegal Musicians to explore our close cultural links with Scotland, incorporating both the music and language elements of both groups. All of these events offer musicians the opportunity to showcase their talents on national and international stages," he said.
GERMANY
July is going to be an exciting month for Ceol na Coille as a group of musicians from the school will be also be traveling to perform in Erlangen, Germany, to perform with the Scoil Úi Ruairic- Irish Dancing School from Limerick and a festival in Erlangen this.
The group has been invited by the Erlangen based Folk Dance group Ihna and will perform a number of concerts, workshops, visits to schools and other community events.
This coming weekend the young musicians will compete at the County Fleadh which is being held in Culdaff and having had a number of them quite successful at county, provincial and All-Ireland Level the school is quietly confident that they will see some of their students performing at the All-Ireland in Derry this August.
Posted: 1:00 pm May 6, 2013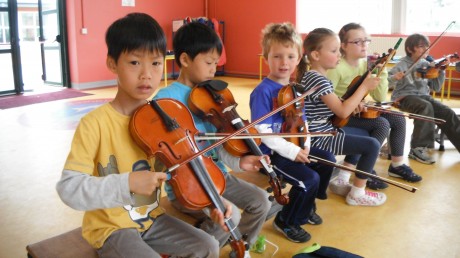 AN exciting week of music planned for this year's Summer School of Irish Traditional Music. Ceol na Coille will...