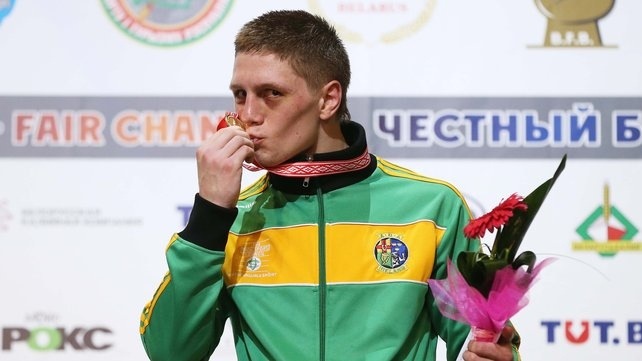 BY CHRIS MCNULTY
c.mcnulty@donegalnews.com
THE time is almost here for Jason Quigley.
The Finn Valley ABC man begins his World Championship crusade on Saturday when he faces either Vijender Singh from India or Sweden's Hampus Henriksson in the round of 32.
Twenty-two-year old Quigley has been seeded at fifth in the middleweight division for the tournament in Almaty, Kazakhstan.
Quigley has gone to Kazakhstan in quite superb form.
The current Irish and European Champion, Quigley now has a world medal in his sights and, given his recent pedigree, the Ballybofey man is now seen as a scalp upon this stage.
Indian Vijender Singh is favourite to be Quigley's opponent on Saturday.
He comes with a couple of warning cards as he was a bronze medalist at the 2008 Olympic Games in Beijing and the 2009 World Championships in Milan.
He was India's first Olympic medalist in boxing.
Quigley will not change his approach, no matter who is in the opposing corner.
"I don't take any boxer for granted, I go in there if it's a world final or a normal club tournament fight, I go in to win and I go in there to give it my best shot and perform the best I can," he said.
"I think that's the secret of just taking one fight at a time and not overlooking any opponent."
Action in Kazakhstan begins today, but Quigley will now have some time to size up his opponents.
Quigley is unbeaten on his last 28 visits to the canvas and is clearly a man who is boxing with confidence.
He said: I'm not sure, but it's a record I don't think has been done in Irish boxing before.
"It only came to my attention when I got into the twenties (and) I started seeing papers saying 'Quigley's unbeaten in twenty-something fights now.'
"It's only recently that it's come to my awareness that I have a run going, whereas, if I wasn't on a run or I got to 5-0 I would never say 'now I want to get to ten' or anything like that.
"Of course, I want to keep it going and keep things going the way they're going but as I say, I'm not going to let it pressure me or get in the way of anything. I'm just going to focus on my next fights and not let it play too much on my mind."
He's well aware that this will be a big step up from anything he's faced before – but well hardened to the continent's tussles, he has set his aims high.
He said: "Of course, I'm going there to become a world champion," he said. "I wouldn't be going out there any other way, to win a fight or two.
"I'm going out there to win the gold medal, without a doubt, and to be very focused and very determined in my own game."
Receive quality journalism wherever you are, on any device. Keep up to date from the comfort of your own home with a digital subscription.
Any time | Any place | Anywhere
Posted: 7:30 am October 14, 2013