Sponsored content by The Natural Way
QUEST Nutra/Pharma is a leading natural products company with over 35 years of experience in developing nutraceuticals and food supplements.  Biotix – The Biotix range combines probiotics with synergistic nutrients to provide targeted health solutions. Biotix has been developed by Quest based on the latest research on probiotic and nutritional supplementation and incorporates industry- leading technology.  Each Biotix product contains Quest proprietary probiotic strains, manufactured in-house, with proven stability and survivability in the gut.  Biotix exclusively uses vegan DRcaps ™ to enhance effectiveness.  DRcaps™ delay the release of the probiotic bacteria, reducing their exposure to the acidic environment in the stomach and releasing them directly into the intestine where they are needed.
Platinum Excellence – Platinum excellence is a range of unique and condition specific supplements.  Platinum Excellence provides health solutions that are highly effective, targeted, scientifically supported and natural. The range includes higher potency options and unique ingredient combinations.  The Platinum Excellence range products can be considered as an alternative to, or used in combination with, pharmaceutical products. In other cases the products can be used as protection from the onset of health conditions that may require conventional treatment or used as a long-term follow-on solution.
Essentials – The Essentials range is a wide portfolio of multi-nutrients, minerals, vitamins, probiotics, omegas, enzymes, specialist supplements, herbs and phytonutrients. We work to high standards to make sure that our products are gluten free, dairy free and vegan where possible so that everyone has the opportunity to improve their health.  The Quest range is now available at The Natural Way with a special offer of buy two, get the third free.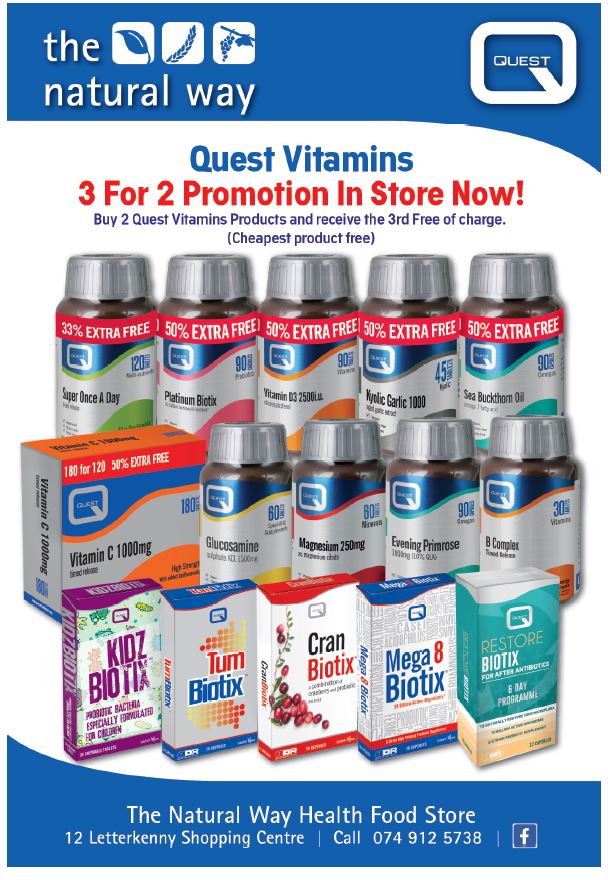 Sponsored Content by The Natural Way
Posted: 12:00 pm May 3, 2019