Synergistic magnesium provides a complex of amino acid chelated magnesium with vitamin B6 which work together in the body. The absorption capacity of amino acid chelates is increased by up to 400% when compared to other forms of magnesium commonly found on the UK market. Amino acid chelates stay intact through the digestive tract and do not get split apart. This prevents the magnesium being bound to other substances such as phytates which carry minerals out of the body. Other forms of magnesium such as citrate, carbonate, sulphate and oxide are typically split apart in the presence of stomach acid which increases its binding capacity to phytates therefore decreasing absorption capacity across the gut and into the blood. Amino acid chelated magnesium is also much gentler on the gut and less likely to cause gastrointestinal discomfort than other forms.
MAGNESIUM MEAN JEJUNAL UPTAKE OF DIFFERENT MINERAL FORMS (PPM)
Magnesium amino acid chelate: 94
Magnesium sulphate (SO4): 36
Magnesium oxide (O2): 23
Magnesium carbonate (CO3): 51
Vitamin B6 works synergistically with magnesium in many biochemical pathways and increases the assimilation of magnesium in every cell. They work together for the synthesis of neurotransmitters including serotonin, melatonin, dopamine, noradrenalin and GABA. These neurotransmitters are essential for sleep, balanced moods, relaxation and energy balance. Magnesium and vitamin B6 work together in the Kreb cycle for the production of energy. Quest manufactures tablets including synergistic magnesium using a sensitive direct compression process, which excludes the use of heat and solvents used in other tableting processes.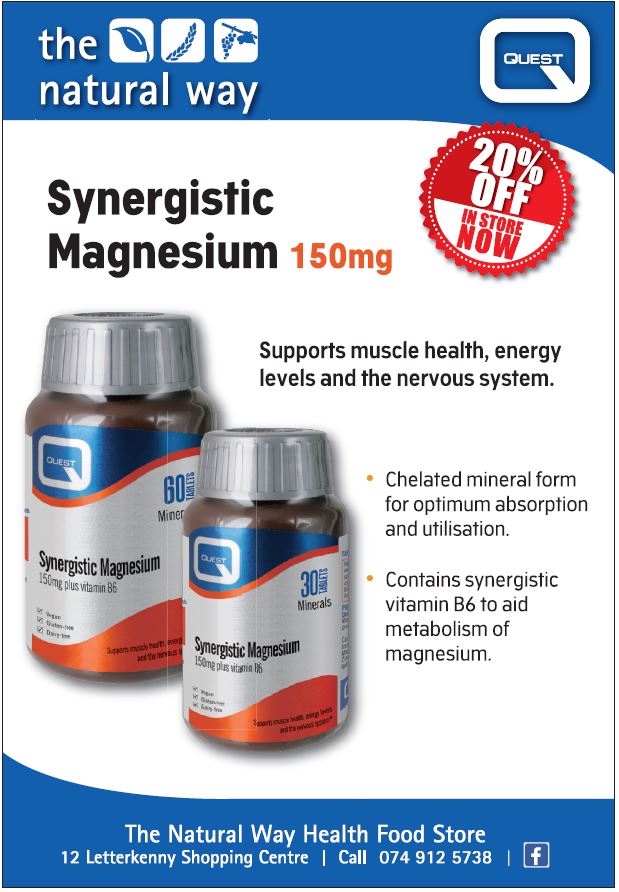 SPONSORED CONTENT BY: THE NATURAL WAY
Posted: 12:00 pm March 6, 2020