By Diarmaid Doherty
A US pro-life healthcare provider is planning to open a clinic in Donegal – the first of its kind in the Republic of Ireland.
Stanton Healthcare, an anti-abortion organisation, opened a clinic in Belfast in October 2015, and last year launched a similar facility in Edinburgh in Scotland.
Plans are well underway to expand into the Republic with confirmation that the company is now on the look-out for a suitable location in Donegal.
The Stanton Healthcare clinic has courted controversy in the past with the group accused of misleading women looking to terminate their pregnancy.
When plans emerged that the company was opening in Edinburgh, it sparked anger from local pro-choice groups.
Stanton Healthcare offers pregnancy counselling and on its Belfast clinic website they say: "Stanton Healthcare Clients receive medically accurate information about options in a confidential and professional setting."
The website adds: "Stanton Healthcare Belfast is a safe place where women are empowered to make their best choice."
Details of the plans to open in Donegal were discussed at an event in Letterkenny last Wednesday evening. The public meeting in Dillon's Hotel was hosted by Donegal Pro-Life and Bernadette Smyth of the Precious Life organisation.
Ms Smyth, who has been at the forefront of the Pro-Life movement in Northern Ireland, was involved in the opening of the Stanton Healthcare clinic in Belfast.
She told those in attendance that her group is intent on saving more lives across the border by setting up a Stanton Healthcare clinic in Donegal.
"When others turn their back on these women, we are here to support them," she said.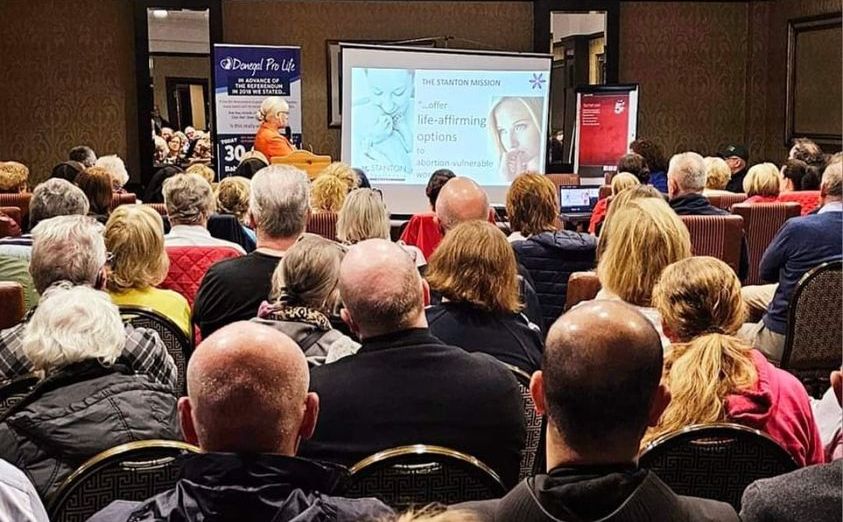 "Why do we do this? Because we know that there is always a better alternative to abortion. Civilised societies do not kill their young."
Speaking to the Donegal News, Mary T Sweeney of Donegal Pro-Life who chaired Wednesday night's meeting, said plans to open a clinic in Donegal "are long overdue".
She confirmed that efforts are now centring on finding a suitable location for the clinic.
"Stanton Healthcare's Belfast clinic has been a big success since it opened there, and they have since opened a clinic in Edinburgh."
And referring to the possibility of expanding into Donegal, she said: "We have talked about this for quite a while. To be honest it's long overdue."
Among the other guest speakers at last Wednesday night's event was Pro-Life activist Fr Stephen Imbarrato.
The American priest is on a visit to Northern Ireland and the Republic and he called on the Pro-Life movement to vigorously assert itself in Ireland.
"While I know the people of Donegal were the only ones to achieve a No Vote, you lost the abortion referendum because people lost the faith," he said.
"So there is only one way to restore a culture of life and that is by bringing people back to the Catholic faith."
Mary T. Sweeney said Fr Imbarrato's visit to Donegal had brought a renewed passion to her group's dedicated volunteers, members and supporters "for which we are grateful."
The Donegal News contacted Stanton Healthcare in Belfast for comment but no response had been received at the time of going to press.
Receive quality journalism wherever you are, on any device. Keep up to date from the comfort of your own home with a digital subscription.
Any time | Any place | Anywhere
Posted: 3:30 pm August 4, 2023