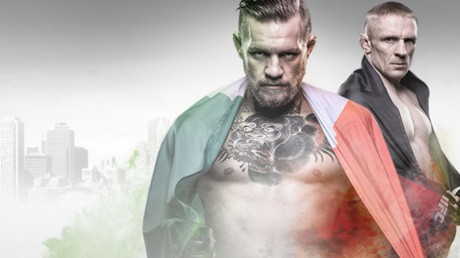 IRELAND'S most talked about professional athlete, Conor McGregor prepares to go 5-0-0 at tonight's Ultimate Fighting Champtionship (UFC) Fight Night in Boston's TD Garden.
You may not know that the Dubliner, described by UFC President Dana White as the 'most marketable fighter they have ever had', once fought right here in Donegal.
Ahead of his fight with Russian-born German UFC veteran Dennis Siver, we bring you an article from the archives of the night Conor McGregor fought in Letterkenny's Radission Blu Hotel.
McGregor knocked out his opponent Paddy Doherty (Progressive Combat Club) within the first seconds of his fight and even back then showed that he was a real character and force to reckon with.
You will also read a few very familiar local names who appeared on the night and featured in the article published in the Donegal News on Monday on May 2, 2011.
Today, Rilion Gracie's Stephen Coll from Fanad is the current Battlezone FC Featherweight Pro Champion. On February 28, Stephen will be taking on Gavin Kelly (Evolve Martial Arts) for the Pro Featherweight title at Chaos Fighting Championship 14 in Derry.
Recently turned 18, James 'The Strabanimal' Gallagher has gone on to become one of the most talked about amateur Mixed Martial Artists in the country. Currently in training camp in Iceland, the SBG man will also be competing at Chaos Fighting Championship.
'Immortal' night for Donegal fighters
Mixed Martial Arts fighters from Englan, Scotland and all around Ireland recently came to Letterkenny to participate in Immortal 4 Fighting Championships.
Hosted by Strabane Fight Team, there were a number of Donegal fighters who proudly represented their respective clubs and county.
No less than 16 fights were on show at the Radisson Blu Hotel on Saturday, April 13 giving amateurs, semi pro and professionals a chance to show off their skills in front of an audience of over 500 MMA fans.
On top of the bill was Letterkenny's Rilion Gracie Jiu-Jitsu and Martial Arts Academy coach Stephen Coll from Fanad who stepped in last minute to face top 'Cage Contender' Myles Price of Straight Blast Gym, Dublin.
Although facing a huge challenge of trying to beat such a highly-ranked fighter, Coll showed that his is no push over and even though he stepped in 'last minute' held his own against the impressive Price.
Opening the night was Paddy McConigley from Fanad of Rilion Gracie who received huge cheers from the Donegal fans, who were certainly most vocal cheering on fighters.
It was an action-packed opening fight as McConigley hit his opponent Michael Henry of IMMA Ballymena with two big kicks, before slamming him to the ground with a big thump.
Although Henry was able to flip him, McConigley was quickly able to make Henry tap out and as the crowd chanted 'Paddy, Paddy' you could see the delight in McConigley's face as his arm was raised by the referee.
Another Rilion Gracie fighter on the fight card who really impressed
on the night was Carrigart's Paddy McBride who was involved in a very
exhilarating fight which ended when he knocked out his opponent Ciaran
Slim of Congo MMA Warrenpoint.
Marcus Monaghan of Fighting Fit, Donegal Town had to go all three
rounds with his opponent, Gregor Lenark of IMMA Ballymena. Monaghan threw Lemark onto the ground very early in the first round, but Lenark got his own back in the second when he got Monaghan with a big punch.
But Monaghan this wasn't enough to stop the Donegal town fighter as
he got Lenark into a lock and won by technical knock out when Lenark sustained an injury to his eye.
We also have to give a shout out to The Strabanimal, James Gallagher (14), the son of our very own staff member Doreen Gallagher, who fought brilliantly on this big night and beat his opponent in under sixty seconds with a guillotine choke.
James is not only a very talented athlete to boot – and as one Letterkenny enthusiast said 'That boy's got skill' – he is also a fantastic entertainer with a bright future ahead and we look forward to seeing the Strabanimal in Donegal very soon.
Conor Cassidy,Promoter and coach with Strabane Fight Team, said the club hopes that this will be the first of a annual event.
"We will be hoping this will become an annual event, maybe even twice a year and we would like to say a huge thank you to all the MMA fans who made it such an entertaining event," said Conor.
Receive quality journalism wherever you are, on any device. Keep up to date from the comfort of your own home with a digital subscription.
Any time | Any place | Anywhere
Posted: 12:26 pm January 18, 2015