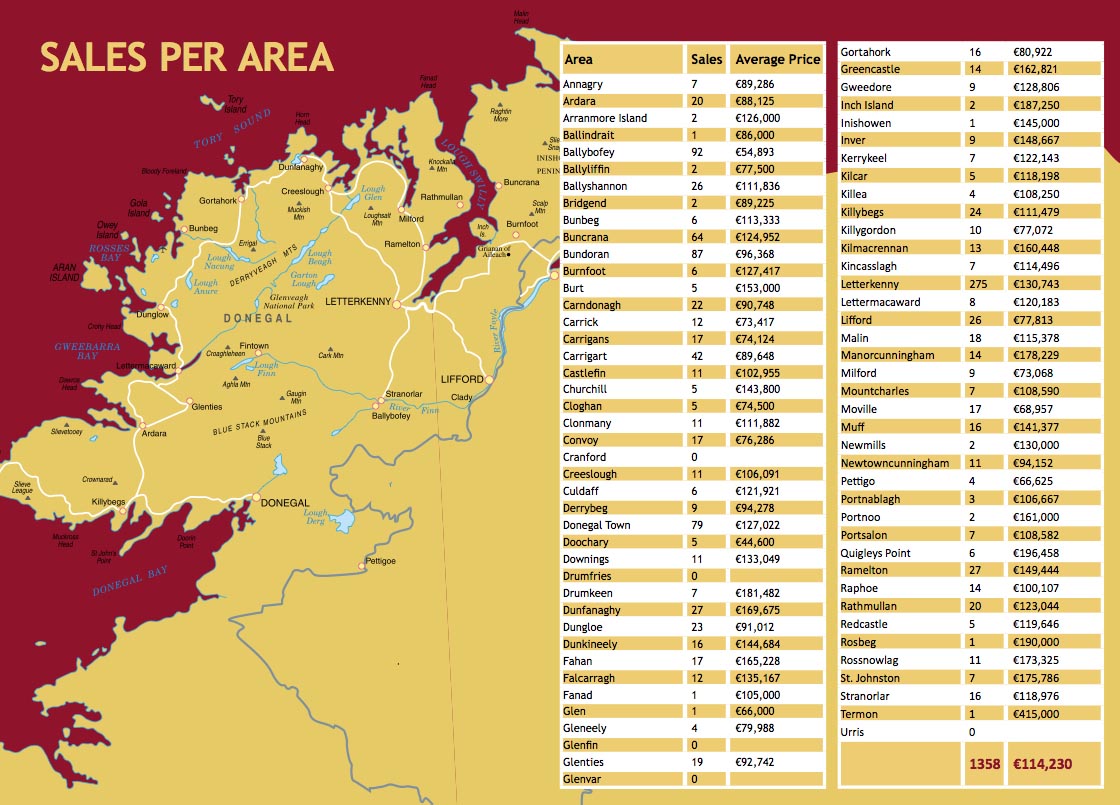 ESTATE agents are urging caution after a new study suggested ten houses in one part of Donegal can be bought at the same price as one elsewhere.
The study, published on Friday, put the average price of a house in Doochary at €44,600 while claiming that in Termon, buyers can expect to pay €415,000.
Paul Franklin, Managing Director of Franklins Estate Agents in Letterkenny, said that his firm had long questioned the precision of such reports.
He described them as "inaccurate and misleading" and said the best way to gauge the average price of a property was to speak with an agent directly.
After Doochary, the cheapest place to buy a house is in Ballybofey where properties are on the market for an average of €54,893.
But yards away in Stranorlar, the average price currently stands at more than double that on €118,976, according to the latest survey.
Warning buyers against using findings and reports from national property websites, Mr Franklin said, "It only takes us to sell one big country house in somewhere like Rathmullan and suddenly the average property price for the area goes through the roof. 
"When you are looking at these reports, you are looking at the averages and that is how they are calculated.
"But how do you counteract that? My advice would be to ring up and speak to someone directly. If someone rang me today and said they were thinking of buying a three bedroom house in a certain area, at least I could give them the parameters on that.
"We have often questioned the findings and reports coming from national property websites and commentators. We find them inaccurate and misleading."
Franklins said January of 2018 was one of their busiest in several years with 26 properties being sold.
And cash rather than mortgage continues to be the preferred method of payment.
Last year 57 per-cent of deals went through on a cash basis. That was down from 71 per-cent on the previous 12 months.
A weak sterling and fears over Brexit continue to worry buyers and owners though.
"There has been a huge devaluation in sterling and it has stayed low," Paul Franklin said. "Prior to Christmas there were predictions it would touch parity with the euro although that didn't quite happen. 
"Then you have the continued uncertainty around Brexit. It is still an unknown quantity but it has affected the confidence of sterling buyers."
Further worries about Brexit have prompted what Franklins describe as a "mass exodus" from border towns and villages back into places like Derry.
"A lot of families have children going to school in Derry and possibly they are looking at difficulties that may occur down the line," said Paul Franklin.
The overall forecast is that, where houses prices in Donegal have remained largely stagnant in recent times, 2018 could be the year they start to move upwards again.
In Dublin the housing market grew by 12.3 per-cent last year and estate agents here predict this could be the year Donegal starts to play catch up.
Lending on the part of the banks remains a barrier for many people though.
"The Central Bank continues to inhibit first time buyers," Paul Franklin said.
"Rents are through the roof and there are a lot of people living in rented accommodation who would love to buy. But the banks aren't lending."
That situation is unlikely to change in the immediate future either, according to the estate agent.
"We have such a two tier market here in Ireland. In Dublin things are thriving and property prices are still increasing at dramatic levels. But the Government would be keen to keep the restrictions in place because of the fear of what they are seeing as another bubble."
Receive quality journalism wherever you are, on any device. Keep up to date from the comfort of your own home with a digital subscription.
Any time | Any place | Anywhere
Posted: 2:56 pm February 20, 2018