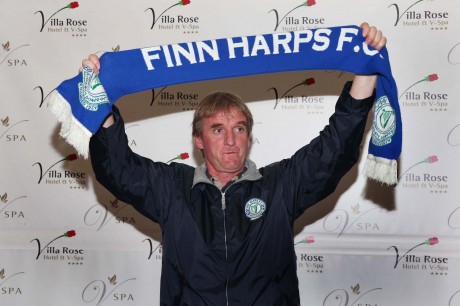 OLLIE Horgan had waited a long time for this night, his first as a League of Ireland manager.
There was little fanfare for his arrival to Finn Park, even if a healthy 823 attendance represented a fine start in that department for the club. Afforded a warm welcome, Horgan was down to business from the off and could look back on a decent, if not inspiring opening night.
The new Harps chief is a tough task master and demands nothing but total commitment and nothing less than 100 per cent effort from his players.
He led the troops for the first time on Friday night and reflected satisfaction with the second half display of his side, which was much more in keeping with his requests than a disappointing first had been.
"At half-time, I was quite critical of the way we went out," Horgan said afterwards.
"We didn't have the fight and the heart that I had expected and looked for from the players. We looked nervous, we looked rusty and we looked like we hadn't done that good of a pre-season, which I feel we had.
"The football wasn't pretty by any means in the second half, but I thought that there was a little bit of pride and a little bit of guts there.
"On other days they might have conceded late and lost that game one-nil. To their credit, they stuck at it and got a point out of it. It is only a point at home, nothing more than that.
"We ran our luck a bit, but at least we deserved a bit of luck in the second half. In the first half, no. If we had been one-nil down at half-time, I don't think we could have complained."
While Ruairi Keating had a fine chance for Harps on the hour, Waterford had enjoyed the better openings before then, with Conor Meade denied by Conor Winn in the seventh minute when he raced clear.
When Paddy Barrett caught a loose ball seven minutes from time, Finn Park gasped and the crowd momentarily peered a collective view through its fingers.
Barrett's shot sailed over the River End goal, though, and Harps survived.
Horgan said: "Waterford, attack-wise, are as good as any side. They had the better of the chances, most certainly.
"Their six attacking players can match any side and their back four gave us very little chances. The only ones we had were from set pieces and they had the most clear-cut chance of the game, the one that fell on the penalty spot."
Horgan handed debuts to goalkeeper Winn, midfielder Carel Tiofack and striker Ruairi Keating, while there was a return to Harps colours for Convoy's Packie Mailey in defence and Graham Fisher was given a first appearance off the bench late on.
Of his new faces, Horgan said: "It's good to have them around. They're positive and they want to do well.
"It will be difficult, it is a very difficult League. You need to brighten things up. They did well tonight, but it's only a start."
Time was last season when the attendance figures had dwindled to countable, so there was encouragement for the start of the new era with a crowd of 850 paying through the turnstiles.
Horgan said: "There was a good crowd here. I didn't have a look around too much, I was keeping the eyes on the pitch because there was quite a bit to sort out.
"It was a very honest game. It was a good battle. That's what I'm looking for – for us to show a bit of pride and a bit of passion. We did that in the second half. It disappointed me that we didn't in the first half. If we can get that second half performance in a full game, over ninety minutes, then maybe we could make progress."
Horgan had a busy week, taking charge of the Republic of Ireland Schoolboys for a three-nil win over Wales in Cefn Mawr on Thursday.
There was a spring in his step as he shot the breeze in the wake of the first competitive ninety minutes of his tenure.
He said: "I wouldn't be here if I wasn't going to enjoy it. Of course I enjoyed the occasion, it's great. We got a result, albeit a draw, to go with it. If we'd lost I'd still have enjoyed the occasion – but that's my nature."
Receive quality journalism wherever you are, on any device. Keep up to date from the comfort of your own home with a digital subscription.
Any time | Any place | Anywhere
Posted: 4:24 pm March 8, 2014