As some of you may know, I recently climbed a very snowy Errigal Mountain and the story found it's way around Ireland as people found a little inspiration from it I think. I was asked to write a third person piece about the experience and I would like to share it with you. Enjoy.
At 8:30am on Thursday January 14th, the founder of Fighting Fit For Ewing's (FFFE), Nikki Bradley set off in search of adventure. As she drove along the winding Donegal roads, Nikki couldn't help but appreciate the beauty around her. The first snow had fallen over night and the result was breathtaking. Muckish mountain was nestled under a thick blanket of snow, tempting her, however her destination was a little further ahead. She pulled up to the car park where she was greeted by the team; expert climber Iain Miller, international photographer Paul Doherty, rope access technician Ian Parke, digital marketing student Siobhan Cox and Oscar the dog. Pulling on her gloves Nikki allowed herself the first proper glance of the infamous Errigal mountain. Her first adventure of 2016 would involve scaling Donegal's highest peak. A peak which happened to be completely smothered in snow. For an experienced climber, this would prove challenging, for a long term crutch user and the receiver of a second total right hip replacement, this would be an epic uphill battle. A nervous excitement rippled through her as she pointed her shiny pink crutches in the direction of the mountain base. It was show time!
The first forty minutes were a messy affair. Due to heavy rainfall over the Christmas period, the marsh land leading to the base was saturated. A lonely abandoned welly stuck in the mud reminded them to tread carefully. The snow provided an unfortunate camouflage for some of the deeper ridges and mud pits so Ian walked ahead of Nikki and paved the way for her to follow. She felt safe knowing he was close by should she fall into one of the many holes hidden beneath the snow. Paul and Siobhan stayed behind to film the others using a drone designed to capture some artistic aerial shots. The rolling clouds overhead threatened to foil his plan but luckily he managed to capture some inspiring footage before the first of many hail showers hit. They were collectively relieved to reach the base of the mountain and to leave the marsh land behind them. The gravel under foot was a welcome change and the team managed to quicken the pace. Biting wind and hail left angry red blotches on their faces but they continued to move forward. After about an hour of steady climbing, the weather worsened causing some doubt to cross Nikki's mind. She turned to Iain and shared her concerns. His response was exactly what she needed. He suggested they climb another 100 meters and decide afterwards whether they would continue. Nikki knew this was his way of telling her they weren't going back and to suck it up! With a small smile playing on her lips she turned into the wind and pushed forward.
Prior to reaching the base, the team had encountered two men who had said quick hellos before passing them. As the team grew closer to the top they wondered where the two had gone. They had at least a twenty minute advantage as the team had stopped numerous times to take photographs. It was reasonably decided that they must have gone down the other side. Finally the top came into view and everyone took a moment to appreciate their surroundings. Just as they were ready to move forward again they spotted two figures in the distance. Nikki realised it was the two climbers that had passed them and knew immediately that they were waiting for them to reach the top. Although exhausted and in pain by that point, Nikki was determined to increase her pace. As the team grew closer to the two climbers they were greeted with a round of applause along with cheering and general merriment! It was an unforgettable moment and one they will cherish. The two men who were professional climbers from North Carolina shared a flask of hot, ginger tea and swapped stories before the cold forced them on their way. As one of them turned to leave he stopped and offered Nikki a hand shake. It was such a simple gesture but one she will never forget.
As they made their way down the mountain again the team fell into a comfortable silence. Each lost in their own thoughts. For Nikki climbing Errigal was a great achievement and she felt proud of herself and the people around her. Iain's words came back into her head and she smiled again.
The next time you are faced with a challenge and want to give up just say to yourself 'Just another 100 metres' … you never know what it could help you achieve.'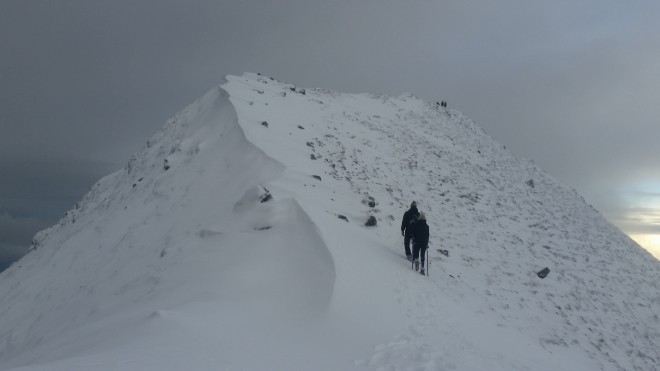 Receive quality journalism wherever you are, on any device. Keep up to date from the comfort of your own home with a digital subscription.
Any time | Any place | Anywhere
Posted: 1:51 pm February 1, 2016