Despite having been in the position for some months now, Linda Moore started her first day of a new school term as the principal of Ballyraine National School just last week.
The first day of this school term started much calmer when compared to this time last year.
Twelve months ago the hallways were filled with furore as staff and pupils were left wondering who was going to fill the shoes of the recently retired principal, Mr David Oliver.
"The interviews had been a longer process than we expected so we actually had our first full day and we didn't know who the new principal was," Linda recalled.
Later that day Linda received a call to confirm the news. She was the new principal.
The popular Letterkenny woman said she had never actually planned to be a principal. It was never in her goals or sights.
She wanted to be deputy principal and to follow in the footsteps of a now retired colleague who she idolised, Mrs Marina Sterritt.
"I wanted to be just like her," Linda laughed.
But when Mr David Oliver announced he was retiring, Linda's friends asked if she would consider going for the position. She laughed them off.
Then one afternoon as she sat in her car parked outside the school she adored, she couldn't help but think to herself, "Imagine if I was principal".
When she got the job she recalled saying to a friend, "Can you imagine, George Moore's daughter from Castleshanaghan is now principal of Ballyraine National School".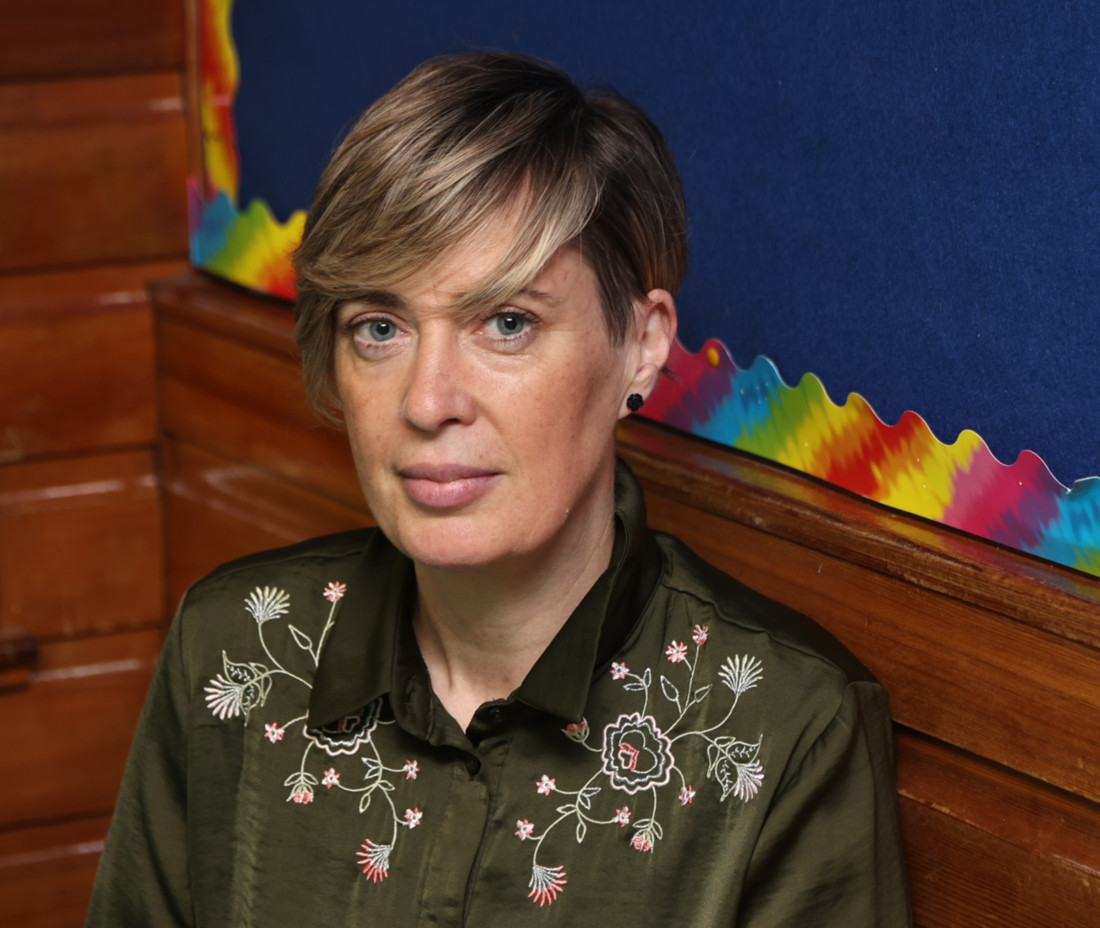 Her appointment has left both her parents George and Sadie Moore beaming with pride.
Linda grew up in Loughnagin in Letterkenny but has now been living in Kilmacrennan for over 20 years with her husband Micky McGroarty and their four children, Oisín, Rowan, Ultan and Jorja Mae.
Linda and Mickey have been together since they were 18 years old and he has been there with her throughout her teaching journey, through both the ups and downs.
"He knows that it is my second love," Linda said warmly.
Ballyraine National School holds a special place in her heart as it is where Linda started her teaching journey back in 1998.
"I am very grateful to Mrs Anne McKinley for giving me a chance to become part of the Ballyraine family when I was a newly qualified teacher."
Linda has taught in lots of different classes in her time and spent the last few years working as a Special Education Teacher.
"I honestly thought it couldn't get any better," she said.
"I love this school and I love the children. I am at the stage now where I am welcoming a second generation back. It is just lovely to have that continuity and to know the parents and the grandparents.
"The people are the reason I am here, it's as simple as that. I wouldn't want to be principal anywhere else."
Despite growing to over 230 pupils, Ballyraine still feels like a small school. Linda boasted that her staff could tell you the name of every child's pet and who their grandparents are, because they take the time to get to know the children individually.
"This is the legacy of Ballyraine, and I am proud to carry that on," she said.
"We are a school that celebrates all children. We work hard to create an environment where children feel valued and are motivated to do their best and we celebrate all successes no matter how diverse or small," she added.
Linda said this would not be possible without her amazing team that has grown to 30 staff this year.
"I am blessed with a team of people who are both my friends and colleagues," she said.
Linda said the best advice she received before taking on the position was to prioritise people, and make time for paperwork later. This has helped to keep her grounded.
Her fond memories from her early years in education at Castleshanaghan National School have also kept her motivated. At the time it was a small one teacher school on the Ramelton Road, where she said the pupils were always the priority.
"My teacher Maureen was amazing, I don't know how she did it. I take my hat off to her now when I realise what is involved in running a school".
Opening an ASD Classroom was her main goal in her first year as principal but it has also been her biggest challenge to date as it was not ready for the beginning of the new term.
Days before the children came back from their summer holidays the school halls resembled a building site.
"So we switched to Plan B and with a lot of help from our SNA team, ancillary staff and teachers in the ASD classroom we managed to set up another room in the interim, ready for our six children."
She also praised the school's caretaker Stephen Thompson, cleaner Michelle Moore, and secretaries Lynn Robinson and Heather McCarthy for their tireless support in making this transition as seamless as possible.
Receive quality journalism wherever you are, on any device. Keep up to date from the comfort of your own home with a digital subscription.
Any time | Any place | Anywhere
Posted: 5:46 pm September 13, 2023