THE Covid-19 pandemic has seen a rise in the number of local bereaved parents seeking support.
Anam Cara is a national charity for bereaved parents to help each other cope with their grief, loss and journey on.
The charity is currently supporting between 150 and 200 families in Donegal through face to face meetings and online support.
Sharon Dagg is the new CEO of Anam Cara. She took up appointment three months ago, having previously worked with Make a Wish Foundation. Over the last number of years, Sharon worked in a centre offering supports and providing services to people with Down Syndrome.
Speaking to the Donegal News, Sharon said the course of the pandemic has amplified loss for many bereaved parents.
"Losing a child at any age is devastatingly lonely but when this happens in the course of a pandemic it is all the more isolating. It has been huge for many parents and families. For some bereaved parents, the pandemic has also reopened wounds. We have seen some parents return for supports.
"Family, friends and neighbours are a great support but the bereavement of a child no matter what age they were or how long ago they passed away it's so lonely, and sometimes parents really just need to be in the company of others who have experienced the same thing."
Like all other charities, Anam Cara has had to readapt in the face of the pandemic. It moved much of its supports online. Face to face meetings have also now returned. In Letterkenny, they take place in the Radisson Blu hotel the second Thursday of every month. Sharon said Anam Cara will continue with its hybrid model of face to face and online support meetings.
"Moving online has been a good move because we found we were able to support families who we might not have been able to reach owing to geographical issues.
"Our face to face contact is back up and running too. We are supporting between 150 and 200 families in Donegal. It's a continuing journey for bereaved parents. What we find is that contact can be high in the first six months of loosing a child and can return 10 years down the line and at certain milestones."
Like all charities, Anam Cara is finding its feet again after the curtailing of fundraising in the wake of Covid-19 pandemic restrictions.
"With the last two years of restrictions and no fundraisers able to take place it has been a difficult time for a number of Irish charities. Our services are all free of charge.
"We have a new fundraiser 'The Camino Walk' booked for September. This is an ideal opportunity for families, friends, or colleagues to come and walk 114 km together across beautiful landscapes in a tranquil and picturesque setting. It's an  opportunity to take time out and reflect, finishing your pilgrimage in front of the famous Cathedral de Santiago de Compostela."
An online information evening takes place on April 5.
People are asked to register online for online meetings. Face to face meetings are by walk-ins. Sharon said if parents are attending a face to face meeting for the first time they can ring ahead to let organisers know.
"It's a difficult step to take," said Sharon.
A bereavement pack is also available which has been written by bereaved parents.
For more information telephone 01 4045378 or 0852888888 or see
www.anamcara.ie
Receive quality journalism wherever you are, on any device. Keep up to date from the comfort of your own home with a digital subscription.
Any time | Any place | Anywhere
Posted: 11:00 am April 3, 2022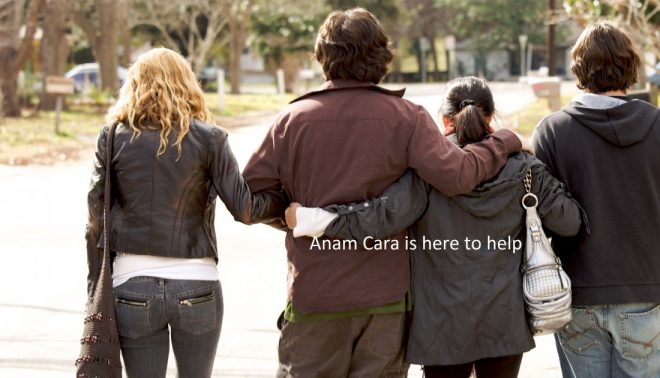 Anam Cara, an organisation which supports bereaved parents, are hosting their monthly meeting on Thursday next in Letterkenny.