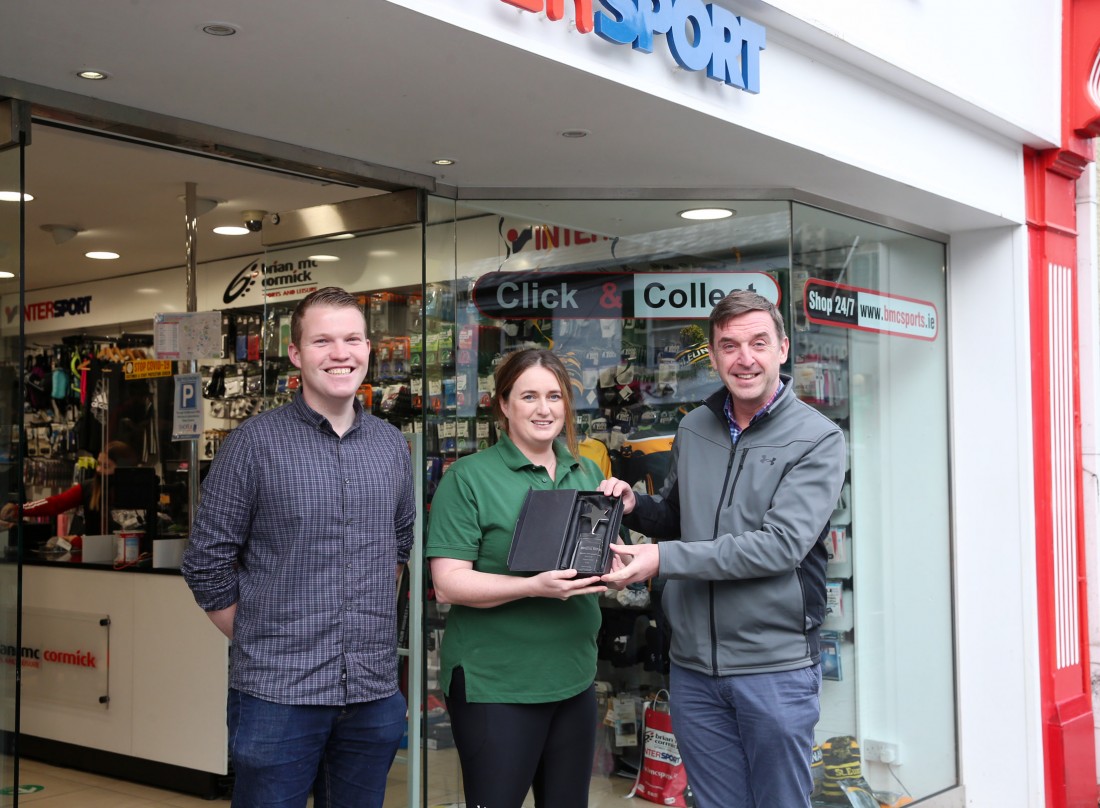 Brian McCormick presents the September Sports Personality of the Month award to Helena Melly. Also included is Ryan Ferry of the Donegal News (left).
THE All-Ireland Pool Championships held in Kerry proved to be a great success for Donegal competitors in September and Helena Melly was the star of the show.
Melly won the Ladies event for the first time ever, and then joined up with four other Donegal women to bring the team crown back to the county.
Melly's brother Shaun (Sharkey) was part of the men's side, who won their team event as well, so it was quite the raid in the Kingdom.
For Melly, it was the latest step on a fantastic career to date and she proudly holds the title of Irish champion.
The Dungloe woman is passionate about her sport and she told the Donegal News where her love for pool originated from.
"My mum worked in Owenie's Bar all her life so we were kind of brought up around a pool table," said Melly as she collected the Donegal News Sports Personality of the Month award for September in conjunction with Brian McCormick Sports & Leisure.
"We would have had a wee crate going around the table so we could reach.
"It's only ten years since I started playing competitively.
"My brother Shaun would be away at events and he'd come back and say I think you could play you know.
"He kind of talked me into going to ranking events down the country and I ended up making the Irish team.
"I went over to France for the European Championships, and then I went to Blackpool for the World Championships and it just took off from there really.
"Shaun would be my driving force and I owe all my titles to him.
"He's always been there supporting 100%."
Melly has been making steady progress over the last few years, and reached the All-Ireland Final in 2019 but unfortunately lost out on that occasion.
"I was getting close. I won a few ranking events so I was always knocking on the door.
"They used to say to me that if you knock on that door so many times somebody will open it.
"I just kept at it and this year was the year."
Over 500 competitors travelled to Kerry for the event which was held over five days. More than fifty of those hailed from Donegal.
Covid meant that she didn't have the usual practise or competition in before heading down South.
"Our club CYMS in Letterkenny has been closed so there was no great practise going down and there were no great expectations. It was just a case of go down and give it your best and see how things go.
"It was the first event back down in the Gleneagles in Killarney.
"It was ran very well to be fair. You were only allowed into the arena when you were playing. You couldn't go in and randomly watch.
"You were given armbands for your time slot, and it worked well."
On one of the days, Melly played for 15 hours between the singles and the team events.
However, she was able to pick off her opponents at will and that set up a final with Megan Randle from Kildare.
Another defeat would have been difficult to stomach, but Melly was in no mood to come second again.
"It is intense when you're down there, but when the buzz and adrenaline gets going, you enjoy it.
"I got through the last 64 and then the last 32, last 16, last eight, and you're thinking I'm getting closer here.
"I only lost one frame up until the final and then I dropped three in it.
"I was up against Megan in the final. I would have played her before and it has always been tight between us.
"I knew I was up against it but I got off to a great start and went 5-1 up.
"Then she started to crawl back. All the frames were tight but I pulled away in the end thankfully. The final score probably wasn't a fair reflection because a lot of the frames could have gone either way."
Melly was thrilled with her singles win but the celebrations were put on ice for a short period.
She then gave it her all for the Donegal ladies team which defeated Kildare 5-2 in the final.
She was thrilled to play her part alongside teammates Tracey Hennessy, Tina Reaney, Mini Morris, and Christine Henderson and bring another cup back to Donegal.
"The team won as well which was brilliant.
"We had a strong team going down. We were also beat in the final two years ago so there was a chip on our shoulders that we had to shake off.
"We put in a lot of hours together at the club just trying to build a team. It's like any other sport, a team is built around a bond and a good spirit, and it's all about the collective. It was great to do my bit for them.
"The men's team also had a great win and that was on just before our team final.
"That drove us on too and we knew we had to complete the hat-trick.
"It was a great experience and there were plenty of celebrations.
"There was a big homecoming for us, and the local school (Rosses Community School) that I work with had a big day for me."
Melly – who is married to Philip, and has a nine year old son called Niall – was back in action last weekend at a ranking tournament in Limerick. She qualified for the Irish Pool Association Masters Final, which will take place on November 27.
It was another good weekend for the family as Shaun won the IPA Pool Cup and is now the Irish number one.
Both siblings are in fine form, and Melly is targeting a big end to the year.
"There are six ranking events to try and make the Irish team, and it just goes on your points.
"I will be hoping to make it especially as the worlds and the Europeans are being held in Killarney next year.
"It would be massive to make it so that's the aim now."
Receive quality journalism wherever you are, on any device. Keep up to date from the comfort of your own home with a digital subscription.
Any time | Any place | Anywhere
Posted: 9:00 am November 6, 2021