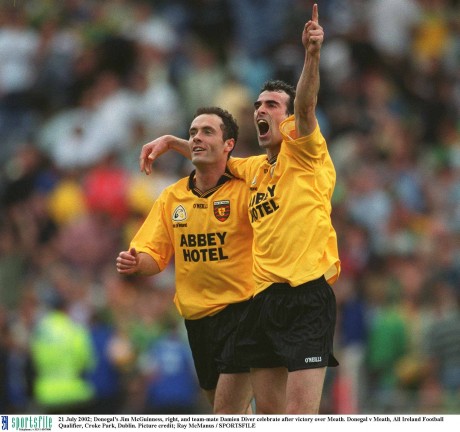 JIM McGuinness, his new backroom team and the Donegal senior football panel will meet for the first time tomorrow morning to get their preparation started for 2014.
On Wednesday, it was revealed that McGuinness had added former Donegal team-mates Damian Diver, Paul McGonigle and John Duffy to the backroom team, just over a week after the sudden and shock departures of assistant manager Rory Gallagher, video analyst Maxi Curran and kitman Francie Friel.
Speculation bubbled in Donegal for a week on prospective replacements, but McGuinness didn't dwell on the vacancies.
In the immediate aftermath of the departures, which were confirmed last Tuesday night by the Donegal County Board in a vague statement, McGuinness set about finding replacements.
He wasted no time in getting men aboard the ship.
While the nature of the departures of Gallagher, Curran and Friel remain shrouded, the appointments of Diver, McGonigle and Duffy have, at least, ended the speculation and tomorrow's meeting with the squad will get the ball rolling on their preparations for the 2014 season.
Before confirming the appointments, McGuinness had met with all three men with their meetings understood to have lasted hours as he laid down his plans going forward.
It has been said that Diver would assume the role of 'number 2' as McGuinness's assistant manager, but the Ardara man suggested that the trio would form a 'management team' with McGuinness.
It seems as if McGuinness has changed tact with the structure of his management with the three men appearing to don the role of selectors, though Diver does appear to be the most prominent.
The Ardara man – who played 120 times for Donegal between 1995 and 2007 – had been brought on board by McGuinness just after his appointment as Donegal senior manager in 2010. Diver oversaw some of the strength and conditioning work and a role as a defensive coach was planned before other commitments forced him to step aside.
At the time, McGuinness said of Diver: "Damian will add character and integrity to the whole thing and we're very happy to have him on board."
Speaking to the Donegal News this week, Diver said: "Donegal means a lot to me.
"It is great to get a chance to be a part of something so exciting, especially when Jim is involved and the players he has on board."
McGonigle is the current chairman of the Buncrana club and is also a former manager of his home club, while Ballyshannon native Duffy, who now resides in Killygordon, won senior championship medals with Aodh Ruadh in 1994, 1997 and 1998.
"I am absolutely thrilled to be involved," Duffy said.
"Jim McGuinness is the best coach in Ireland and getting the chance to work with a squad of players that has been to the Promised Land is a dream come true really. I'm so enthusiastic about it."
The Donegal News understands that other tweaks to the set-up will include a role for Joe Gallanagh, who has worked with Munster Rugby as a strength and conditioning coach. In recent weeks, Gallanagh has been working with the Donegal minors on progammes and is expected to work closely with the senior panel.
Meanwhile, Maxi Curran spoke publically for the first time about his exit this week. The Downings man insisted that he will remain committed to Donegal as he enters his third year as Donegal Under 21 manager.
"People think I have turned my back on Donegal because of what has happened, but I can honestly state that nothing could be further from the truth," he told the Belfast Telegraph.
"I am already laying my preliminary plans for 2014 and I would like to think that I can play a part in helping to fashion Donegal senior teams of the future. The U21 sector has acquired considerably enhanced status within the GAA and I'm delighted to be part of it."
In the same interview, Curran is quoted as saying of Rory Gallagher: "He did not spare himself in bringing Donegal right up to the top and yet he is just let go. There was a total lack of credit given to him from certain quarters."
CHRIS MCNULTY SPEAKS TO THE NEW BACKROOM BOYS
Receive quality journalism wherever you are, on any device. Keep up to date from the comfort of your own home with a digital subscription.
Any time | Any place | Anywhere
Posted: 7:30 am September 27, 2013