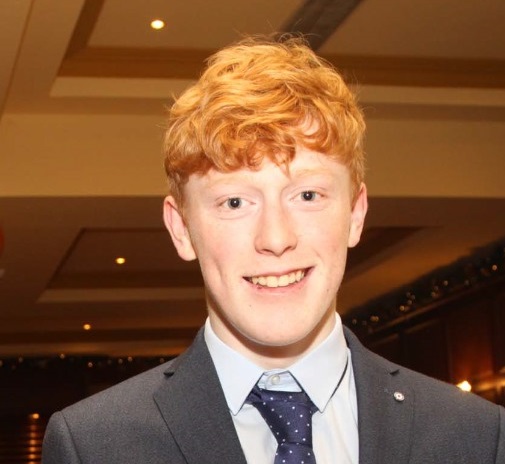 RONAN McGeehin was the unlikely hero of the Donegal Under 20 team's run to the Ulster Final.
The St Eunan's clubman battled hard to make the goalkeeping shirt his own and was fantastic as Donegal saw off both Monaghan and Down on route to the provincial decider.
McGeehin won a Minor Championship with 'Eunan's in 2017 as a goalkeeper, and last year, he was Shaun Patton's deputy as the Letterkenny club reached the Donegal SFC semi-final.
However, he also has played outfield and was full-forward in the St Eunan's team that won the Senior 'B' Championship title last year.
The former Coláiste Ailigh student had never been part of a development squad before but he did enough to earn a spot in Shaun Paul Barrett's Under 20 squad this year.
"I have been playing in nets since Under 14 but I would also have played outfield too, at midfield, or half-forward, or full-forward," said McGeehin, who was this week named as the Donegal News Sports Personality of the Month for February, in conjunction with Brian McCormick Sports & Leisure.
"I brought gloves to play outfield at the trials too just in case they needed me to go out but it never came to that.
"I worked with Andrew McGovern when I was minor with St Eunan's and he brought me on a lot.
"But it went up another level when I went in with the Under 20s and started working with Darran Nash (Donegal U20 goalkeeping coach)
"We were doing proper goalkeeping training for the whole hour-and-a-half session and that helped me."
Barrett opted to rotate his goalkeepers during the Leo Murphy league campaign, and McGeehin was under pressure from the other netminder in the panel.
"Daithi Roberts was in the squad and he is very good.
"I played the first league game against Derry and then he went in and was brilliant against Roscommon.
"Unfortunately for Daithi he then picked up an ankle injury and that put him out for a few weeks.
"That gave me a chance to fight for my place. It was tit-for-tat but it was a friendly competition and we pushed each other on."
McGeehin managed to stave off his competition and was named in the team to face Monaghan in the Championship quarter-final, but that match was called off and the Queen's University student had to wait an extra seven days before making his debut.
"I didn't find out until the morning of the match that I was starting. We met in the Mount Errigal (Hotel) for breakfast and then we went into a meeting room and he named the team. There were no hints at all.
"I wore the number 16 shirt so I don't know if they were thinking of going with Daithi and then changed their minds.
"My heart was pounding when SP named the team and I was very nervous.
"The game was then called off and put back a week. It would have been nice to make my county debut in MacCumhaill Park or O'Donnell Park, but Ballyshannon was a good pitch too.
"It gave me a week to come to terms with it, and I was able to handle the nerves then."
Monaghan went in to the match as favourites as they had won the last two Ulster Minor titles, while Donegal lined out without injured stars Oisin Gallen and Conor O'Donnell.
However, McGeehin says the team were confident that they would progress.
"We believed we were going to win because that was the mindset that SP instilled into us.
"He said it in every training session that we had since November that we were going to beat Monaghan.
"He said we didn't need anyone else to beat them because we were going to do it.
"We never thought that we were going to lose the match. We were ready to go and win it and that was important."
The clash with Monaghan at Mundy's Field was a real ding-dong encounter and the sides were level at 2-9 to 1-12 after extra-time.
It was then left to penalties to decide the winners, and McGeehin came to the fore saving from Aaron Mulligan, Andrew Woods, and Liam Óg Murray to give Donegal a 3-1 triumph.
"I had never been in a shoot-out before in gaelic. Once or twice in soccer with Ballyraine but it was that long ago now that it didn't have much of a bearing.
"We did prepare for them with Darran in training though. We were expecting it to be tight and we knew it could go to penalties.
"I saved three of them. I should have saved their second one too but it just sneaked in. Thankfully we won.
"I was chuffed but the game went on for over 80 minutes and then we had penalties.
"I really only had to do my job for five minutes.
"I got some acclaim after the match and that was nice, but it was the outfielders who fought for 80 minutes that really deserved credit. It was a whole panel effort."
Much was made about how the timing of the Under 20 competition wasn't ideal and Donegal only had a week to prepare for a semi-final against Down.
However, Barrett's side found a way past the Mourne men on a scoreline of 1-11 to 0-12, and McGeehin was once again in inspired form, as he stopped Tim Prenter from netting a goal in the first half, and he then pulled off a double save from Dean Rice late in the game.
McGeehin said: "It was great because we were able to build up momentum.
"We were ready for the bad conditions because we had trained in snow, sleet, and hail.
"I made a few good saves but I couldn't catch them because my hands were so cold.
"I was just looking to get something on them to make sure they went anywhere but in the net.
"It was a real team effort. We were up against it in the second half, but we kept going and it was great to get over the line in the end."
Unfortunately things didn't go to plan for Donegal in the Ulster Final, and they lost to Tyrone by 1-11 to 0-9 in Clones.
There wasn't much between the teams but Tyrone outscored Donegal by six points to one when Oisin Walsh was sin-binned in the second half, and they went on to close out the game.
"I actually only watched it back there last weekend. I wasn't able to face it before then.
"It was a tough loss to take. They went a few points ahead of us when Oisin was off.
"We kept fighting and fighting right to the end but it wasn't to be.
"It was very disappointing, but I enjoyed every minute of it from the get-go."
McGeehin won't be eligible to play for the Under 20s next year, but he harbours ambitions of representing Donegal again at senior level.
"I'll be overage next year so the next Donegal team I can try and play for is county seniors.
"That won't be easy because I have Shaun Patton ahead of me for both club and county, and he's a very difficult man to get past.
"But I will keep working at my game both in nets and out the field and see where it takes me."
Receive quality journalism wherever you are, on any device. Keep up to date from the comfort of your own home with a digital subscription.
Any time | Any place | Anywhere
Posted: 12:28 pm April 14, 2020