WHEN Kevin McGarrigle opened McGarrigles Shoes in Letterkenny back in October 1982 it marked a new beginning for the family-run business that first opened in Strabane almost 20 years earlier.
Kevin was only 23 years old when in 1980 he took over the Old Spirit Bar on Letterkenny's Main Street from Pat O'Donnell and Sean Crossan.
It was a popular venue, but Kevin's ambition was always to turn it into a shoe shop. He ran the bar for around 18 months before closing down the pub and opening McGarrigles.
"The sign above the door says the business was established in 1981, but it was actually December 1982 when we opened," Kevin said.
Over forty years on, and Kevin is now preparing to close a business that in his own words, has become an institution in the town.
He took the decision after Christmas to retire and over the past few months he has been winding things down with a view to closing for good at the end of May.
Kevin and his wife Joan have two children, Kathy and Daniel, and with both pursuing their own careers, neither has any interest in keeping the business going.
The sudden passing of a close family friend, Mark Doherty, who like Kevin was a native of Strabane and a long time resident of Letterkenny, also prompted Kevin's decision to retire.
Mark died on a golfing trip to Portugal last November at the age of 63.
"A lot of things came into my head after Mark died," Kevin said.
"You begin to think to yourself, what's this about? Do you want to just keep going until your health breaks down?
"Thank God I'm in reasonable health and now is as good a time to go as any."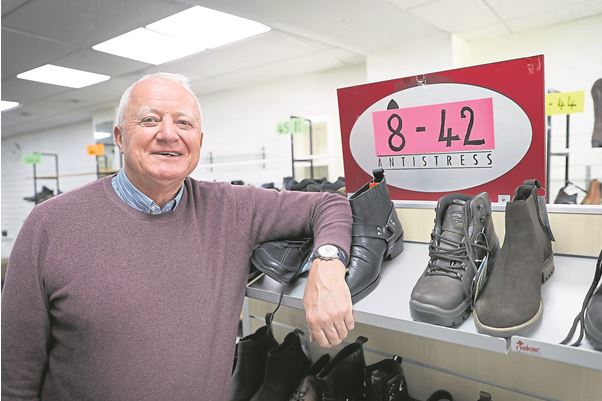 As he sits by a window upstairs above the shoe shop, Kevin looks down on a street that is so different from when the shop first opened over 40 years ago.
"Well first up, there was two-way traffic," Kevin pointed out.
"It was one street which went the whole way from the Port Road to Lower Main street.
"You had all your established businesses here. You had Ramsays, Flemings, McCauleys on the High Road, Dobsons across the way – all independent, family owned businesses.
His father Dan had opened McGarrigles Shoes in Strabane in 1963 and over the years, the shop enjoyed a steady trade of customers crossing the border from Donegal and in particular, Letterkenny and the east part of the county.
"At the time when we came looking for property, we thought it was a prime location in the centre of the street," he said.
"You had the Perfect Tailor, Jim McCormick, McCullagh's, Houstons at the corner. There was Dillon's Supermarket too.
"It was a time when the Main Street had vibrancy and footfall. A Friday in the town here was busy, people from the country were coming in. Greene's Department Store was a busy spot then too."
When Greene's closed the department store, Alfie Greene opened his shoe business and Kevin said that over the years, the two shops complimented each other.
"I did my brands and Alfie sold his brands," Kevin explained.
"I sold Clarke's and Alfie sold the Echo brand. If a customer came in here looking for Echo, we'd send them to Greene's and they'd send customers up to us too."
But even back in the 1980s, business-life was starting to change in Letterkenny.
There were plans to open the new shopping centre close to the Station Roundabout and Kevin remembers being part of a delegation which included Jimmy and Bernie Dillon, who went to the council offices.
"The deputation from the Main Street traders were trying to get the centre reduced in size, or even stopped altogether," he said.
"But progress is progress, and Letterkenny needed another retail outlet."
Once the centre opened, Kevin did consider the possibility of taking a unit, but McGarrigles had always preferred to have an on-street presence.
The Courtyard Shopping Centre opened later on Main Street and then in more recent years, the retail park on Neil T Blaney Road offered even more choice for shoppers.
"At this stage, Letterkenny has almost five different centres for shoppers and on Main Street, we are nearly the lowest on the pecking order," he said.
"There are people who come into Letterkenny now and don't come up the street."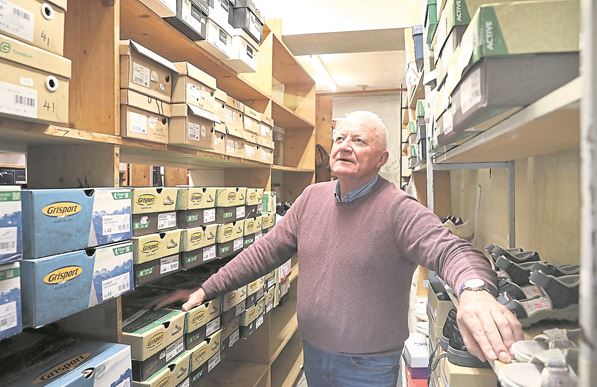 Despite all that, McGarrigles has maintained a loyal customer base and Kevin said it's nice that people who bought their shoes in the shop back in the early days, are now coming in with their children, and even their grandchildren, to buy their shoes.
"It was a tradition to go to McGarrigles for your shoes," he said.
"That was a time when people would ask if they could take a couple of pairs out with them to try out.
"You build up a clientele base with families down through the years.
"In fairness, business has been good, but the pandemic certainly didn't help.
"I didn't go down the road of online. My business has always been a personal approach with the customer calling into the shop."
Kevin is keen to acknowledge the part paid by his staff members over the years and he singles out Goretti Daly and Elma Collins for special mention.
"Goretti and Elma were with me for roughly 30 years," he said.
"They were extremely loyal and both were extremely conscientious and really talented sales people."
He is looking forward to retirement, and spending some time with his family, particularly his wife Joan (née Melly from Glenties), who is a retired school teacher, and their grandchildren Charlie and Alice.
He enjoys foreign travel, and likes walking and cycling, as well as a bit of gardening.
"I plan to keep myself active," he said.
He also has plans to put the shop building onto the market.
"People have been coming in and saying how sorry they will be to see us go," he said.
"It's an institution in a way, but it's like everything else, it's just one of those things. It is sad, and it was a hard decision to make but I have things I want to do now and after over 40 years, the time is probably right to close now."
Receive quality journalism wherever you are, on any device. Keep up to date from the comfort of your own home with a digital subscription.
Any time | Any place | Anywhere
Posted: 4:14 pm April 21, 2023