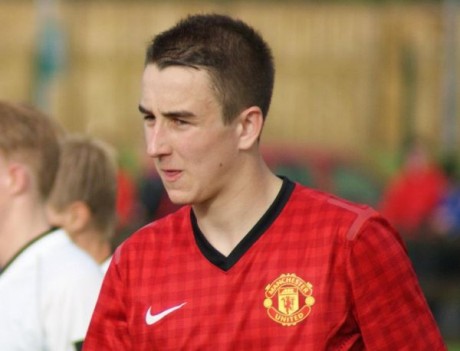 SIR Alex Ferguson's 'hairdryer' blasts in the dressing room are the stuff of legend at Manchester United.
From Robson to Keane and from Beckham to Rooney, they all felt it at some point in their careers and it wasn't a pleasant experience for anyone who had to endure the heat being cranked up.
Ferguson was a strict disciplinarian within the club and always demanded the best from his players, in every way.
It was almost a pre-requisite of signing for United that the player could either recite the club's history or was prepared to immerse himself in lessons of Munich, the 'Busby Babes'  and the more recent 'Fergie's Fledglings'.
The fiery Scot was a stickler for appearance too, and there are some mind-blowing stories of Ferguson hauling members of the United academy into his office at The Cliff or Carrington for a 'dressing down.'
Michael Appleton graduated through United's youth ranks in the early-mid 1990s and remembers how Ronnie Wallwork turning up to The Cliff, then United's training ground, looking a little scruffy.
"I remember one day Ronnie hadn't shaved. We were all wondering how Alex Ferguson would react,"
Appleton remembered years later. His revelations were shocking: "He dragged Ronnie into his office, took out a knife, and started shaving him with that!"
Appleton didn't escape the wrath himself. In an interview in 2000, he said: "It was common for him to grab a player by the sideburns. One time I was in the canteen and he dragged me downstairs onto the training ground by the sideburns."
Last summer, Ryan McConnell was called into Ferguson's office at Carrington.
A native of Oldtown in Letterkenny, the young McConnell would have a pretty straightforward meeting with Ferguson.
"Last season, he took me in and asked me a few questions, about how I was getting on, if I was settling in, that sort of thing because it's hard for lads going away from home at times," he says as he enters his second full season at United.
"Sometimes I'd have met him in the corridors too – he's a scary man at times! After a while, though, you just treat him like another person."
Now, Ferguson has vacated the office and in his place sits David Moyes.
McConnell has only fleetingly met the new boss. He says: "We were in doing tests the first day we came back in and he popped in. He went around everyone, shaking hands and just said that he'd get to know us."
McConnell's first season with the Red Devils was not without its problems. The Letterkenny lad missed two to three months having picked up a groin injury that he's only just over.
"I feel like I'm going well again after the injury," he says.
"I'm just looking to get in the team, get a run of games and try to impress the manager.
"I was nervous at the start and it probably took me a month to settle in there. I got a knockback with the injury and that isn't so good in your first season at a club like United.
"It does be a bit daunting at the beginning, going away from your family, but you get over it – you have to if you want to succeed at these sort of clubs."
Home sickness is something that the club try to curb and their players never feel too far from home.
"I'd get back every six weeks, or so. The way it works is basically in six-week blocks. So, you'd have a break every six weeks," he says.
McConnell is on the under 18 side which is managed by Paul McGuinness, son of former United boss Wilf McGuinness.
At underage level, he won a clean sweep (Letterkenny and District League and Cup double as well as the Champions League) with Rovers' under 16s and also played on the team that won the Donegal Youth League. The chance to head to United was too good to turn down. He counts academy goalkeeping coach Alan Fettis as a big influence so far, but the big stars have not been found wanting either as McConnell found out during pre-season when he and his ilk trained with the first team.
"'Chicharito' (Javier Hernández) was about and was very helpful and giving pieces of advice; (Namanja) Vidic, too, was a big help and he's always making sure you'd be ok for things. He's a defender, too, so I'd always be looking up to the likes of him. I love playing at centre-back. That's definitely my best position."
Just last week, McConnell played at centre-back for the Republic of Ireland's Under 19s against Norway, partnering Ramelton native Kyle Callan-McFadden.
McConnell says: "Hopefully myself and Kyle can get a partnership going for the international team. We grew up playing on Donegal teams so it'd be great to keep it up. At club level, it's about developing players, but the international scene is purely a results business."
Development is the buzzword with underage football – and McConnell is certainly showing the right signs.
During one session at pre-season, his manager called him aside and gave him the ringing endorsment of the captain's armband. He was captain for all of their pre-season friendlies that he played in.
Like all players who go through the books, McConnell is aware of the significance of leading United out for a game at any level.
He says: "That's a massive honour. You only look at the list of names of men who've captained Manchester United over the years. It's unreal to be walking out onto the pitch as captain of United."
McConnell was given time off from last week's game against West Ham (a 2-1 defeat), but could return for this weekend's away tie at Stoke City.
Receive quality journalism wherever you are, on any device. Keep up to date from the comfort of your own home with a digital subscription.
Any time | Any place | Anywhere
Posted: 5:00 pm August 23, 2013