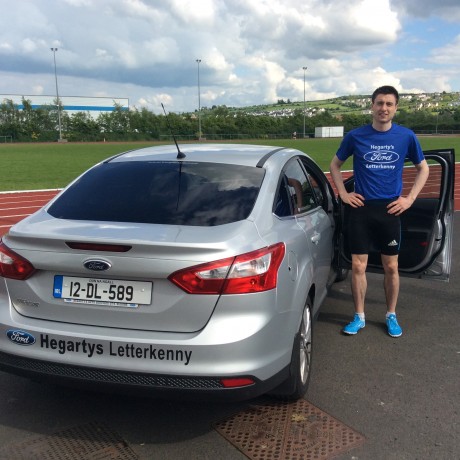 BY CHRIS MCNULTY
c.mcnulty@donegalnews.com

THE season hasn't yet kicked off the starting blocks, but Mark English feels in fine fettle as he heads into a big summer.
The Letterkenny man will compete at the European Championships in Zurich in August and will aim to break David Matthews's long-standing Irish 800m record at some point, having come to within two hundredths of a second of it last year.
At the FBK Games in Hengelo, Holland, on Sunday, English came fifth in the 800m, posting a season's best time of 1:46.22, a time that was inside the qualification time for Zurich.
Last weekend, his first outdoor meet of the year saw him win in Belgium thanks to a time of 1:46.39.
"It was a big improvement and I felt very good as well," he says.
"That was a big thing for me. I came over the line and I wasn't tired. I walked over straight away and got changed. In the past that process might have taken twenty or twenty-five minutes. I'm feeling really good."
The race in Hengelo was won by Robert Biwott of Kenya in 1.44.75. English was the second European over the line with Thijmen Kupers of Netherlands running 1.45.68 to place third.
English has already had a big year.
In February, he set a new Irish 800m indoor record before competing at the World Indoor Championships in Sopot, Poland. English didn't qualify for the final, but reflects that the experience was invaluable.
He says: "It worked out well in that I got a taste of senior competition at the World Indoors.
"The indoors aren't my main aim and I just went there to gain experience. I did that so hopefully now I can use that experience when I'm up against the top guys in the European outdoors this year.
"It was fantastic. When you race at junior level, you get away with racing in different ways. You come to senior level and you learn that it's a totally different ball game. It's all about taking those learning experiences from Moscow last year and this year at the indoors."
With Zurich just two months away, English has confirmed that he has recently split from long-time coach, Teresa McDaid.
The pair had forged a successful partnership with English winning gold in the 1,000m at the European Youth Olympics in 2010 and finishing fifth at the World Junior Championships in Barcelona two years later.
"It was my decision to move on and try new things.
"Teresa was very accepting of the decision. I don't want to talk about moving on without thanking her for all that she's done over the years. She brought me to where I am. She brought me a huge way and nursed me along.
"She brought me to a lot of big competitions.
"I have a huge amount to thank her for, not just how she brought me along in training – but how much she gives the sport voluntarily. Her involvement in my career has been huge."
English won't rush into a new appointment. Now in the singlet of UCD AC – he is at the close of the second year of a six-year medicine course at UCD – English will take careful consideration of whose wing he goes under from here.
He says: "I need to make sure that I find a coach who understand the principle I'm coming from on the speed side of it and who works well for me as a person.
"I'm the kind of athlete who is approaching the 800 metres from the speed side of it. I approach it from 400 going up to 800, whereas a lot of other athletes would go at it from 1,500 metres down to 800.
"It won't be a case of just getting a new coach and, bang, I'm running well."
Next weekend, he'll be in New York for a Diamond League meeting and will spend some time in London in preparation for Zurich.
"The Europeans are what I want to peak for," he says.
"It's about finding the right races at the right times that will allow you to be at your physiological peak for the Europeans.
"You don't want to over-race, but you have to do enough to make a bit of money on the circuit and to keep other people happy – the shoe companies and agencies. It's a tough balance. Hopefully I'll be coming into my peak for Zurich."
He has two aims for 2014: Getting a big performance in Zurich is one; breaking David Matthews's 1:44.82 time for the 800m is another. Last year in London, English burst to a 1:44.84. The Letterkenny man is within touching distance of taking the mantle.
He says: "This season is probably going to be a harder one to do that in. There aren't as many fast races.
"There are only the European outdoors this year and none of the others outside of Europe have major competitions. There are less races to do it in. It's hard any year, but it'll be an extra challenge this year."
A scholarship student at UCD, English also works closely with Athletics Ireland's Endurance Coach, Chris Jones and a support team with people like physio Emma Galvin. He has the best of two worlds with UCD and AI.
He says: "I'm part off the national scholarship system so UCD provide me with a strength and conditioning coach. I've got the availability of a nutritionalist there too. If I have to miss an exam they're able to facilitate that which is a massive help.
"Athletics Ireland brought in a new national endurance coach (Chris Jones) which was a great move and they've done loads of other good things.
"Seb Coe said one time: 'You need to be smart enough to know that you don't know everything' and he was right.
"These people all know their stuff. It's about taking all of the things they do and applying it to my sport.
"Emma (Galvin) is my physio and is great. In 2012 I only had three weeks to my World Junior Championships but she helped with my rehab and I went to the Championships to come fifth in my race."
English has also been given a sponsored car by Hegarty's Ford in Letterkenny, something for which he is eternally grateful. He says: "It's great for getting to races and even for getting about in Dublin. It makes things so much easier. I'm indebted to people like that for the help they've given me."
As the months pass, English can't help but think about the Olympic Games now and again. He wasn't far off qualification for London – missing out by just the sixth of a second, with Ireland not taking B-standard athletes across the Irish Sea – and it won't be long until Rio rolls around. For now, though, it's the short-term.
"Rio is always there," he says.
"The Olympics are the pinnacle for any athlete. You can't look too far ahead. You need short-term and long-term motivation. For me, the short-term motivation is the European Championships.
"Something so far in the future like the Olympics isn't really relevant. It's very hard to motivate for something that far in the distance. I tend to motivate myself with things like getting the Irish record or by going out and making a European final – the stepping stones.
"Hopefully I can perfect my tactics over the next one or two years. The ultimate aim is the major finals."
Receive quality journalism wherever you are, on any device. Keep up to date from the comfort of your own home with a digital subscription.
Any time | Any place | Anywhere
Posted: 11:00 am June 10, 2014