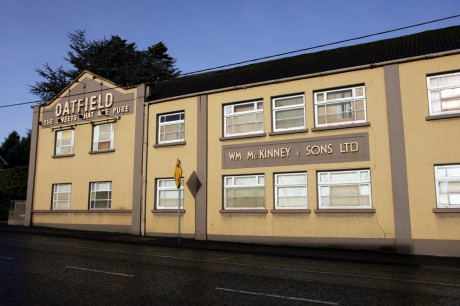 By Cronan Scanlon
PLANNERS are seeking further information after "major concerns" were expressed about an application to demolish the landmark Oatfield sweet factory.
Back in January, Zopitar Ltd, a subsidiary of Donegal Creameries, applied for permission to raze the building, along with its out buildings and silos and for the erection of temporary hoarding while the works take place.
The former factory closed last May with the loss of 17 jobs when production of the confectionery was moved to the UK by Zed Candy.
At the height of its production, Oatfield employed 85 workers and produced a range of popular sweets including Orange Chocolates, Irish Butter Toffee and the famous Emeralds.
The company was founded by Ira and Haddon McKinney in 1927. They made sweets on an open coke fire in a shed before they moved to the site of the current factory in 1930.
However, the Industrial Heritage Association of Ireland (IHAI) has written to Letterkenny Town Council planners about the proposed demolition.
"Given the industrial heritage merit of this former confectionery factory, the IHAI has some major concerns about this planning application," said Mr Delany, IHAI President.
He recommended that the council have a full Industrial Heritage Assessment completed on the buildings and structures within the site before making any decision.
"Such a report should examine the site's history and architecture, assess its heritage significance using the various criteria set out by the National Inventory of Architectural Heritage (NIAH), gauge the impact of the development upon features of special heritage merit and make recommendations to mitigate any negative impacts."
The site comprises the factory, yard/car parking, storage and offices.
There was speculation that Lidl had acquired the site from Donegal Creameries to open a new store in the town.
However, the Donegal News recently revealed that the German discount retailer has applied for permission to build a store close to the Polestar Roundabout.
Receive quality journalism wherever you are, on any device. Keep up to date from the comfort of your own home with a digital subscription.
Any time | Any place | Anywhere
Posted: 9:00 pm March 28, 2013