Name: Justin Barrett
Business Name: Easyport Import & Export Specialists
Business Location: Offfices in Castlefin, Omagh, Co Tyrone and Sunderland, England
How long have you been in business? While we have been involved with customs for many years, we only took the decision to set up a customs intermediary business during 2019. We set up the company in September 2020 so we are just coming up to our first anniversary.
How many staff do you employ? We currently employ three members of staff.
What are your strengths? We work with each client on a one-to-one basis because we understand that no two businesses are the same. We provide a solution tailored to the needs of each individual business. As a chartered accountant, I have detailed knowledge of all aspects of business and finance as well as customs. When clients ask for advice in relation to moving goods from one jurisdiction to another, their priority is to get the goods moved. Easyport, however, can also propose the best solution to minimise VAT, duty, excise and work around quotas and trade agreements. We have a strong focus on business improvement using technology. Through collaboration with a local software developer, we have developed our own in-house software which can deal with customs paperwork quickly and file supplementary declarations on behalf of our NI clients.
What are your weaknesses? With being a somewhat new business (and indeed with customs procedures being somewhat new to the business community), it took time to convince businesses to trust us with their affairs. Thankfully, we now have many clients referred to us by accountancy firms which has strengthened our reputation. Has Covid-19 affected your business? We started our business during the pandemic, and to date we know no different. In late 2020, businesses stockpiled goods ahead of January 1, 2021 transition. This led to a very quiet Jan-Mar period in all ports but, since March, things have really ramped up again. We have harnessed the use of technology to enable us to grow our business. There is no substitute for face-to-face interaction especially at the outset of working with a client to understand their business. However, where that is simply not possible, we use facilities such as MS Teams and Zoom as the next best alternative.
What makes your business unique? The fact that we have a presence in three jurisdictions – NI, GB and ROI – means that we can deliver a full circle, end-to-end solution for our clients. To operate as a customs intermediary, you must have a presence in that jurisdiction. We also offer more than just a customs service. We can arrange haulage and we can act as a drop and collection point for hauliers especially where goods are coming into NI for onward movement to ROI maybe with a different haulier. I have been involved in many industries, ranging from banking and insurance, agriculture, and retail to manufacturing, food service and recycling. This has helped as we are quickly able to understand the issues facing our clients.
What does your business mean to you? At Easyport, we take great pride in providing a solution for our clients to take away the hassle of logistics and customs paperwork and allow them to get on with what they do best. It means a lot to me seeing the Easyport business grow and expand into various business sectors. Solving issues for clients is what makes it worthwhile on a day-to-day basis. Clients have often said to us, "Thank God we found you." They are very grateful when their goods arrive on time.
What are your plans for the future? We have plenty of scope to expand our business into Northern Ireland and the Republic of Ireland. We can cater for the private individual as well as businesses. We initially focused on GB-NI-ROI. However, we plan to broaden our range of services as we now have the capability of looking after Imports from the rest of the world, such as USA and China into Ireland. We are looking into expanding our drop and collect service at out Omagh and Donegal sites with added security. We are also looking into a new Customs app which will greatly enhance the user experience in dealing with customs.
Any advice for anyone starting out in your industry? Haulage and logistics never stop. It is a 24/7 industry, and you must be prepared to answer the phone at all times and sort the issue there and then.
If you weren't in this field of business, what would you be doing? As a chartered accountant, no doubt I would be working in that field as I have done in the past.
What do you do to relax? Spending time with my family and farming.
What would you do if you won the lottery? I'd go on holidays to Canada for three months on my new boat!
We might be limited in our travel at the moment, but where is your favourite holiday destination? Galway.
What do you miss most about Tyrone when you are away? My mother.
If you could swap lives with someone, who would you choose and why? James Horan, the Mayo manager. I'd do whatever it takes to see Tyrone lift the Sam Maguire on Saturday!
And finally take the chance to give a shout out to another local business who you think is doing great things (expand on why you've chosen them): It would have to be Turbett and Co. Chartered Accountants in Omagh because they showed great belief in my business from the start and have referred many of their clients to me over the past year. They are a forward-thinking, proactive firm who also take great pride in solving problems for their clients.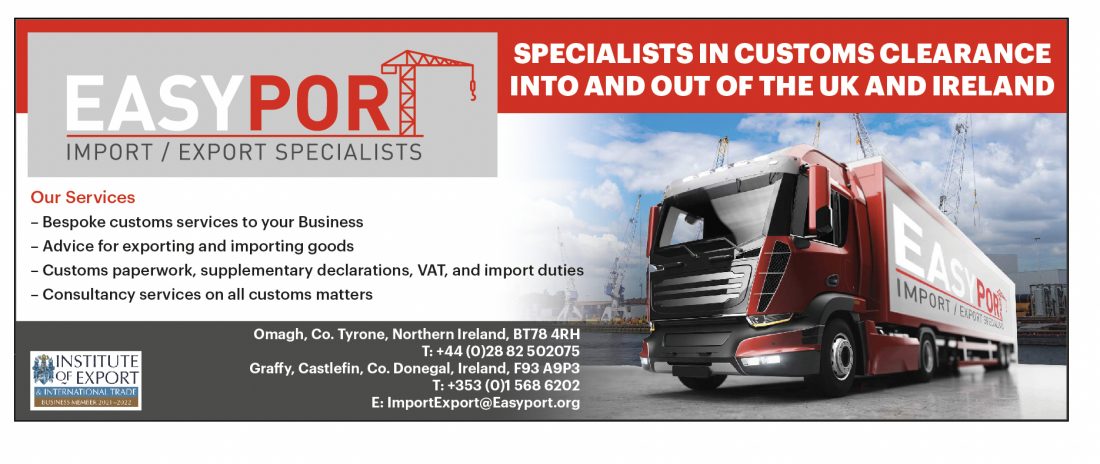 Posted: 9:29 am September 9, 2021