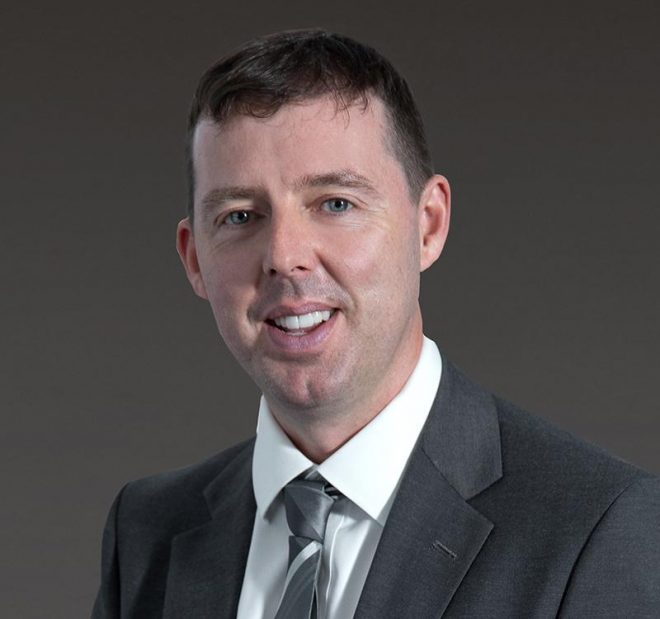 THERE will always be challenges, obstacles, and less than perfect conditions. So what? Get started now. With each step you take, you will grow stronger and stronger, more and more skilled, more confident, and more and more successful.
That piece of advice led a young apprentice electrician into taking his first step on the property ladder more than twenty years ago.
Today, Charles Sweeney from Rooskey, Creeslough, is Executive General Manager – Construction – at Civmec which has developed some of the most significant infrastructure projects undertaken in Australia.
Based in Perth, Mr Sweeney (39) leads a team of more than 2,000 workers across a range of construction and engineering activities.
Closer to home, Charles and his cousin Martin Sweeney have been offering rent-free shops and office space to encourage new entrepreneurs into their home town.
As a result, a number of  businesses have been established along  bringing some vibe and employment back to the village.
Speaking from his home in Perth Mr Sweeney said that he had been heartened by the response to their offer.
"We had Scrumptious Ice Cream open up in the last few weeks and I understand they are off to a great start and are getting great support from the local community. It's great to see people giving it a go," he said.
Despite living more than 12,000 miles away from home, Mr Sweeney remains very much a Donegal man and was only too delighted to help bring some vibrancy back into Creeslough.
ELECTRICAL APPRENTICE
He's come a long way from serving his time as an electrical apprentice with Ben McFadden in 1999. The son of John and Frances, Charles has one sister Annette Murray who lives in Dublin with her husband and three daughters.
"To this day Ben is probably the most influential person in my career. He had an amazing work ethic and would give anything a go. He taught me to not wait until everything is just right as it will never be perfect," he explained.
When he was 18, Ben encouraged a young Charles into buying his first investment property in Letterkenny.
"He helped me find the property and get the finance, he walked me through the process. He always pushed people in the right direction, so they could get the most out of themselves. On reflection I owe Ben more than words can say. I learned from him to keep on going and the chances are that you will stumble on something, perhaps when you are least expecting it. I've never heard of anyone ever stumbling on something sitting down. Life is 10 percent what happens to me and 90 percent of how I react to it," he said.
The last mortgage repayment was recently made on that first property in Elmwood Downs.
Charles spent four years in the UK and one summer in Boston before embarking on a one-year back packing trip around Australia with three friends. In Perth Charles and his cousin Martin secured work with Pat Tallon who had a small construction company.
COURAGEOUS DECISION
"Whenever you see a successful business, someone once made a courageous decision. I am a chain in the Civmec link but the two main men here are Jim Fitzgerald and Pat Tallon who are both Irish. They joined forces to co-found Civmec, a construction and heavy engineering company.
"At this stage there was still only a handful of employees and, thankfully, we were given the opportunity to invest some money while it was still a private company," he said.
Civmec's new facility at Henderson is the largest modern fabrication facility of its kind in Australia and one of the best in the world.
"This is where I met my wife Libby who also worked for Civmec. We have one son Oscar, who is seven," he said.
Civmec has completed work on some of Australia's largest projects and most recently they have been awarded a contract to deliver the Offshore Patrol Vessel programme for the Royal Australian Navy.
The company deliver projects across the sector, including, roads and bridges, stadiums, airports, ports and harbours, water and wastewater infrastructure and renewable energy.
"It has turned into a bit of a beast to be honest. The business is broken down into three sections – manufacturing, construction and maintenance. I used to look after both construction and maintenance before the scope became too big. Construction is the biggest part of the business and I lead a team of over 2,000 people.
"Jobs vary in size from $5/10 million up to about $400 million and from 10 to 20,000 man hours to over one million man hours in a single project. While we work all over Australia, about 80 per cent is in Western Australia.
"It's all a far cry from attending Glassan school which had 28 pupils and going to PCC (Pobal Scoil Chloich Cheann Fhaola) on the bus each morning," he laughed.
Charles hasn't managed to get home since the summer of 2018. He was supposed to come back to Donegal last Christmas and had his tickets booked before Australia went into lockdown.
"We're told it will be June 2022 before the borders open up again and if I go home before then I won't get back out here.
"I'm looking forward to getting back to Creeslough," he said.
CREESLOUGH
In 2015, Charles and Martin set up a company in Ireland, called the Perdon Group, and they purchased a lot of property in Letterkenny and Creeslough.
Among the properties they bought in Creeslough were Creeslough Hardware, Lafferty's Supermarket and the Corncutters Rest on the main street.
"Those premises were vacant for a few years. No one was making a move as it was hard to borrow money in Ireland so we decided to move in ourselves," he said.
"All those buildings have tenants now except one which is used as a hub by the Creeslough Community Association. I've let them have it for as long as they want," he explained.
Ben McFadden, his former boss, is chairman of the Creeslough Community Association.
"I'm hearing that there were traffic jams in Creeslough at the weekend. That's all I ever wanted. The properties had been lying idle for more than three years before we moved in," he said.
Covid restrictions mean that fewer and fewer Irish people have relocated to Australia.
"We used to have Irish people call us every other week for work. At one stage we had a lot of Donegal people working with us but in 2015 and '16 many of them migrated back to home to get married.
"At one stage we would probably have had 500 Irish with us. Today, it's probably less than one hundred which is unfortunate as they've a great work ethic," he said.
"We did manage to get most of the Sweeney clan out here for my wedding though. It was a great time. We're a close family and it was nice to get that opportunity to switch off. I look forward to getting the opportunity to do that again once more in Ireland next year," he added.
Receive quality journalism wherever you are, on any device. Keep up to date from the comfort of your own home with a digital subscription.
Any time | Any place | Anywhere
Posted: 5:00 pm June 18, 2021