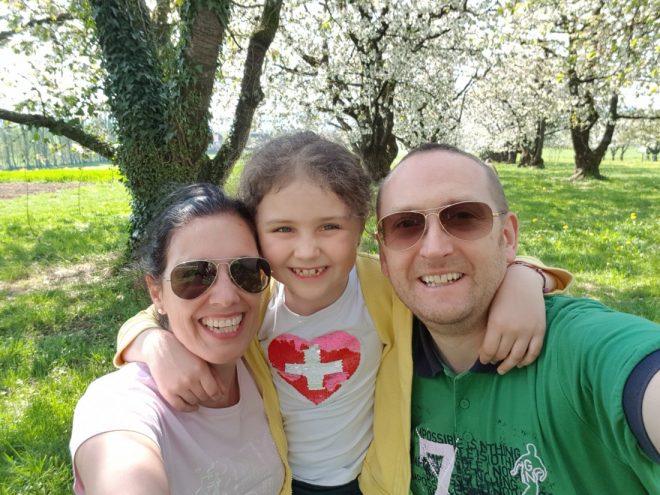 SWITZERLAND is among the countries most affected by the coronavirus pandemic in Europe with over 29,000 cases and more than 1,600 deaths.
Hairdressers, cosmetic studios, DIY/garden centres re-opened on Monday while schools are due to reopen on Monday, May 11 as everyday routine starts again.
Basel, situated in the north west of the country, directly on the border with France and Germany has been home to Letterkenny man Damien Flatley for sixteen years.
Originally from the Ballyraine Road, Damien (48) first moved to Germany in 1993 but now lives in Switzerland with his Spanish wife, Carmela and their 8-year-old daughter, Mia.
Carmela, who is a pharmacist, works for Johnson & Johnson and Damien works for UBS, Switzerland's largest bank, as a HR Business Partner.
The danger of the coronavirus first hit home when the Swiss government prohibited all gatherings of 1,000+ people in late February, which meant Basel's UNESCO world heritage's carnival had to be cancelled.
"In order to curb the spread of the virus, measures became more and more restrictive with time whereby all schools, universities, restaurants, bars were closed mid-March with only supermarkets, pharmacies, petrol stations; basically things which are essential to live were allowed to remain open," he said.
Masks are not mandatory and are actually not recommended by the Swiss department of health, unless you're sick, but quite a few people are now seen wearing them in public.
"Currently a maximum of five people can meet, but also need to maintain a social distance of two metres. The overall sentiment is however stay at home and for families not to mingle, which is difficult as the weather has been great during this lockdown and it's been difficult for Mia not to be able to play with her friends. The police patrol parks, forests and other popular spots to ensure everyone is adhering to the rules," he said.
UBS has approx. 25,000 employees in Switzerland and is the country's third largest employer and 90% of its employees are currently working from home.
"It's now my ninth week working from home and I do miss the proximity of the colleagues and the physical team spirit. We do virtual coffee catch-ups and virtual networking events, to stay connected, but it is a very different way of working and collaborating.
"There's massive transformation and cost pressure in the banking industry which has resulted in many lay-offs over the years. UBS' CEO acknowledged that employees were concerned about the impact that Covid-19 was having on the economy, their lives, their families and announced that there would be no redundancies during the crisis," he said.
While Damien lives in Basel he works in Zurich, which is a 90 minute commute by train.
"I'm glad that I don't need to get on to a busy commuter train to Zurich every day, however it's evident that we'll all return to work soon. Branch offices are beginning to reopen, and employees are slowly returning to work. Now the question being asked is, what will the "new normal" look like, as both line managers and employees see that home working works," he said.
As of Monday, more than 21,000 coronavirus cases have been declared as fully recovered. Hospitals are not stretched to capacity and the main hospital in Basel has even taken some cases from neighbouring Alsace, which has been declared a hotspot in France.
"There are no travel restrictions within Switzerland, but all of the borders to neighbouring Germany, France, Italy and Austria are still closed," he said.
They had originally planned to bring both Spanish and Irish families together in Ireland at Easter, the first time since Mia's christening. It would have been their first trip to Ireland, but in the end everything had to be cancelled.
Receive quality journalism wherever you are, on any device. Keep up to date from the comfort of your own home with a digital subscription.
Any time | Any place | Anywhere
Posted: 5:00 pm May 2, 2020