LETTERKENNY barber Marty Lynch doesn't do easy.
Fresh from winning The Race, a 250km endurance race across Donegal in March, the Ramelton man is preparing for Ireland's Coast to Coast in two weeks time.
That event will see Marty (35) and his fellow competitors set off from Enniscrone, Co Sligo and race their way across Ireland in daylight and darkness to the finish line in Newcastle, Co Down some 312km later.
"It will probably take me fifteen or sixteen hours," he smiled.
Wearing the colours of Milford AC, Lynch completed The Race in a remarkable record-breaking time of 13 hours 50 minutes.
That was more than ten hours quicker than Dermot Keating, who finished the event – which saw competitors complete 5km of kayaking, 166km of cycling, 5km of mountain running and 64km of road and trail running – in 23 hours, 58 minutes, and three seconds.
"There's only a very small percentage of us racing these events. For the majority of competitors it's all about endurance and sheer will power. Some of them were out there for twenty hours or more. There was one guy (Dermot Keating) who finished at 4.58am in the morning. The 24 hour cut off point was 5am. After that there was no medal. That's real endurance. That's what these events are really all about," he enthused.
Marty clocked up 28 hours training over the previous seven days when he spoke to the Donegal News this week.
That involved cycling hundreds of kilometres across Donegal, kayaking in Mulroy Bay and running the roads around Ramelton and Letterkenny.
A footballer with Swilly Rovers in his youth, Marty plied his trade with the Ramelton club, Rathmullan Celtic and Orchard United in the Donegal League before a cruciate knee injury effectively ended his career at twenty-eight.
"I went to the gym for several years after that (injury) before I started running and then got into adventure racing. It was summer time and I was sick of the gym when a friend, Daniel Cullen, suggested that we take part in the Lough Fern Adventure Race. I managed to get over the line with a bit of training and really enjoyed it," he said.
That was four years ago. Last year he finished third in The Race and came back to win it in 2017, relegating Shaun Stewart from Creeslough and Michael McHugh, Milford AC, to second and third respectively.
"I was better prepared, and stronger and fitter this year. We all trained as a group (Milford AC) for six months in the build up to The Race and at the start of the marathon (last stage of the race) I knew that I felt strong," he said.
Lying second at that stage some ten minutes behind Stewart, the Ramelton man knew that he was well placed to win the event.
"I caught him (Stewart) with 12 to 14k to go in the marathon. I knew what pace he was running at and I knew where I was at and didn't need to run any quicker," he said.
His wife Anita and their daughter Ellie (15) were among a group of well-wishers who were at the finish line to cheer him home.
"I didn't really see anyone on the day. I caught glimpses of people and could hear their shouts of encouragement along the way. I suppose I was in the zone," he said.
A barber by trade, Marty has worked in Gerry's Barbers on Letterkenny's Main Street for the past 17 years.
"There's a few characters who come in here to get their hair cut who aren't short of advice when it comes to adventure racing," he laughed.
Ireland's Coast to Coast challenge later this month poses the next challenge while he has also ear-marked the Dublin marathon on the October Bank Holiday weekend.
"I enjoy training with the lads – that's the big thing for me. The events take care of themselves but it's the months of training leading up to them that I really enjoy. Okay, you're missing out on some stuff like going out with the lads for a few pints but with the backing of family and friends it's all made worthwhile when you pick up that medal. That's what it's all about," he said.
Hugh Coll, Michael McHugh, Peter O'Donnell, Damian McBride, Paddy McGee (Trentagh) and Brian Doherty (Cranford) are his regular training partners while Mark Scott, Joe Gallagher, Martin Kerr and Martin Gallagher are among the others who wore the Milford AC colours with pride during The Race.
"Coast to Coast is a wee bit different in that I've been doing most of the training by myself. I did ten hours one day last week, five and a half hours on Sunday and something similar on Wednesday – my day off work.
"It's been tough mentally but I suppose that's not a bad thing given what's ahead of me in a few weeks time," he said.
A top three finish is the goal from Coast to Coast while another sub three hour marathon in Dublin is the target for later in the year.
"We've all our own way of going mad. I enjoy pushing myself to the limit and I'm looking forward to the next test which is Coast to Coast," he said.
With that he calls the next customer forward and with scissors and comb in hand, he's back to work.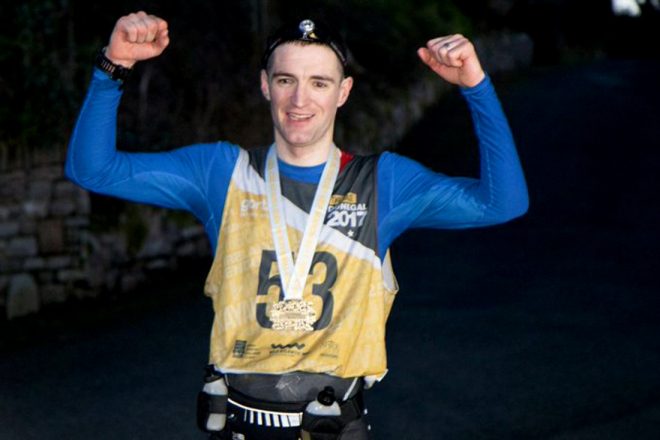 Receive quality journalism wherever you are, on any device. Keep up to date from the comfort of your own home with a digital subscription.
Any time | Any place | Anywhere
Posted: 4:47 pm May 5, 2017