Menopause is a time many women dread and it can be with good reason; it may mean mood swings, tiredness, changes to periods and hot flushes. Phasing into menopause can start as early as age 35 take as long as five to 10 years, this phase of life is known as perimenopause. Oestrogen levels start to fall as do progesterone levels and this can mean changes in your hair, skin, energy, sleep and hormones. But with the right diet and nutritional support you can help to manage the way you feel.
THINGS YOU CAN DO
Reduce stress levels by cutting out caffeine and taking time to enjoy your life. Support your body by taking B vitamins which have been proven to help reduce stress and support hormonal production. Support the brain and cardiovascular function by increasing your Omega 3 intake which will help cognition, skin and heart health. Make sure you keep your bones and thyroid healthy by maintaining vitamin D levels. Supplementation can help. Try Cleanmarine® MenoMin, which is an all-in-one combination of Omega 3 krill oil and Vitamins designed to provide women 35 plus with the right nutrients to help them move towards this phase of their life.
Cleanmarine® MenoMin is stocked at The Natural Way Health Food Store in Letterkenny Shopping Centre.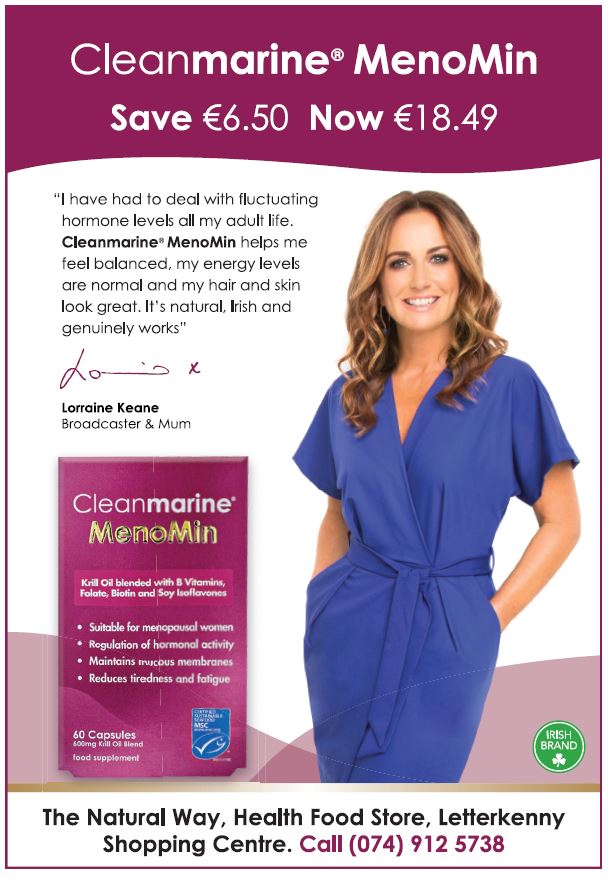 SPONSORED CONTENT BY: THE NATURAL WAY
Posted: 10:00 am October 13, 2018