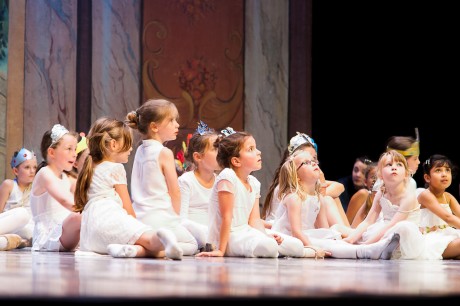 FOR the 14th year, Ballet Ireland, The National Ballet of Ireland, is offering budding dancers aged 6 -16+ a unique peek into the life of a professional dancer and the chance to find out about all that goes into making a ballet.
This year a Ballet Ireland Summer School will be running in Letterkenny at An Grianán Theatre Monday, July 28 to Friday, August 1.
The company's hugely popular summer schools offer young dancers the unforgettable opportunity of creating their own new ballet, this year drawing on inspiration from the story of The Elves and the Shoemaker, and working with the company's professional dancers.
The annual event is open to young people of all ages and levels of experience. The week-long workshops focus on dance performance and also include music, mime and drama.
Summer school participants become part of the creative process, helping to devise the choreography, and create sets and costumes.
The young students work with professionals to produce their own full-length ballet to be performed onstage at the end of each week for family and friends to come and enjoy.
Zoë Ashe-Browne, the lead in Ballet Ireland's production of Carmen, was a participant at one of the summer schools in their very first year 14 years ago.
Zoë said: "I attended the ballet Ireland summer school in 2000 I remember being fascinated and in awe of the company members that assisted the Education Officer, Stephen Brennan.
"It was the first time I had been close up and interactive with professional dancers and it gave me a true sense of their reality.
"I remember Steve bursting with enthusiasm. He gave us so much knowledge in a short time, and we were given a real insight into a performer's life.
"It was a wonderful opportunity, and for me a great feeling of achievement to have been the first company member to attend one of our fantastic summer schools as a student."
Speaking about the annual summer school, Ballet Ireland's Education Officer and workshop leader, Stephen Brennan said: "Over the last 14 years I have watched numerous students take part in our summer school. Although it is only a week long the children develop extensively.
"Their confidence grows, their creativity is unleashed as they learn and refine new skills. Many children return each year. I am not only looking forward to working with them again but am instantly curious to see how much more eager they are to contribute to the making of the ballet and working with the other children."
Director Anne Maher said: "This is a key function of Ireland's National Ballet – not only to bring classics to life in innovative ways, but to play our part in nurturing a thriving dance culture for Ireland. In many ways, this is the starting point for all our work.
"Our workshops are not only a unique first hand experience of being immersed in professional dance and dancers, but also open the eyes of our future audiences to understand and appreciate what they are looking at on the stage."
Posted: 5:30 pm June 9, 2014