BY CHRIS MCNULTY
c.mcnulty@donegalnews.com
1. Christy Toye: A key cog in Donegal's wheel
OF all the absentees from Donegal's list during 2013, Christy Toye's was perhaps the one that captured the fewest headlines.
The St Michael's man missed the entire inter-county season as he was suffering from trigeminal neuralgia, a rare nerve disorder. Toye also had knee surgery, but Jim McGuinness is a big fan and kept the door ajar.
On Sunday, Toye burst it open with a Man of the Match display in O'Moore Park. The 30-year old was involved in every Donegal score in the first half, including a neat point himself. Before his withdrawal, Toye played a part in 1-8 of the 2-11 Donegal had racked up.
In forcing turnovers, carrying and delivering ball as well as his most crucial assets, those powerful surges through an opposition defence, it was an outline of just why his absence last year left such a gaping hole.
In 2012, he contributed heavily off the bench during the Championship and is back with a bang.
His experience cannot be under-stated. This is a player who made his 122nd appearance for the county on Sunday.
Injuries haven't been kind – remember, he spent 25 months on the sidelines after rupturing his Achillies against Clare in 2009.
He made a remarkable comeback, scoring a goal against Kildare just 25 seconds into his re-introduction. It was a night remembered for an epic winning point by Kevin Cassidy, but it was Toye's goal that teed up extra-time and his late point levelled matters before Cassidy struck.
Fitness-depending Christy Toye's return is almost like McGuinness drafting in a new man.
2. Division 2 perfect for transition and traction
JIM McGuinness was unmoved last year about the League and mentioned, following his side's relegation from Division 1, that 'we don't really like the League'.
McGuinness consistently told reporters after games that he wasn't particularly troubled by results in the League and the same, it seems, is true this year.
After their draw with Dublin in Ballybofey that condemned them to Division 2, McGuinness looked on the bright side.
"We will rebuild in Division 2," he said.
"It will be a bit easier on us in terms of the opposition that we will be playing. It will give us a chance to roll out our annual plan a lot easier."
That much cannot be argued.
Whatever of the merits of playing against the crème de la crème of Division 1, there are some considerable benefits of the second tier. 2011, McGuinness has noted in the past, allowed his side gain traction for the year and it was on the back of winning Division 2 that his era catapulted.
Now, he's aiming to pick the pieces up again and the transitional spring allows him to blend Hugh McFadden, Odhrán MacNiallais, Darach O'Connor, Stephen McLaughlin et al into the rigours of senior football – something that, surely, couldn't be guaranteed when the bubbles of Division 1 were boiling.
"The hope is that we can expose them to enough and they can push on come the Championship as well," McGuinness said on Sunday.
Division 2 is perfect for that platform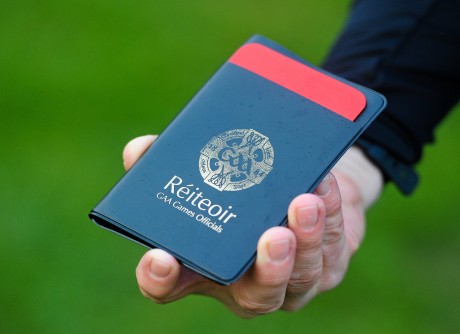 3. Black card system could suit Donegal
THE black card system has been the subject of intense debate, but there hasn't been the plethora of cards dished out as was predicted.
Jim McGuinness has been asked about Donegal appearing to live on the edge at different junctures in his tenure. His usual riposte is that he 'coaches to the rules'.
Sunday was a hint of how their implementation could work to Donegal's benefit.
Donegal played a running game on Sunday, largely because of the conditions, but it will be interesting to watch how this evolves in the coming months. For, when that phalanx of green and gold goes haring at full pelt into a defence it can be devastating.
Time and time again, you find Frank McGlynn, Anthony Thompson, or even Neil McGee, as one of the more advanced men forward. Defenders these days must be cautious in that situation and, so, there is perhaps a little more wriggle room for a side with the refinement of Donegal to be adventurous. You could sense a reluctance, at times, from the Laois defenders anytime they were run at.
"Our natural game in Donegal is a running game and we're very comfortable with that," McGuinness said.
"We have a couple of very good inside forwards so you're hoping that the mix of the running game and those inside forwards will give a spread of scores."
Against better opposition this one could be tested but, for now, it seems as if Donegal could profit from the new system.
4. Donegal depth has increased
DONEGAL'S squad remains a world away from, say, Dublin, whose numbers are from a different planet entirely, but there is something much more encouraging about the make-up of the panel these days.
Karl Lacey is one of the best players in the country and to have a quadruple All-Star who was the Footballer of the Year as recently as 2012, back in harness is a massive fillip.
Mark McHugh had his first taste of inter-county action in 2014, as had Martin McElhinney, Anthony Thompson and Ryan McHugh. The latter was a part of the panel in 2013, but he already showed enough to confirm that he'll hold his own. That Jim McGuinness detailed him with a man-marking brief on David Conway was a demonstration of his versatility.
The team on Sunday has yet to welcome Neil Gallagher, Eamon McGee, Paddy McGrath and David Walsh to proceedings. When you add in the young guns of Darach O'Connor, Hugh McFadden and Odhrán MacNiallais, the vibes from whom have all been positive, you'd have to deduce that McGuinness's deck will be stronger once he shuffles the full hand.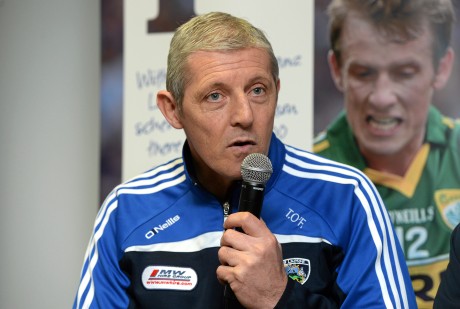 5. Ó Flatharta faces a big task
WITH A little less than ten minutes to go before the final whistle on Sunday, a stream of Laois folk headed for the exits.
Among them was a bustling figure surrounded by fans who must surely have been pining that he'd called it a day.
Padraig Clancy's retirement at the end of 2013 was the first big blow to Tomás Ó Flatharta's tenure as manager of Laois – and the Kerryman is in clear need of an oxygen mask for his squad.
Clancy was a player who always gave Donegal trouble, be it at midfield or at full-forward, where he sometimes moonlighted, and the side is clearly the poorer for his loss. The new manager is awaiting the return of a couple of important campaigners but you cannot help but feel that the ex-Galway boss could have something of a baptism of fire, if Sunday's thirteen-point loss didn't quite fully tick that box.
It is unlikely that Donegal will face oppositions as obliging during their League campaign. For Ó Flatharta, that surely chimes haunting bells. Victory against Louth on Sunday is vital for them.
Receive quality journalism wherever you are, on any device. Keep up to date from the comfort of your own home with a digital subscription.
Any time | Any place | Anywhere
Posted: 8:24 pm February 6, 2014