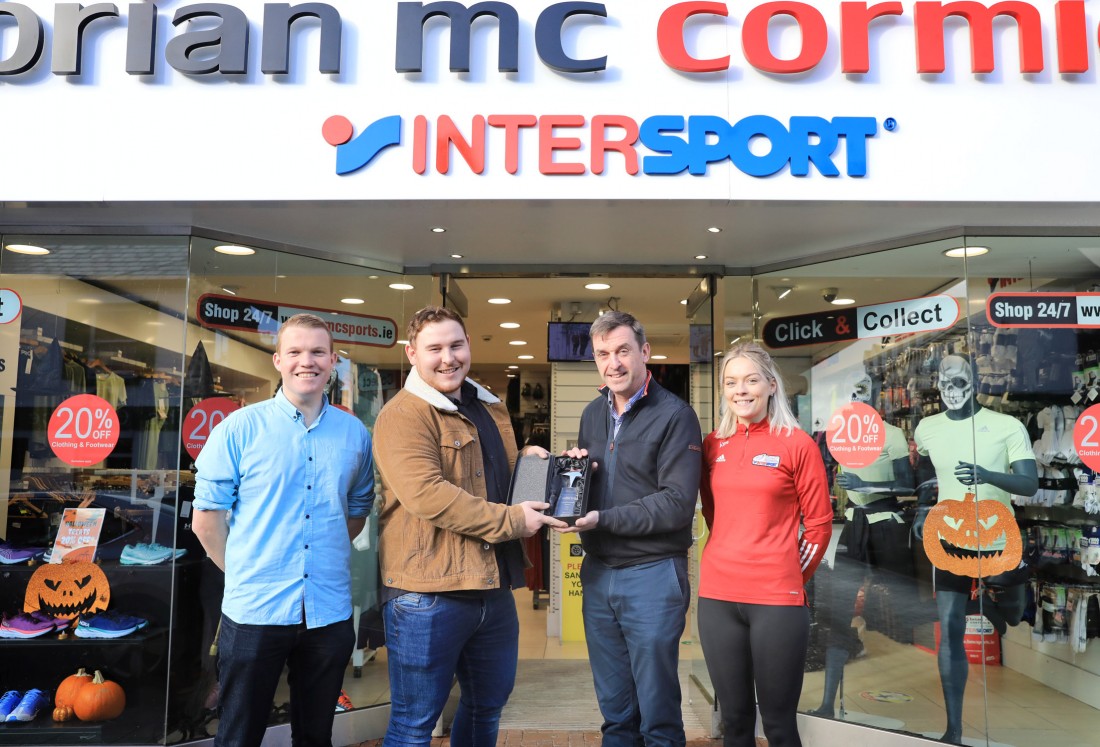 Brian McCormick presents the July Sports Star of the Month award to John Kelly. Also included are Ryan Ferry, Donegal News and Aine Gibbons, Brian McCormick Sports & Leisure.
BY RYAN FERRY
JOHN Kelly has had an incredible year as he has bounced back from a potentially career-ending injury to then break the Irish Shot Put record and compete in the World Championships for his country.
Kelly admits that his success has somewhat taken him by surprise but he's certainly enjoying the experience.
The St Johnston man is currently based in Sweden but he was home this week and collected the Donegal News Sports Star of the Month for July, in conjunction with Brian McCormick Sports & Leisure.
"I have had a very good year. I'm kind of over the moon with it. I didn't expect it.
"Last year I broke my ankle and I was told I would never throw again.
"So after a bit of surgery and a lot of rehab and a lot of hard work, I decided I would come back and have a bit of fun.
"I went further than I ever thought I would and I was really happy. I didn't see it coming and I didn't expect it so it's been great."
Kelly's father John is his coach and he dabbled in a bit of everything throws-related when he was younger, mainly javelin.
His son tells a story of finding a shot put when he was 12 at a family barbecue and became hooked.
He joined Finn Valley Club and soon started travelling all over the country and further afield to pursue his chosen sport.
It was important to get a third-level qualification, and then his mind was set on re-locating to Växjö in 2020 so that he could give his all to his Shot Put ambitions.
Kelly enjoys training and pushing himself along with some of the elite Shot Putters, but an injury threatened to derail his aspirations.
"It was just a freak injury. I had just moved there and I suppose I was coming from a place in the country and going to a big city.
"You're trying to find your way around, and get banks sorted, and work sorted, and everything else.
"I burned out, and I went into the ring one day and I heard snap. I didn't think much of it and for six months I kept training to get it right.
"Then I went for an MRI, and I had a grade two tear in the inside of my foot, and a grade tear three on the outside. The cartilage had been torn so I needed to get surgery last year.
"Bit by bit, I have got back. It has slowed me down and that's no harm. I used to be too helter skelter but now I'm calmer."
The 26-year-old says he has a strong team behind him and that includes local nutritionist Liam Leech, who he works closely with.
Kelly eats between six thousand and ten thousand calories a day depending on his training schedule.
It take huge effort to make gains, and he usually does cardio or stretching before he goes to work. He plans a session for an hour-and-a-half at lunchtime, and then completes a few more hours in the evening.
"There's more investment for the sport in Sweden. There's more structure.
"I was training for years here in a throwing circle that we built down behind my house, and we were throwing in a potato shed, and lifting in the gym that my parents built for me.
"In Sweden, there are Olympic training sessions and everything. I don't forget where I come from and I'm motivated all the time not to get too soft.
"We're all pushing each other on and if you see someone doing well, you hang on to their coattails."
Signs of progress were evident back in March when he landed a new personal best.
Kelly followed that up with a super throw of 19.57 metres at the Trond Mohn Games in Norway.
A national senior title followed in late June, and then there was a hugely significant moment in Kelly's career when he set a new Irish record of 20.16 metres at the Cork City Sports meet.
"I was absolutely over the moon and it couldn't have happened at a better time.
"I always dreamed of throwing over twenty metres and it was even better that it happened in Ireland.
"I didn't throw it in Donegal, but Cork will have to take this one.
"I always dreamed of being the record holder and twenty metres was a big, big barrier for me.
"I was very happy to break that barrier and then to get the rewards of going to the Worlds."
With some injuries and withdrawals, Kelly received a late qualification call-up to compete for Ireland at the World Championships in Oregon.
He admits that things didn't quite go to plan as his best throw in the event was 17.92 metres which is a good bit short of what he is capable of.
However, it has whetted his appetite to compete again in an Irish vest at major championships.
"It was unfathomable in my head but my parents have always pushed me to dream big. They have always backed me and it's the same with my club Finn Valley.
"It maybe didn't go as planned but it was a great experience. The timing maybe wasn't great for me, but at the same time there's no bad timing to be going to the World Championships.
"I've got the taste for it now and I want more. It's just all about pushing the distance now.
"I've a few technical aspects to fix, and a few things in my body that I need to work on. Those things would make a difference to my distance, and with that, I might get more opportunities and compete in more big meets.
"I want more. I've scrapped my way up the ladder and I'm still scrapping yet.
"I'm hoping to improve and finish off my pipe dream of making the Olympics.
"If I could make that goal, I would be happy, but if I can't then at least I tried."
The Qualification standard for the Paris Olympics currently stands at 21.10 metres so Kelly, who is self-funded, will be building towards that target as he maps out his plans for next year.
"I'm training like mad at the minute, and I will be starting competitions in January or February time.
"I'm planning now on where I'm going to travel to and compete. I'm trying to get the budget right.
"That will be for the indoor season and fingers crossed I'll get to the European Throws Cup. It's a great competition out in Portugal.
"After that I will put the head down and keep working. This year has been a great year because I have fallen in love with the sport again.
"If I can enjoy the journey, the story will write itself I hope."
Receive quality journalism wherever you are, on any device. Keep up to date from the comfort of your own home with a digital subscription.
Any time | Any place | Anywhere
Posted: 12:01 pm November 8, 2022