A JUDGE has given a local refuse collector a final warning over an unpaid €319,614 bill to cash-strapped Donegal County Council.
The local authority is suing Ferry's Refuse Ltd of Rossbracken, Manorcunningham and its owner, Jim Ferry, for failing to pay landfill fees.
The council has been pursuing Ferry's for the money since 2010, Letterkenny District Court heard on Wednesday.
The council's solicitor, Ms Lisa Finnegan, said they hadn't been paid any money towards the debt.
Mr Kevin McElhinney, solicitor for Mr Ferry, said he had just received instructions for the case on the morning of the court as it had been dealt with by a Dublin legal firm up until then, and they didn't want to incur the costs of travelling to Letterkenny.
He said Jim Ferry had told him that he had paid monies to the council but "there appears to be an element of confusion" as these monies had been taken off other landfill charges and not the debt in question.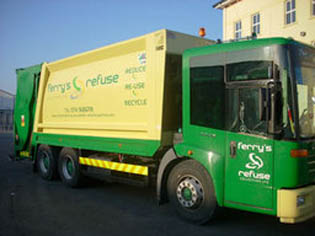 Judge Paul Kelly commented that there had been a "substantial number of adjournments from March 2010 and every month since then."
The judge said there was "scant respect being shown to the creditor or the court" by Mr Ferry.
On the explanation that Ferry's payments to the council had come off the 'wrong' account, Judge Kelly commented: "He would have to pay that other bill anyway."
Mr McElhinney responded: "Yes, and I have explained that to him (Jim Ferry)."
Judge Kelly said that, despite the outstanding debt since March 2010, no statement had been entered into the court on behalf of Ferry's.
He said he was adjourning the case for one month to give Ferry's "one last opportunity" to respond.
He ordered that Jim Ferry appear at Letterkenny District Court on February 4, that his solicitor file a statement of his means and income and a full schedule of payments and non-payments be filed to the court and to council solicitor Ms Finnegan.
"Mr Ferry must be present," added the judge.
Earlier this week, the same refuse company was fined €2,000 for failing to tax two of its bin lorries.
Last year the company faced fines and charges of €42,000 for illegally dumping outside Falcarragh.
The company has been given until later this year to pay those fines.
It has a string of convictions for illegal dumping.
Receive quality journalism wherever you are, on any device. Keep up to date from the comfort of your own home with a digital subscription.
Any time | Any place | Anywhere
Posted: 10:12 am January 8, 2015