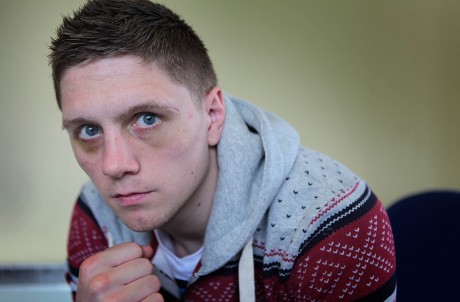 BY CHRIS MCNULTY
THE clock was nearing midnight several Saturdays ago and a handful of young twenty-something men huddled around a window table in one of Ballybofey's fast food emporiums.
The hour was late, but the night was young and the group was plotting its next move, pondering to which of the Twin Towns' hostelries it would call.
As they picked through their greasy bundle, the story goes that a hooded shadow passed by.
There were many who'd slalomed a path through the night's drizzles at speed, but this wasn't your average twenty-year old scampering to the next ale house. The sight in Ballybofey is a familiar one: the hooded and head-phoned figure of Jason Quigley jogging the paths of the town's tar-macadam. His is a rare breed in these parts; a teetotaler who doesn't smoke.
Tomorrow (Saturday) Quigley, the 22-year old from The Beeches, begins his assault on the World Senior Championships in Kazakhstan, his first foray into this level of competition.
His confidence is a remarkable thing. It's as far from being cocky as you'll see, but his is a genuine belief in his own ability, driving by the knowledge that he's put in the long hours and the hard graft
"Of course, I'm going there to become a world champion," he says, unflinching.
"I wouldn't be going out there any other way, (just) to win a fight or two."
Quigley's comments come with good reason.
The Finn Valley ABC man is the only Irish boxer ever to have won three European gold medals. He won the 2009 European Youths, the 2012 European Under 23s and the 2013 European Elite Seniors.
Anywhere he goes, Quigley wants to be the top dog. He has never won a bronze medal.
"For me, second sucks," he says. "I want to be number one, no matter where I am. That is the determination and drive I have that has won me the three European golds I've won."
Quigley has always been a man to look for the extra little inch that will take him across the line.
At the European Championships in June, Quigley sent ripples of shock around the boxing canvas when he took out Ukraine kingpin, the world number 1, Evhen Khytrov, in the semi-final.
After defeating Romania's Bogdan Juratoni in the final of the middleweight division, Quigley revealed that he'd spent the off days watching possible opponents sparring.
Khytrov was the man he eyed: "I was watching him and was keeping an eye on what he has done.
"I was looking at him sparring and saying to myself: 'I can beat this fella'.
"I was watching everything he was doing, the way he was boxing and trying to figure out what sort of game plan I'd need if I did draw him.
"I might never have met him – but I did."
Khytrov was the first seek, Juratoni the second, but Quigley stood above them all by the finish
His performance in the final was not a classic by any stretch, but he found the resolve from deep within to crash past Juratoni and complete his continental hat-trick.
Life was never plain sailing for the Quigleys and the hard-working ethos is what has carried them to the top.
The career began in the Quigley kitchen, dad Conor showing the tricks of the trade to the young eagle-eyed Jason, mum Murial continually encouraging the pair. As she was then she is now: Their bedrock.
Conor Quigley's role in Jason's success cannot be over-stated.
Red tape prevented him from travelling to the European Championships in Minsx. Absence is rare by Conor Quigley, especially when it comes to Jason.
But he may as well have been in Belarus as Ballybofey. His detail his forensic and, via Skype, he was on after every fight to offer some advice. It is never critical. Always, the Quigleys can enforce the power of the positive.
The relationship between the pair is unique – and this weekend Conor Quigley is practically as deserving of his seat in Astana as Jason.
"It was my father, when I was a young age, who got me involved in boxing," Jason says.
"We came from a very down to earth background really. We always had to scrape through in life and we weren't always very comfortable in every way.
"That's my ambition and that's my inspiration, to make a great life for my family and make a comfortable life for my family. To take my father and for the two of us to go the whole way together would be very special."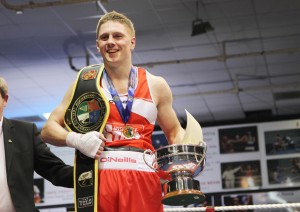 Jason has recently been taken on board by the Sky Sports Scholarships programme, meaning he and his father will be living in comfort until the 2016 Olympic Games in Rio at least. The deal – which Katie Taylor was part of in the run up to London 2012 – allows thee Quigleys to be free of the stresses of financial burden over the next couple of years.
Boxing now can be king. Then again, it was never any other way.
How they must wonder now how life would be if Jason had, in 2003, taken the advice of his aunt, Mary.
Jason, then aged 14, had just lost a national final to David Joe Joyce from Athy when, in the car park of the Finn Valley Centre, Mary advised him to 'forget about them boys in Dublin and the boxing because you'll never get a decision'.
"It was a real setback for us as it had never happened before," Jason says.
"But I was never going to quit. I went straight home, straight to bed and got up first thing the next morning and went for a run. The only thing I could think about was Joyce beating me.
"Looking back now, losing that fight was the best thing that ever happened to me."
Quigley's career now has been defined in many ways by defeats.
Despite reaching the final in his first year in the National Seniors, he was beaten by Darren O'Neill. When O'Neill got the better of him a year later in the final, the Quigley's had a re-think.
They tried the welterweight division, but it didn't suit and Willie McLaughlin defeated him in a 2012 bout in Dublin's National Stadium which is the last occasion on which Quigley's hand hasn't been raised in victory at a competitive bout.
Back he went to middleweight and on his way to winning the national title earlier this year he managed to blitz his O'Neill demons, defeating the Kilkenny southpaw in a quarter-final.
It is 28 fights and counting now for his winning streak.
When he first appeared on the world stage, in 2007, the St Columba's College student didn't medal – but he left his mark. At the World Cadet Championships in Azerbaijan, he defeated Aliaksandr Hryhorchyk in his first round, but a facial injury forced him to pull out of his bout with Anar Jafarov in Baku.
Quigley's name had been noted by many coaches back then. Now, those scribbles are coming to pass.
When Jason won his first Under 21 title, aged just 17, Conor felt he'd benefit from going into the Intermediates.  It was to gain experience, no more. In true Quigley fashion, he beat Patrick J Ward 6-1 to become National Intermediate Welterweight champion.
A huge landmark for Quigley was in 2009 when he won gold at the Danas Pozniakas Olympic Youth Tournament in Lithuania. At the European Youths in 2009, he defeated Ajerbaijan opponent Emil Ahmadov 6-1.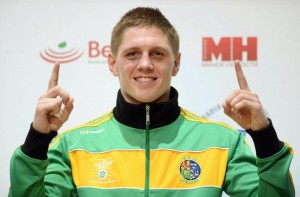 Titles have followed at Under 23 and Senior level and this boy is now box office material, the fifth seed for his maidan voyage to the World Elite Senior Championships.
He was one that no-one will have wanted to draw and this weekend don't be surprised if there are a few more lifting their necks in admiration at Jason Quigley – just like the boys in the Ballybofey chipper were all those weeks ago.
Receive quality journalism wherever you are, on any device. Keep up to date from the comfort of your own home with a digital subscription.
Any time | Any place | Anywhere
Posted: 12:30 pm October 18, 2013