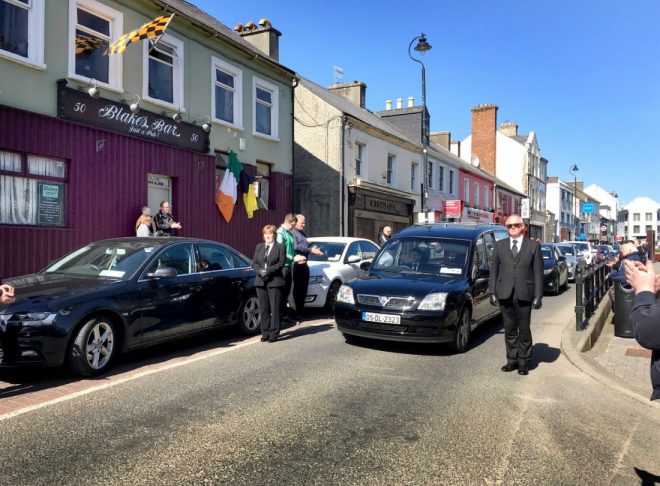 THERE were poignant scenes in Letterkenny on Easter Monday to mourn the death of Patrick (Paddy) MacIntyre, Ard O'Donnell.
In compliance with current Government and HSE guidelines, the wake, funeral and burial were all strictly private to immediate family only.
However, the local community rallied around the family as people lined the two kilometre route between the family home at 51 Ard O'Donnell and his final resting place at New Leck graveyard.
On a warm, bright afternoon, Paddy's former work colleagues from the Mount Errigal Hotel in Letterkenny and the local St Eunan's GAA club formed guards of honour as the cortege slowly made its way down the Main Street – stopping briefly outside Blake's Bar.
They were joined by staff and patrons of Mac's Deli on High Road, which is operated by his younger brother Eunan, staff from Letterkenny University Hospital where Paddy's wife Catriona works and many, many family friends and neighbours who got to know Paddy MacIntyre throughout his sixty-one years.
Paddy was diagnosed with cancer in 2016, and bore his illness with dignity and fortitude. He was a constant source of support to other cancer patients and offered assistance in how they could deal with their treatment.
"It was absolutely overwhelming and myself, Brian and Sinéad are so, so thankful that the people of Letterkenny came out in their droves to say goodbye to Paddy. He would have been so proud," Catriona MacIntyre said.
Speaking to the Donegal News, she said they were very grateful to have their family around them at such a sad time.
"When Paddy was in hospital a couple of weeks ago there was a query re Covid but, thankfully, the tests were negative. Had they been positive then it could have been such a different story for us all. We're so grateful that all the MacIntyre's and my family were here. I don't know what I would have done without them to be honest," she said.
"Coming from the house yesterday (Monday) to Leck – to see the roads lined with people all the way – was absolutely overwhelming. Brian was driving and myself and Sinead were sitting on. Every corner we turned we saw more and more people. It was so emotional.
"Paddy would have been so proud – in his own town – to have received such a lovely send off. Despite Covid it didn't feel like a lonely time. It felt like the whole community was with us. I don't know where to start thanking people," she said.
A big family man, Paddy was immensely proud of the achievements of his family both on and off the sporting field. His son, Brian, was captain of the St Eunan's under-21 footballers who won the Donegal championship in 2019, while his daughter, Sinéad, is a member of the Donegal minor football team, having captained Donegal at under-14, under-15 and under-16 levels. Brian was also a keen hurler while Sinead won basketball titles with her school. Where ever Brian and Sinéad were playing, Paddy was always in attendance lending his support and encouragement.
Indeed, the last game he attended was that U21 County final but he was also present at the recent club awards night where Brian received the U21 Player of the Year and Young Hurler of the Year accolades.
"He was really disappointed he didn't make the Antrim game (U21 Ulster club) but he got a copy of it sent to him while he was in hospital. He was so delighted to be able to watch the game back. He spent the night watching and analysing their performances to see what they did right and wrong," Catriona smiled.
"He had four and a half good years since first getting his cancer diagnosis and we're all very thankful for that. He got to see the kids do so much and he was able to enjoy that," she added.
A quiet, popular and unassuming individual, Paddy was kind and caring and was always extremely obliging when it came to offering IT support.
"Terry and Enda in the Mount Errigal Hotel used to ring him to try and resolve IT issues and he loved that. More often that not he would find a way to sort out the problem. He was a bit of a whiz in that regard," she said.
Paddy was an avid reader while he used to enjoy nothing better than to complete the Crosaire crossword in the Irish Times every day.
"We had so many good days. We were lucky. Paddy took time out from chemo in October and we had a lovely few months. Christmas was lovely too. Paddy would have wanted no big fuss. The fact that we were unable to have a big wake is something that he would have planned for himself," she said.
Paddy was one of 38 IRA prisoners who escaped from the H Blocks of Long Kesh in 1983. Almost twenty years later (2001) he was one of eight Republicans given amnesty by the British government and allowed to go home. Paddy had been on the run since 1986.
Patrick (Paddy) MacIntyre is survived by his wife Catriona (née Gallagher Glenties), son Brian, daughter Sinead, brothers Martin, Sean, Eunan and Peter (Bundoran), sisters Geraldine, Mary O (Bradley), Breid (Carberry) and Ann (Dublin), in-laws, relatives and friends.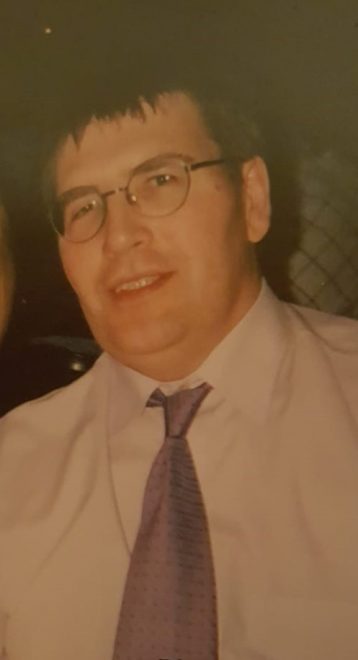 Receive quality journalism wherever you are, on any device. Keep up to date from the comfort of your own home with a digital subscription.
Any time | Any place | Anywhere
Posted: 4:00 pm April 16, 2020