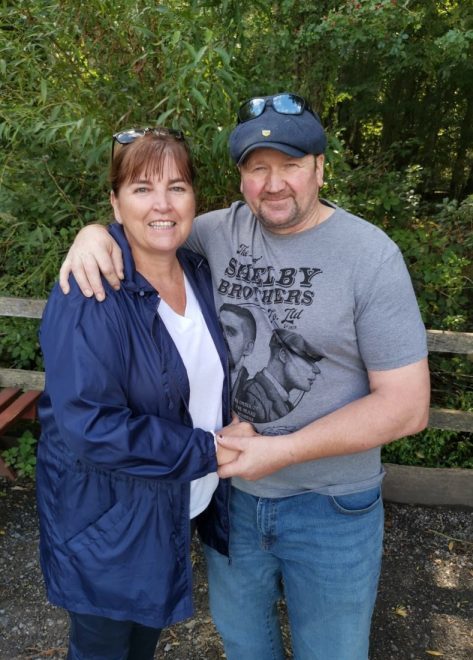 A mother has expressed her gratitude to staff in Letterkenny University Hospital after spending two weeks receiving treatment for coronavirus.
Maureen Vaughan said that words could not describe her gratitude to the wonderful people who cared for her.
The 57-year-old Downings woman, who was taken to hospital by ambulance on Monday, December 28, described those who work in LUH as "truly exceptional".
Fortunately, while the illness affected her respiratory system, Maureen did not need a ventilator to assist in breathing. But it was serious enough that she doesn't remember too much about the first few days of 2021.
"I had a seizure at home on the Monday morning but thankfully my two children knew what to do and put  me into the recovery position and were able to look after me until the ambulance arrived," she recalled this week.
"I spent two weeks in hospital. I'm home two weeks now but I still don't feel great. We had been so careful too during the whole of our lockdowns – wearing masks, washing our hands and keeping our distance. I honestly don't know how I got Covid.
"What I have learned is that no two Covid stories are the same. I had no underlying health issues and this thing completely knocked me off my feet," she said.
Maureen and her husband Brendan had arrived back in Donegal from their London home the Saturday before Christmas (December 19) and had been self-isolating.
"All the Christmas food shopping had been done for us so I didn't need to leave the house," she said.
"The first week in hospital was a bit of a blur but the staff were very thorough. They carried out every possible test on me and I can't praise them enough. I had Covid pneumonia and I don't want to think what might have happened had I got Covid in London and had to go to hospital there" she added.
Her husband Brendan 'Tiny' Vaughan, who is a well-known figure in the Irish community in London, said that he too was very grateful to the staff in Letterkenny University Hospital.
"We couldn't get in to see Maureen during those two weeks but we were lucky that my nephew is a Covid nurse and he was able to act as a courier," he said.
One of the organisers of the London Irish Vintage Club, he is also the photographer at the Tir Conaill GAA Club.
"It's been a scary few weeks. It's the longest we've been home in the past forty years but that doesn't matter now as long as Maureen's okay. That's the main thing. This is a very serious illness and I wouldn't want it to land on anyone else's doorstep. Do everything that is asked by the health professionals and, hopefully, things will start to improve as the year progresses," he said.
Maureed added: "It didn't matter that there were no visitors allowed. I couldn't get out of bed and was too exhausted to talk to anyone. The nurses, doctors and all other members of staff in Letterkenny were all truly exceptional . I am truly indebted to them."
While the couple had their tickets booked to come home, via boat, for the past six months they admitted that it was 'touch and go' whether or not they would spend Christmas 2020 in Donegal.
We were very careful. It's a difficult time and probably not the best of circumstances to be home but my bosses have been very considerate.
"I'm in not fit state to travel anywhere at the moment so it looks like we'll be here for another while yet to recuperate," she added.
Receive quality journalism wherever you are, on any device. Keep up to date from the comfort of your own home with a digital subscription.
Any time | Any place | Anywhere
Posted: 5:00 pm January 28, 2021