By Evelyn Cullen
"Serbia?" my friend Eric said. "Not the typical summer jaunt to the beach, is it? Why Serbia?"
Well, as I am happy to try anywhere, as long as I have my laptop and good wifi, I had decided to take advantage of the digital nomad lifestyle and hop-it.
It was somewhere hot, cheap and European, that I had never been to. I had run my finger along the map and landed on Serbia.
I arrived in Belgrade, Serbia's capital on a hot and humid Saturday evening in August.
From Nikola Tesla Airport I was advised by my host to get bus 72 to take me into the city.
"Can I buy a ticket please?" I asked the bus driver as I boarded.
"No, no ticket," he said and waved me on.
Confused, I sat down and thought about what other system there might be to pay the bus fare. I looked around for something resembling a ticket machine but saw none.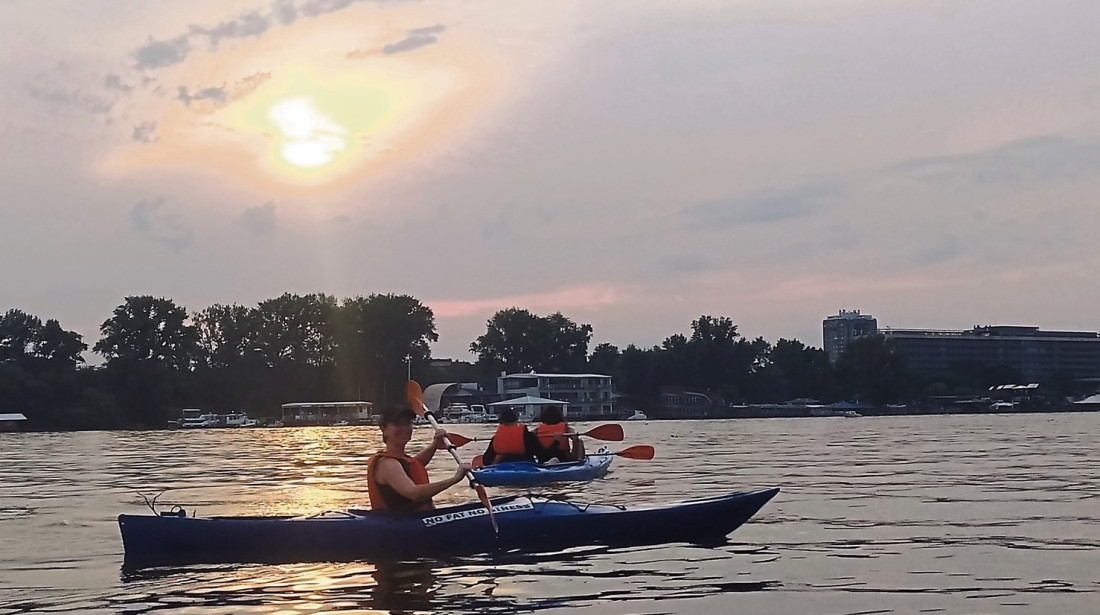 I watched other people get on the bus to see what they were doing, they just seemed to board and take their seats.
A man sat beside me. After a few minutes I said to him: "Excuse me, how do you buy a bus ticket?"
He paused, laughed, threw his hands in the air and said "To be honest, I don't know."
I was even more confused now. When I got to the city I had to change buses to get number 16 to my airbnb. This time I boarded and just sat down.
When I got to my accommodation I asked my friendly host whose name was Dragon about the bus ticket situation.
He explained that recently the government changed the system to buy bus tickets making it really complicated. You have to buy a ticket by sending an sms text message but it has to be from a Serbian sim card, which I didn't have. And now about 50% of people don't bother.
I said I was a bit worried about getting in trouble. "Don't worry," he said. "No-one wants to pay the Government tax here. You won't get in trouble, welcome to Serbia."
The food was very meat-based which isn't great for a vegetarian like me, especially in Karaburma where I was staying. It's a neighbourhood about 20 minutes by bus outside the city of Belgrade.
While out walking one evening I discovered what looked like a very busy casual food joint. Must be good, I thought to myself and I was getting hungry.
It was mostly takeaway but they had a couple of benches outside where you could also sit and eat your grub. I got into the fast-moving queue. When I got to the top of the queue I asked the guy if he had anything without meat.
"No meat?" he raised his brows. "Mmmmm," he grumbled and called something into the other guys.
One came out of the kitchen and said to me "Chicken?".
"No, no," I responded. ""No chicken, no meat, no fish, I'm a vegetarian."
Another guy came out with something on a fork that was definitely some kind of meat. "Thank you, but no, no."
I laughed and they laughed and everyone's confused. Then one guy suggested a sandwich with salad.
"That'll be perfect," I said and he proceeded to take a huge bread bap in one hand and start filling it up with loads of veggies and sauces. He even put a few chips on the top, it was actually just what I needed.
They asked me where I was from and when I told them Ireland, they said "Irska, Irska" which I realised must be the Serbian word for Ireland. The next time I went there they chorused "Irska" when they saw me.
One evening I decided to make a simple meal in the kitchenette in my accommodation, so off I went to the market to buy some veggies.
There's a lovely big busy market in Karaburma a few times a week. My eyes moved slowly along the colourful display of fresh fruit and veg and drank it all in; cucumbers, cauliflower, pineapples, peppers and watermelon until I spotted a basket of huge ripe tomatoes.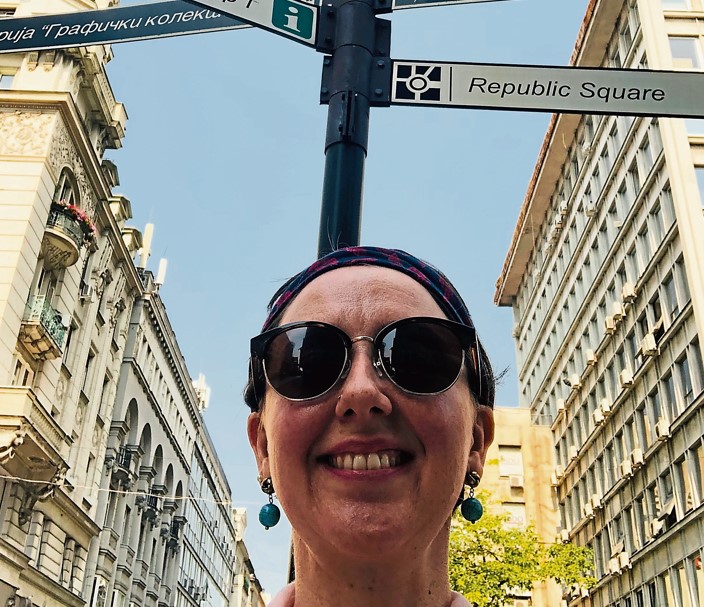 I lifted three juicy ones and put them in a bag. I looked at the lady attending and she looked at me. She seemed to know I wasn't Serbian and I just knew she didn't speak English.
"Sto," she said to me anyway. I took out my purse and showed her my cash. She looked through my notes, pulled out a 50, then another 50 and smiled. "Sto" I said to her and winked. 50 plus 50 equals sto, I discovered, 100 dinar, about .85 cent.
The currency is Serbian dinar and everything is super cheap. But isn't everywhere cheap compared to Ireland?
The language of course is Serbian, written in cyrillic, the Slavic alphabet which I can't read.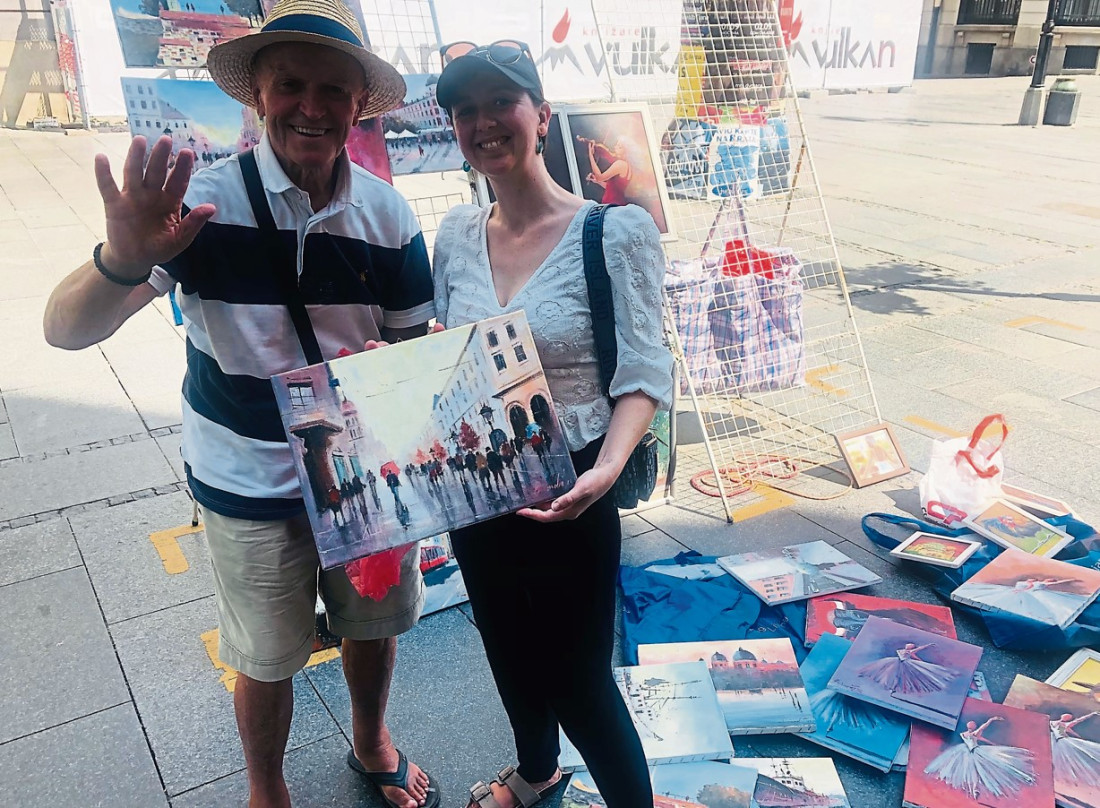 This resulted in a funny consequence at the National Museum, which is an impressive place by the way and was well worth my visit.
There I was amongst the 14th century Yugoslavian art getting hotter and thirstier in the 30 degree heat. I saw a sign for a café on the third floor so I trudged, one foot in front of the other up the stairs to what was a small canteen with four tables and chairs and two vending machines; the café.
One of the vending machines had coffees and teas and the other had cold drinks and biscuits and things. There was a sign on the machine which I couldn't read and didn't care about at this point. I put in my 1,000 dinar and selected the lemonade (100 dinar), fished it quickly out and took a long, thirsty gulp before pressing the button to get my change. Nothing happened, I pressed it again but still nothing.
Then, I saw in very small writing underneath the Serbian, the sign read in English 'no change given'. Dammit, I cursed at first, but then realising it was less than 10 euro and wouldn't break the bank, decided to shout everyone in the canteen a drink.
They were delighted, one guy from Turkey who was a bit shy took a packet of biscuits gratefully, "Go on," I said. "Take a drink too."
Everything in the machine was only 100 dinar so there was plenty to go around.
Next week ー
Helping a local, and kayaking on the blue Danube.
Evelyn Cullen from Carrigart lived in Japan from 2016 – 2020 and wrote a column for this paper called 'Into the East'. Although she is back and settled now in Dunfanaghy, she still travels any chance she gets.
Receive quality journalism wherever you are, on any device. Keep up to date from the comfort of your own home with a digital subscription.
Any time | Any place | Anywhere
Posted: 4:00 pm September 8, 2023