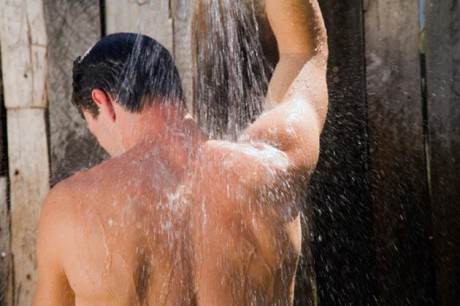 BACK Acne can be harder to treat than facial acne because the back is made of thicker, tougher skin with lots of sebaceous glands producing excessive amounts of oil.
This results in skin blockages causing blackheads, whiteheads, papules, pimples, nodules and possible scarring. The skin eruptions can be painful and, in some cases, spots may become large and tender. These are called nodules and may lead to scarring; scars may be raised from the skin's surface or depressed. Back acne is more common in males than females and usually accompanies facial acned.
Acne is most common in adolescents where there is an imbalance of hormones which increases the natural oil production and this often continues into adulthood. For most people acne diminishes over time and tends to disappear or at the very least decrease by the age of twenty five. It is hard to predict how long it will take to disappear entirely, and some will carry this condition into their thirties and forties.
The psychological effects from acne especially in adolescences can because insecurity can cause reduced self-esteem and in severe cases depression. It is important to treat the condition early in order to lessen the overall long-term impact to individuals. Acne spots can usually be kept under control but continuous treatment may be necessary for many years.
Treatment for acne is aimed at cleaning out the pores, keeping oil and dirt out of the pores, and reducing inflammation. There are many products and lasers now available to treat acne which when used properly can reduce it greatly.
When you visit our clinic a skincare specialist will discuss your skin care and assess which products, such as soaps & moisturisers, you should continue using and which you should stop using. They will also discuss your diet and possible treatments available.
Other treatments available from your GP include topical treatments which are applied to the skin. Topical treatments must be applied to the entire affected area and not just to the spots and it should be continued to keep the spots under control. There is also the oral antibiotic which reduces the number of skin bacteria and also reduces inflammation.
To help with the treatment of acne, change your washcloth every day, as bacteria can grow on damp cloth. Wash your hands more frequently and avoid putting your fingers and hands to your face or the affected area unnecessarily. Don't squeeze, pick, scratch or rub your skin as scars may form if you squeeze pimples.
Eat the right foods as acne is caused by an imbalance of hormones in the body that increases our natural oil production. And most foods now a days are pumped up with hormones to make them tastier, bigger and grow faster.
This is not good for acne, so try to eat more organic foods which are grown naturally without the extra hormones. Drink lots of water and snack on fruit such as grapes, apples and melon which help clean out the system.
Exercise for your skin. Exercising will actually improve the look and feel of your skin. This is very effective and will work on your complexion as it helps flush out the toxins in your body through sweating, increases the blood flow to your skin, renews skin cells, and reduces the stress hormones in the body. Sweating is good for your skin but make sure you have a shower immediately afterwards. Remember early treatment minimises the risk of scarring.
Mary Ferry is the proprietor of the Genesis Skin Care & Laser Clinic in Upper Dore, Bunbeg, Tel 07495 32575, www.genesissalon.ie. If you have a query you would like answered in Mary's column confidentially, e-mail healthandbeauty@donegalnews.com
Receive quality journalism wherever you are, on any device. Keep up to date from the comfort of your own home with a digital subscription.
Any time | Any place | Anywhere
Posted: 5:30 pm February 15, 2014